Skip to Content
The Kingsley 1945 Type 2 Automatic Is A Great Watch For A Women!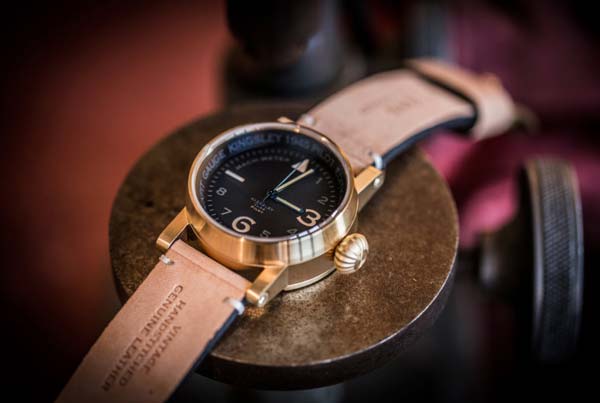 Kingsley 1945 Type 2 Automatic in Steel Bronze Retail-$1,300
Since I am an official distributor for Kingsley 1945 watches, I always get asked, do you make a women's watch? Even though we don't make a watch specifically for women, the Type 2 automatic in steel bronze with black machmeter dial ticks that box. If your lady is looking for something big, elegant, and well made (that isn't a cheap-looking fashion watch), she will love this! It's also an amazing watch for a man who doesn't want to wear a massive watch.
At Kingsley 1945 watches, we are best known for our iconic altimeter inspired cases, where our crown guards look like a grenade pin, just like on our Type 1 and Type 4 models. These cases are 46mm in diameter and over 50 millimeters in case diameter with the device protecting the crown. The type 2 automatic is 43mm and our style onion crown is fitted close to the case. This gives the watch a utilitarian look while maintaining classic elegance. Especially in our steel bronze finish. When you see this watch on a women's wrist, believe me, you will stop dead in your tracks! It's stunning. In my opinion, there is nothing hotter and cooler than a woman wearing a big watch! What separates this watch from just any big watch out there today is that it's hand-assembled in the USA and it doesn't look like a woman is wearing a men's watch. It looks and feels like it belongs to her. This watch has a black machmeter dial with white Arabic numerals 3 and 6 and white horizontal indices at the 9 and classic pilot's white triangle at the 12. The watch is powered by a vintage-inspired Russian military movement from the WWII era, which can be seen through the original and innovative designed clear case back. Because of my unique partnership with the owner and founder, Ramone Kingsley, I can customize these watches for additional fees. The Kingsley 1945 Type 2 automatic is also available in a steel finish, copper steel finish, and black steel finish. This watch retails for $1,300,
Click HERE to order this watch or click HERE to see the rest of the Kingsley 1945 Type 2 automatic collection!
Have more questions? With over 20 years of experience in the luxury timepiece industry, I am a true expert on all things watches. My services can be engaged whether it be for acquisition, advice, or consultancy. To learn more about my services for timepiece buyers and sellers, click here.
I'm a Luxury Watch Concierge
I can guide, assist and advise you on your luxury watch purchase and source the timepiece from authorized dealers
Wanna talk watches with the best of them? I can teach you how. Start today, and you will be talking like a watch pro in no time!
Due to the unpredictable and volatile market on certain Rolex, Patek Philippe and Audemars Piguet watches, prices are subject to change.