Skip to Content
I Am Here To Help With Your Watch Repair Needs!
Hey Watch Fans,
Hope you are having a great summer and staying cool despite the odds! I am happy to announce that I am here to help with your watch repair needs. A big part of growing up in the watch industry for me was after-sales service/repair. Before I even got into watches at the age of twelve, I would go with my father on weekends to his watch store and since I couldn't really work, I would spend a lot of time with the watchmaker. Initially, I just observed and listened, but over the years I learned how to change batteries, replace crystals, polishing cases and bracelets, and much more! This invaluable experience is why you can rest assure and let me help you get your Rolex, Omega & Tag Heuer watches serviced. I provide the same level of detail, attention, and professionalism to this as I do with helping you purchase or sell a watch.
Thankfully, with the help of a second-generation watchmaker (pictured below) who I have worked with for over two decades, I can help you take care of your watch repair needs for the three brands mentioned above. He is certified by these brands to do a complete factory service, polishing and replacing any parts needed. He warranty's his work for two years. To hear more about this listen to my podcast HERE.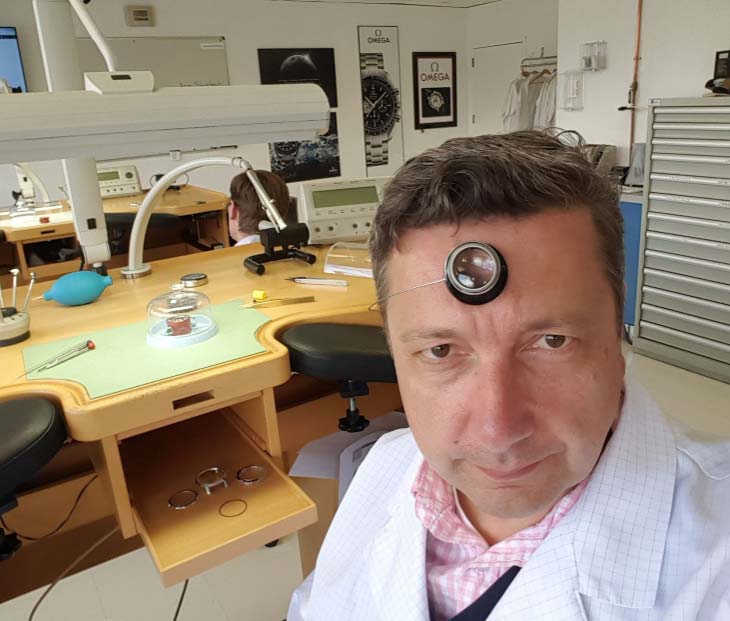 How Does It Work?
It's really easy and hassle free! You would send your watch/watches to the address I provide to you wrapped securely and insured. From my experince the most reliable and reasonable shipping method to use is USPS. Of course you can use whatever shipping method you prefer.
After my watchmaker receives your item/items he will inspect it and within 48-72 hours I will send you an estimate of how much it would cost. Usually it takes 4-6 weeks to complete the work after the estimate is approved by you. . Once my watchmaker has completed the repair he will send you a fund request via PAYPAL or I can email you a credit card authorization form that you would fill out, sign and email back to me. My watchmaker would process the payment plus whatever it would cost to ship back your item and send it back to you.
Please contact me HERE if you have a Rolex, Omega, or Tag Heuer watch that you want to get serviced or have any other questions.
Due to the unpredictable and volatile market on certain Rolex, Patek Philippe and Audemars Piguet watches, prices are subject to change.