Skip to Content
Tourneau Was Acquired By Swiss Luxury Retailer, Bucherer!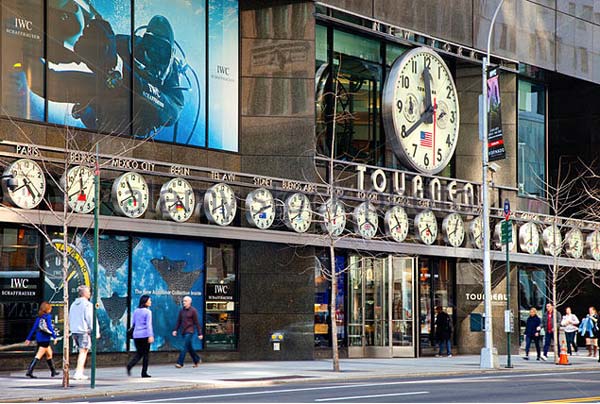 Tourneau is one one the biggest luxury watch retailers in the US. They were recently acquired by Swiss Luxury watch retailer, Bucherer.
In 1900, The Tourneau family established a watch selling a business in Western Europe and after immigrating to New York City in 1925 the Tourneau brothers opened a small dressmaking shop, with a watch counter, in Berkshire Place Hotel. He followed this with the company's first full shop at Madison Avenue and 49th Street in 1930. In 1940 a second location was founded in the Pennsylvania Hotel across from Penn Station. The first west coast store was opened during the 1990s in the South Coast Plaza mall in Costa Mesa.
In 1997 the company opened The Tourneau TimeMachine on 57th Street in New York City and was the largest watch store at that time. In 2005, the Tourneau Time Dome in Las Vegas assumed the Guinness World Record. In 2011 Tourneau began selling a contemporary collection of watches named the TNY Series that has been inspired by the architecture and design of New York City. In 2012, Tourneau partnered with Product Red to produce TOURNEAU (PRODUCT)RED Special Edition watches. 15% of the retail price of each (TOURNEAU)RED watch is donated to The Global Fund to Fight AIDS, Tuberculosis, and Malaria. In March 2015, a third NYC store was opened in Bryant Park.
Since 2006, Tourneau has been a Leonard Green & Partners portfolio company. By 2015 the company had 33 stores across 13 states, including the flagship stores in Las Vegas and New York. Tourneau is currently the largest authorized retailer of timepieces in the United States, with about 8,000 watches and 100 brands. Tourneau also has the world's largest selection of certified pre-owned watches and a trade-in program for upgrading watch styles. Tourneau is the point of purchase for both the regular collections of timepiece brands, as well as limited edition lines that are available only at Tourneau stores.[ Tourneau stores also host exhibitions of rare timepieces and events. In addition to its retail locations, Tourneau has a watch servicing center in Long Island City and it also operates an e-commerce site.
Bucherer was the first Rolex retailer in the world. They are a family-owned company that started in 1888 in Lucerne, Switzerland. They have been making luxury watches since 1919, making them one of the oldest luxury Swiss watchmakers continuously held by the founding family. Bucherer is also one of the largest watch retailers in the world, selling dozens of luxury watch brands like Tourneau.
So Why Is Bucherer Acquiring Tourneau?
In my opinion, it's a really smart move for many reasons. First, it globalizes their brand even further. Let's face it, you can be successful in other countries, but like many industries, you have a worldwide presence especially when you are in the US. The US is the biggest market for luxury watches and it makes sense for Bucherer to want that market share. It also gives its watch brand, Carl F Bucherer instant distribution all over the US.
In a news announcement posted on the Bucherer Group's website on January 31, the CEO, Guido Zumbühl, said, "With over a century of expertise as the preeminent purveyor of fine watches in the U.S., Tourneau provides an exciting opportunity for the Bucherer Group to establish a footprint and extend our offering of fine watches and jewelry to the United States. With this acquisition, we will immediately introduce the Bucherer brand to millions of potential customers in one of the most important global watch and jewelry markets. This is also a great opportunity to firmly establish the Carl F. Bucherer brand in the US and introduce Bucherer Fine Jewellery into the North American market." quote from Forbes online by contributing editor Roberta Nass
The question on everyone's mind is will the Bucherer name replace the Tourneau brand name or will it stay Tourneau or will it be a combination of both names. Who knows???
I knew the Wexler family when I was in retail many moons ago. My father and Bob Wexler, the former owner of Tourneau would go on many business trips together. They are such a nice family! I am glad to see that Tourneau will be returning back to another family like Bucherer who has been selling watches for 130 years. We will just have to wait and see what happens. Stay tuned.
Due to the unpredictable and volatile market on certain Rolex, Patek Philippe and Audemars Piguet watches, prices are subject to change.