Skip to Content
Tudor released a NEW Pelagos in 39mm
Backstory
Ever since the Tudor Pelagos came out almost ten years ago, I've been in awe of it. It's a tool watch, not frilly or shiny, and made out of matte titanium, which is robust and masculine.
When the new 39mm was announced recently, at first, I didn't pay too much attention to it, because from a distance it just looked like a smaller version of the 42mm, but after stepping back and taking in all the details, It got me curious and I started to embrace it!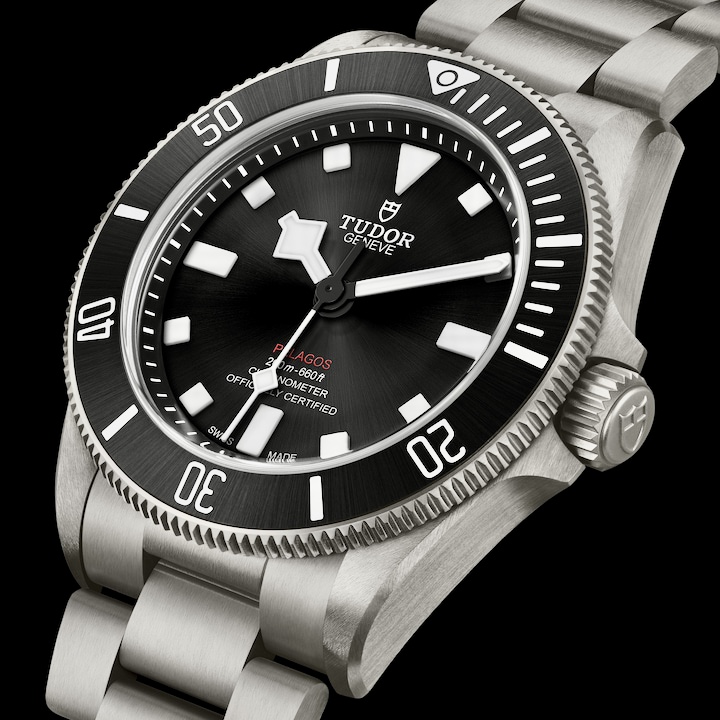 The Facts
The Tudor 39mm Pelagos is their answer to a 41mm Rolex Submariner, but in grade 2 titanium at less than half the price!  It's also lighter and smaller, but Tudor tends to wear bigger. If you compare apples to apples, it probably wears similar to a 41mm Rolex Submariner in terms of size. This NEW 39mm Pelagos takes the essential design cues from the 42 mm version but has been modernized because of the sunray pattern brush strokes on the satinized dial and bezel. It flies under the radar but it's not lack luster.
When you look at it in certain lights, it has a nice sheen to it, which is subtle, yet noticeable and impactful. It's fitted on an oyster-style bracelet with a New T-fit clasp, a piece of engineering art. This allows the wearer to make a micro-adjustment without using tools.
This may not be as water resistant as the 42mm model, but who cares, because you're never going to use 500 meters, let alone 200 meters unless you're a professional diver.The movement is reliable and accurate COSC certified, in house, MT5400 Calibre and has a power reserve of 70 hours.
Value
The value is amazing and less expensive than the 42 mm. It's $4,400 retail and the 42mm version is $4,725 retail. Unlike the 42mm, It does not have a helium escape valve. The bezel is also made out of grade 2 titanium while the bezel insert is ceramic like the 42 mm version. I recommend this to anyone who doesn't want to wait for a year for a Rolex Submariner or pay thousands over list for one. You get the quality that you would expect from a Rolex-made product and more! So if you are in the market, I would highly recommend you to take a closer look at the New 39mm Tudor Pelagos.
Because of the size and finish, I think it also opens it up for women who want to wear a dive watch. It's got accents that give it attributes like it didn't have before. I love that it doesn't have a date, "Pelagos" is written in red on the dial, and it has less text by one line than the 42mm version, which also makes it cleaner and more symmetric. Hour markers are monobloc luminescent ceramic composite. The complimentary black rubber strap with a pin buckle gives it an entirely different look. The contrast is truly exceptional.I think people are going to enjoy this watch and those who may have been on the fence about Tudor, will jump right over!
The Bottom Line
As much as I like the 42 mm because of its straight-up functionality and size, I think the 39mm Pelagos is something I can use more every day because of how it wears, looks, feels and operates.
Since I work with a Tudor authorized retailer, contact me HERE to help you purchase this watch.
Due to the unpredictable and volatile market on certain Rolex, Patek Philippe and Audemars Piguet watches, prices are subject to change.