Skip to Content
The Tissot PRX Powermatic 80, where design, quality & budget come together!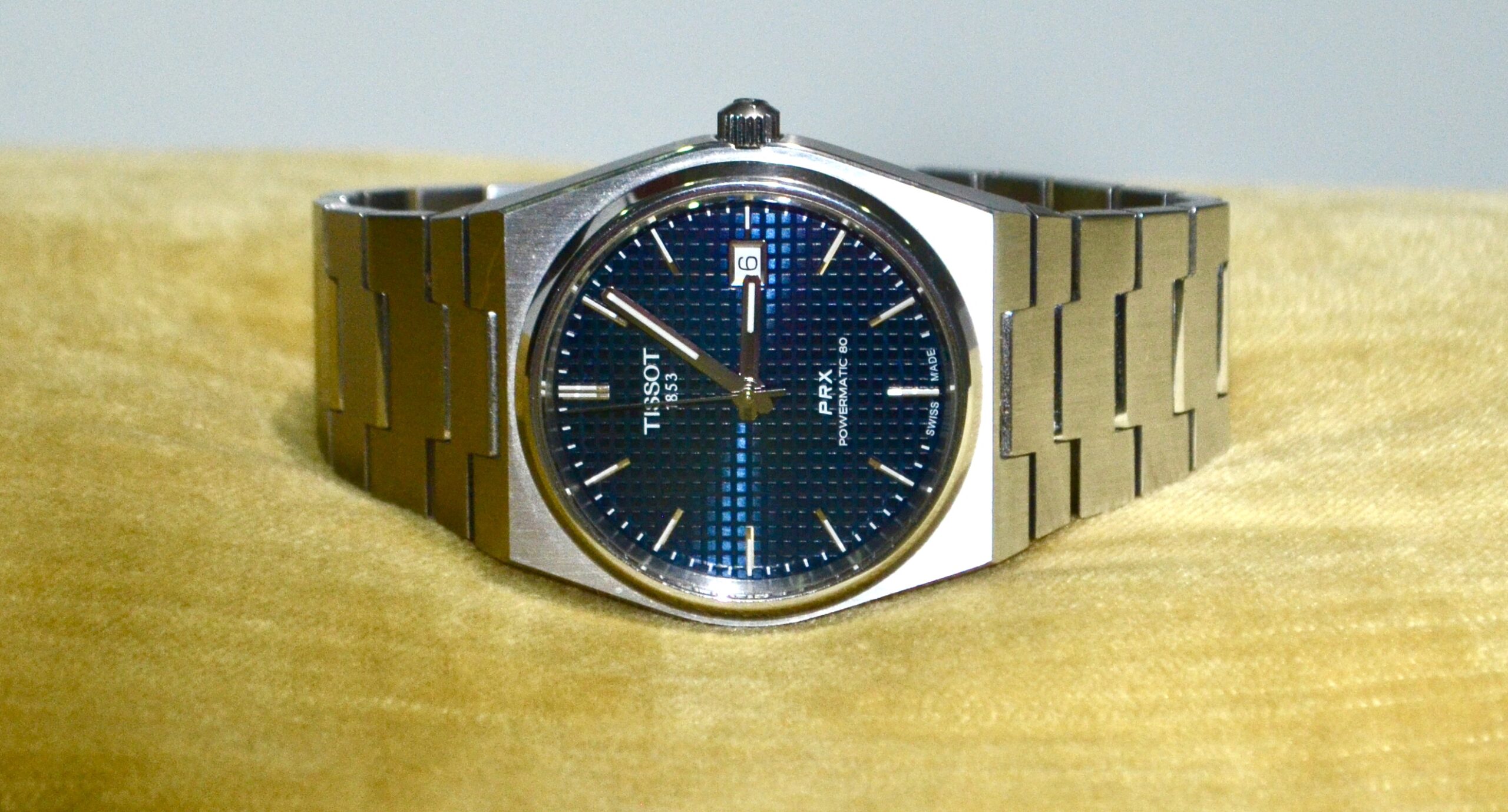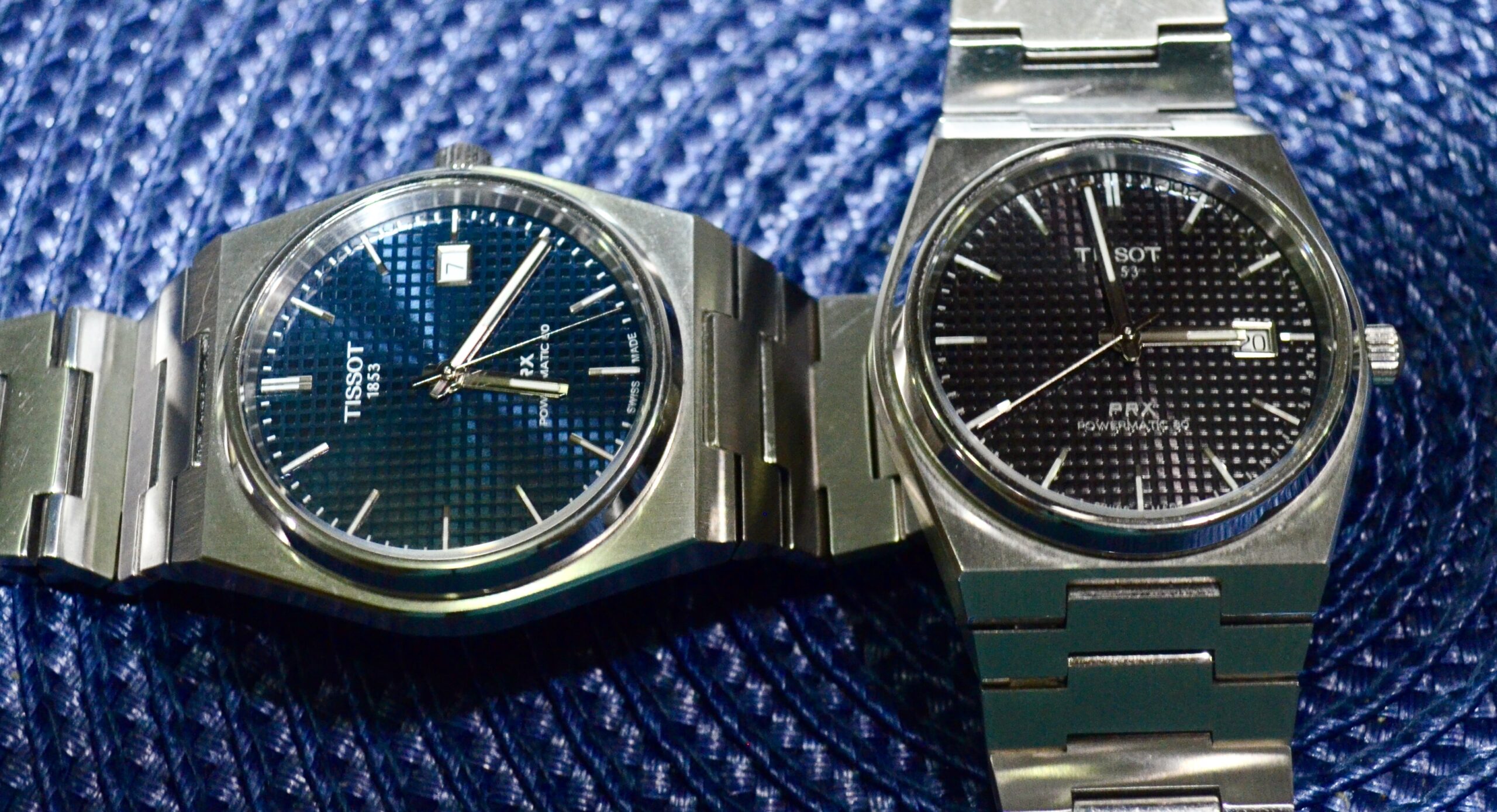 Back Story
I have sold Tissot watches for over 25 years. They have always been well made but somehow seriously lacking in the style department, in my opinion.  That all changed and clicked into place for me when I bought my first Tissot PRX Powermatic 80 with a blue dial earlier this year. I dig the late seventies/early eighties futuristic design, the quality, and the price!
There is nothing in the entire market that can compete because it's in a league of its own! This watch is nothing new for Tissot because they revived a model from the late seventies originally called, the SeaStar, changed the name to PRX and combined it with modern-day specs. The seventies version (only available in quartz) was inspired by the iconic Gerald Genta-designed luxury sports watches with an integrated bracelet like the AP Royal Oak in 1972. Last year it made its official debut, first in quartz and not long after in an automatic version. When you see collectors who have multi-million dollar watch collections, including the best luxury mainstream and independent brands, talking about and wearing the PRX Powermatic 80 proudly, it should tell you everything you need to know!
This watch gives those looking to ease their way into the world of watches, serious street cred for only $650 for the automatic version and $375 for the quartz version in the 40mm size on a bracelet! The attention to detail is just amazing when you look at the 40mm brushed case (which wears more like a 42mm), integrated bracelet with double butterfly deployment clasp, movement, and finishing. Even though I am averse to wearing watches with dates and blue dials and this has both, I let it slide because the coolness factor is through the roof! My daily wearing watch is a Rolex Submariner and ever since I got the Tissot PRX, the Sub has not seen much wrist time, because I am obsessed with it!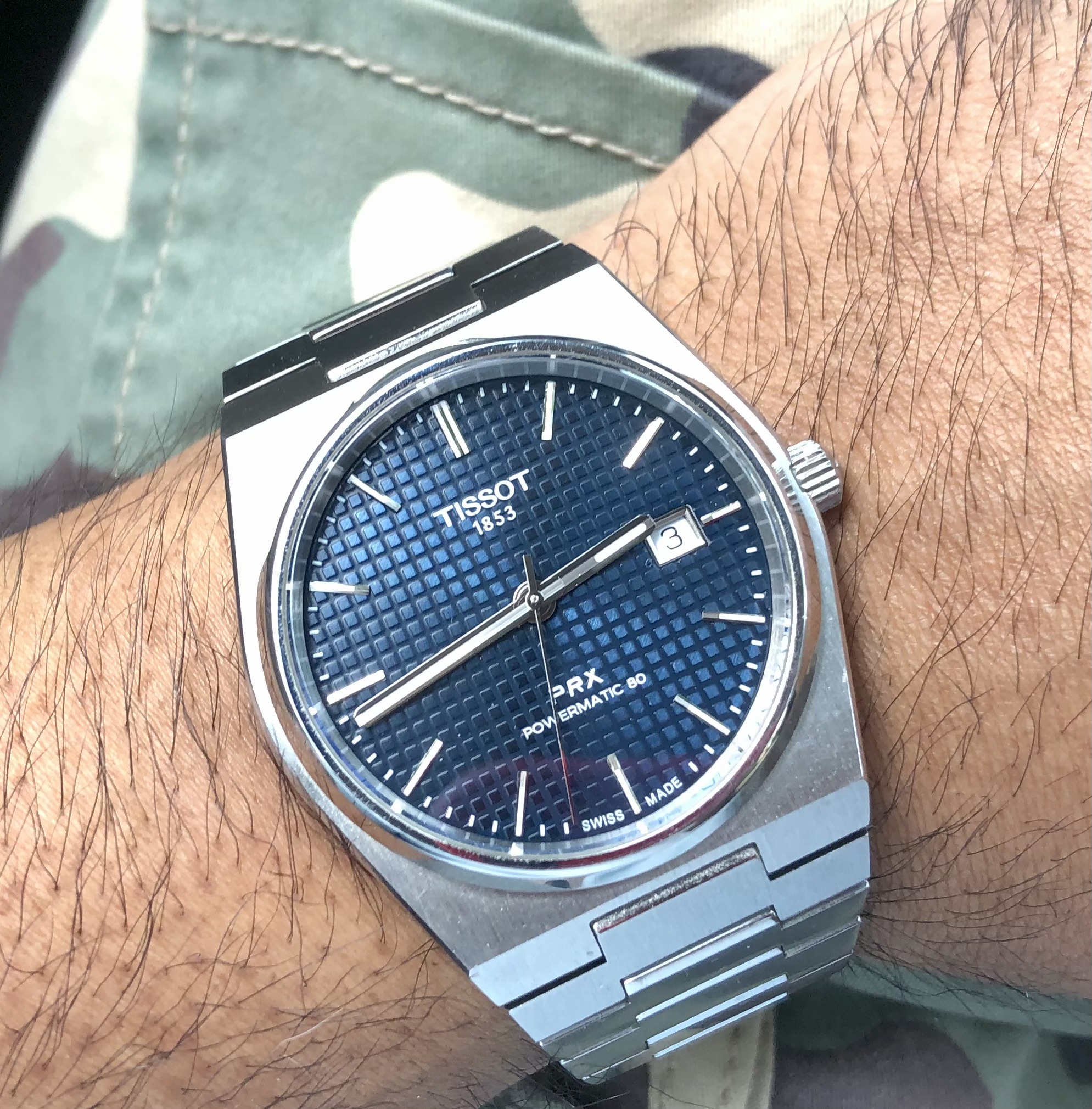 Well balanced
It is very rare to find a watch where the inside matches the outside. More times than not, one overpowers the other, but not in the case of the PRX Powermatic 80. At first, I bought this because I wanted an AP Royal Oak, but didn't want to take out a mortgage to buy one.
I quickly realized this Tissot is not some sort of inexpensive Royal Oak knockoff because it has its own unique identity from the past. It can play every day more casually with jeans and a T, yet it buttons up nicely when more formal occasions arise.  Not only does it have those brushed edges and polished surfaces on the case (including the bezel) and bracelet, which make it chic and identifiable, but the movement is a force of nature in itself!
Most automatic three-handed watches with dates normally have anywhere between 36-44 hours of power reserve, but this has an 80-hour power reserve which is enough to continue telling time accurately if not worn for three days. This alone puts it in a class by itself! It is not the prettiest movement you have ever seen and the open case back might be a little over the top, but it's reliable, robust, and more than gets the job done!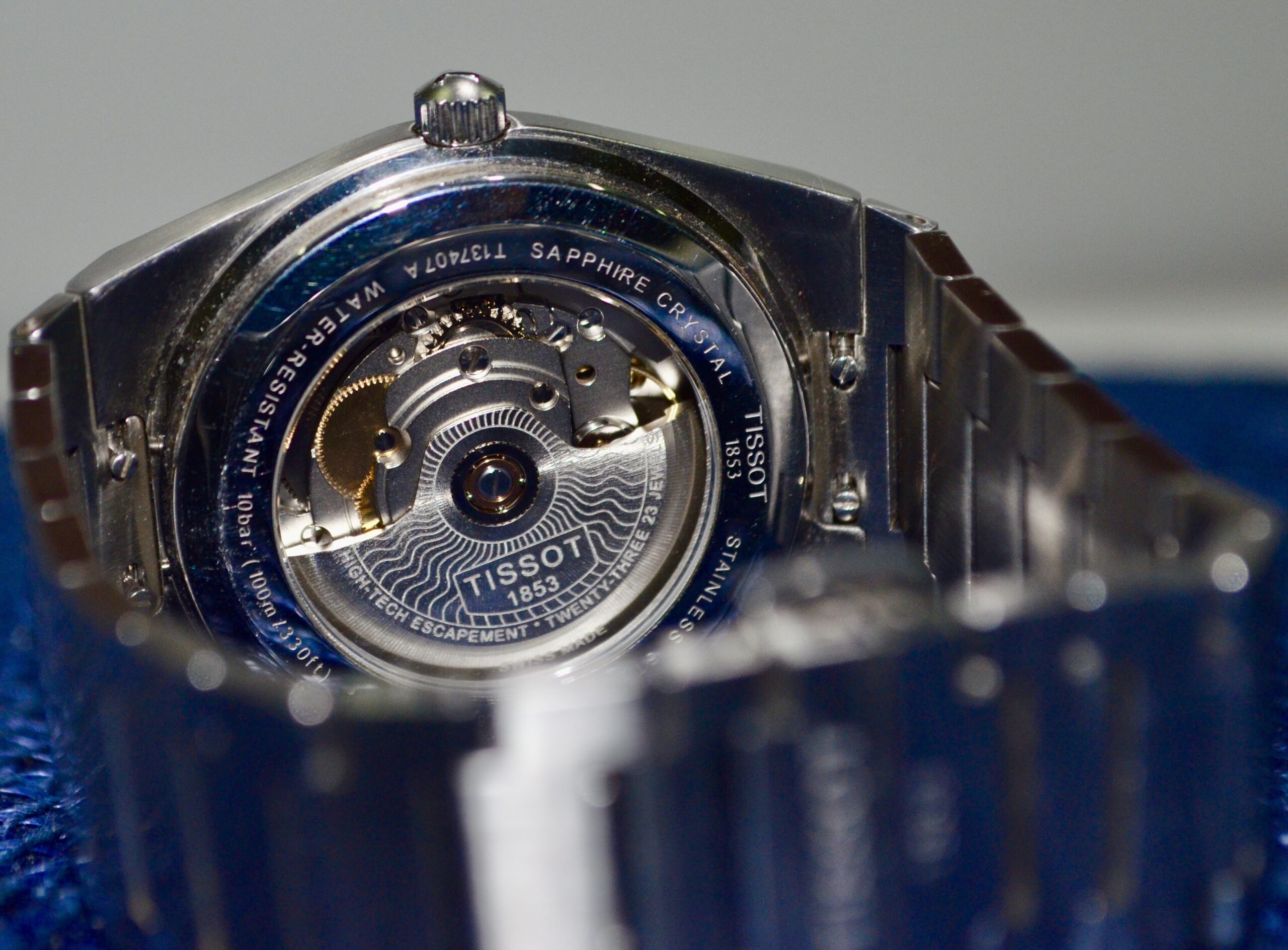 It's also anti-magnetic since the balance spring is a patented titanium-based alloy known as Nivachron. This is far more resistant to magnetic fields than a standard balance spring. Why is this important? The timing of our watches can be greatly affected by the technology we use on a day-to-day basis ie, smartphones, laptops, microwaves, and other kitchen appliances. Having this proprietary spring as an integral part of the movement ensures a greater chance of uninterrupted accuracy.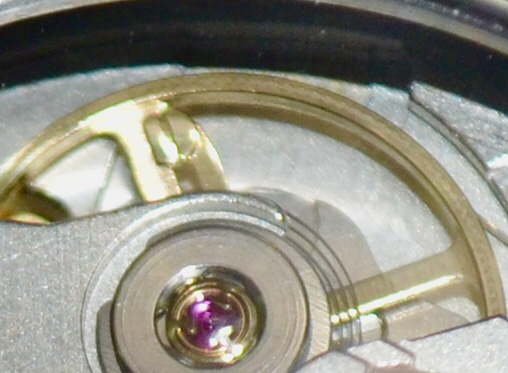 The bracelet  
In my opinion, the highlight of this watch is the bracelet. It reminds me of the Rolex Oyster Quartz bracelet, which I love but has a double butterfly clasp. Not only is it comfortable to wear but sleek, stylish, and well executed.
It has an all-brushed finish with polished surfaces in-between the links. The way it shimmers in certain lights and gives each link a spotlight is just mesmerizing. It has that almost deconstructed machined look where you can see the fine brushed strokes throughout. This reminds me of something that is on watches more expensive and slips on and off the wrist with the ease of push buttons on either side of the double butterfly clasp.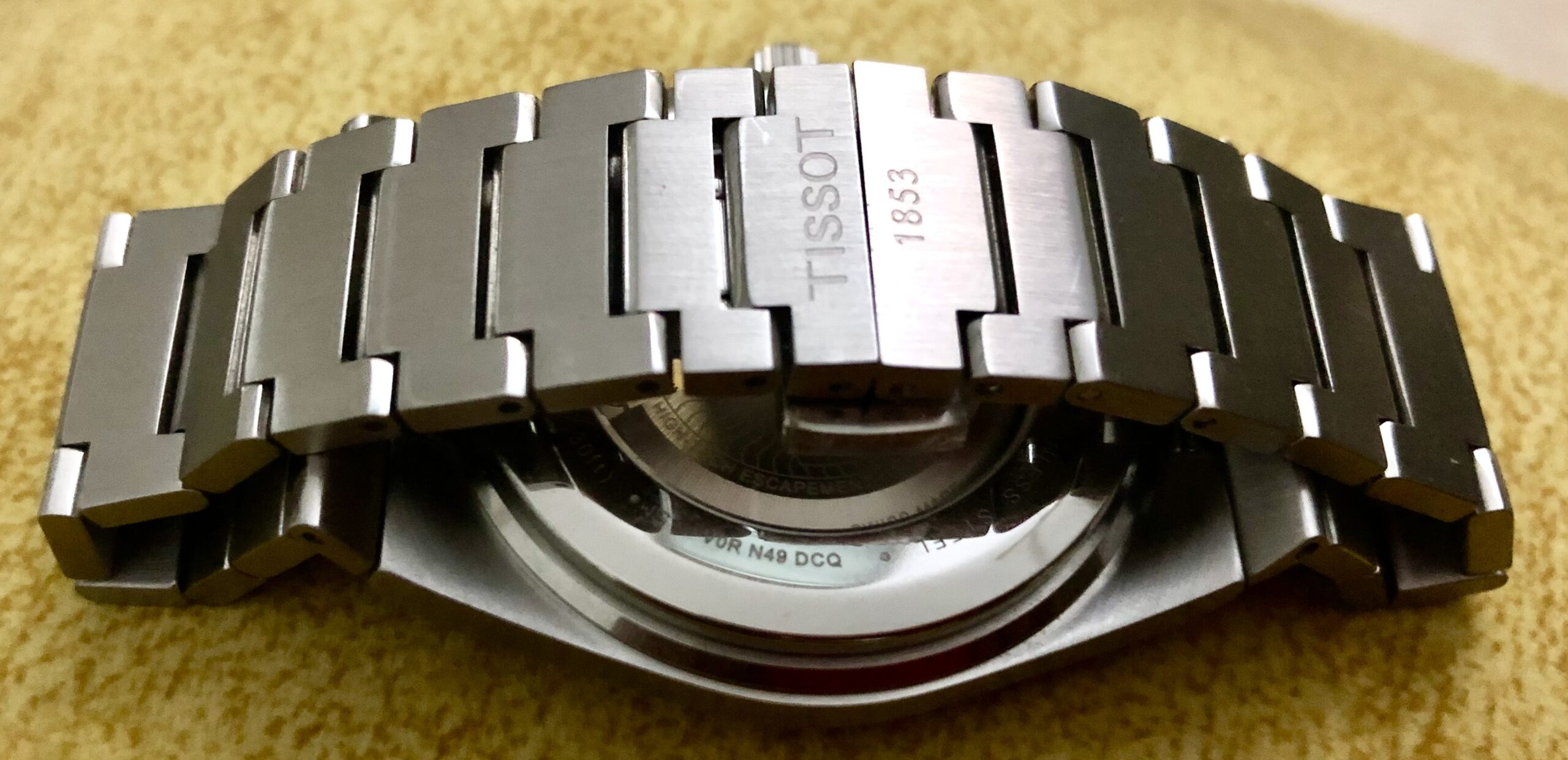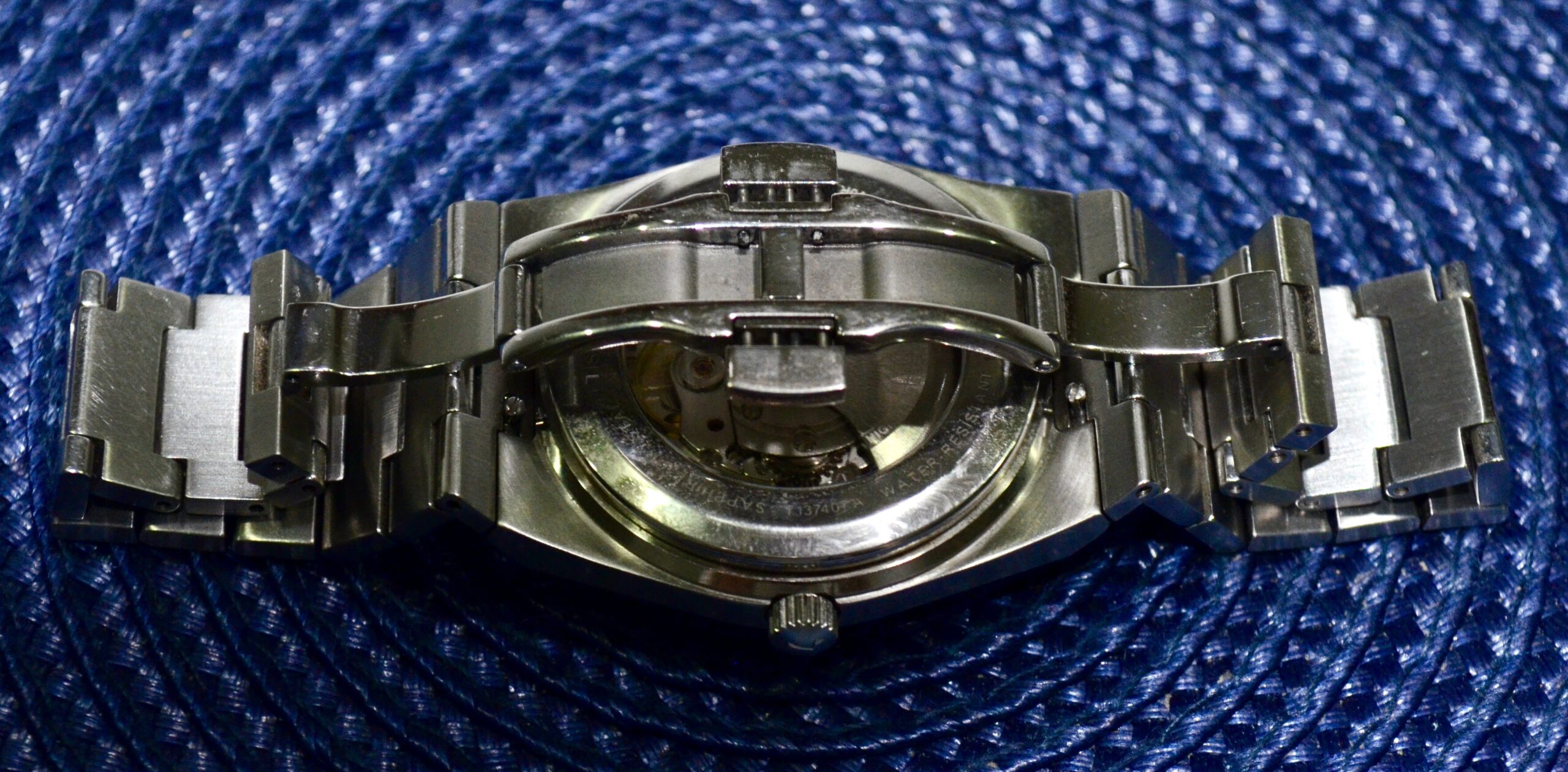 Interchangeable strap system 
Only in the last five to ten years are we seeing higher-end mainstream luxury brands like IWC, Cartier, and others offer a quick-release system so you can change the look of the watch from bracelet to strap or vice versa, without the need for a tool. We don't see this offering too much on watches sub $1K!  In addition to everything the PRX brings to the table, it includes an interchangeable strap system by squeezing the two spring-loaded screws that are on either side of the bracelet itself where it attaches to the case.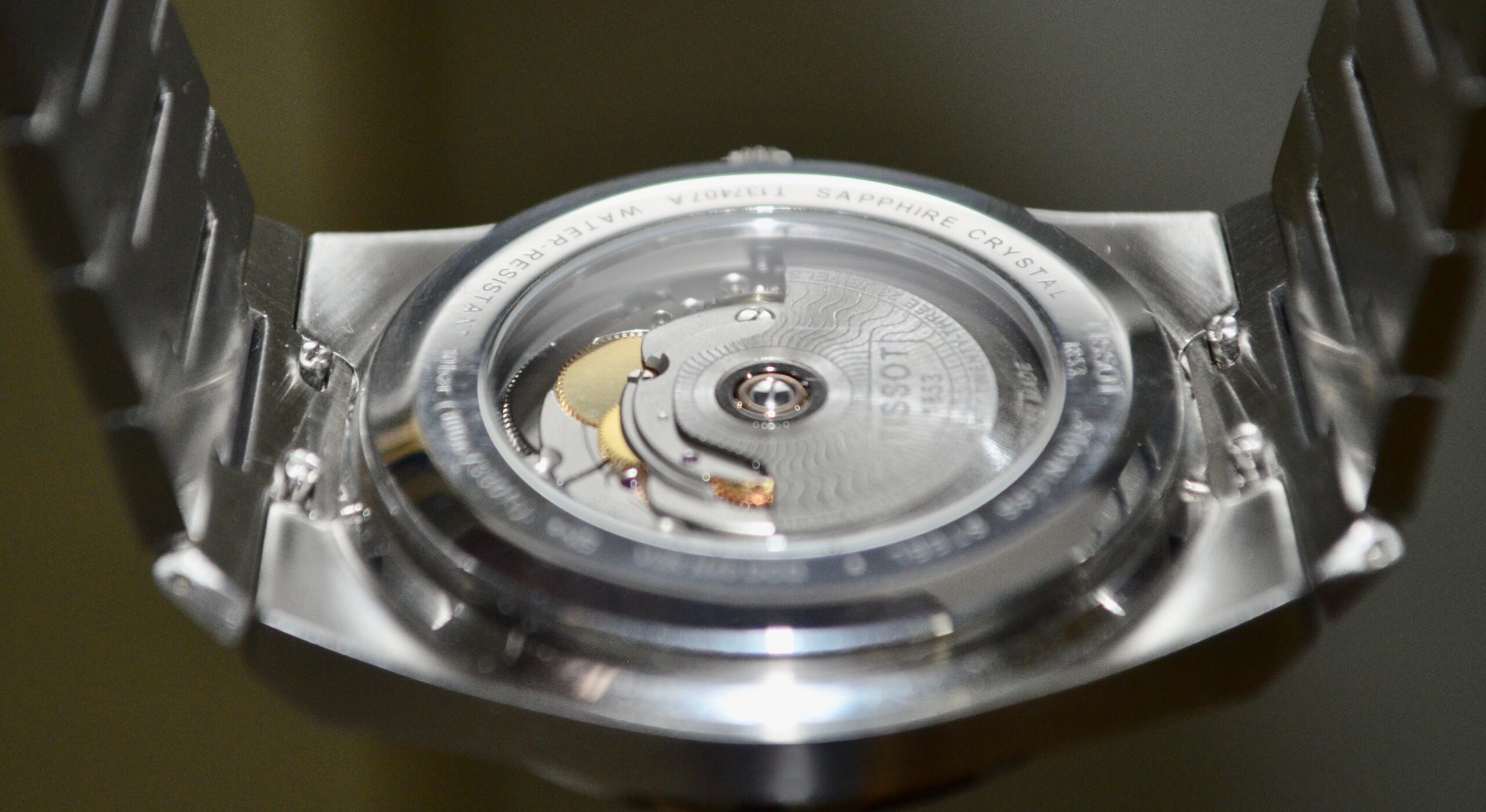 Currently, Tissot offers only two strap options for the PRX, one in blue leather and one in black leather for only $55, which is quite a reasonable price. It's always best to buy OEM straps from the manufacturer, but sometimes you can't get exactly what you want because they don't make it.
Given how many companies make straps for a plethora of different brands, sizes, and styles, there is no end to personalizing the look of your PRX.  If you have a Tissot PRX Powermatic 80 and want a rubber strap available in a variety of different colors, I highly recommend you look at Delugs straps, here.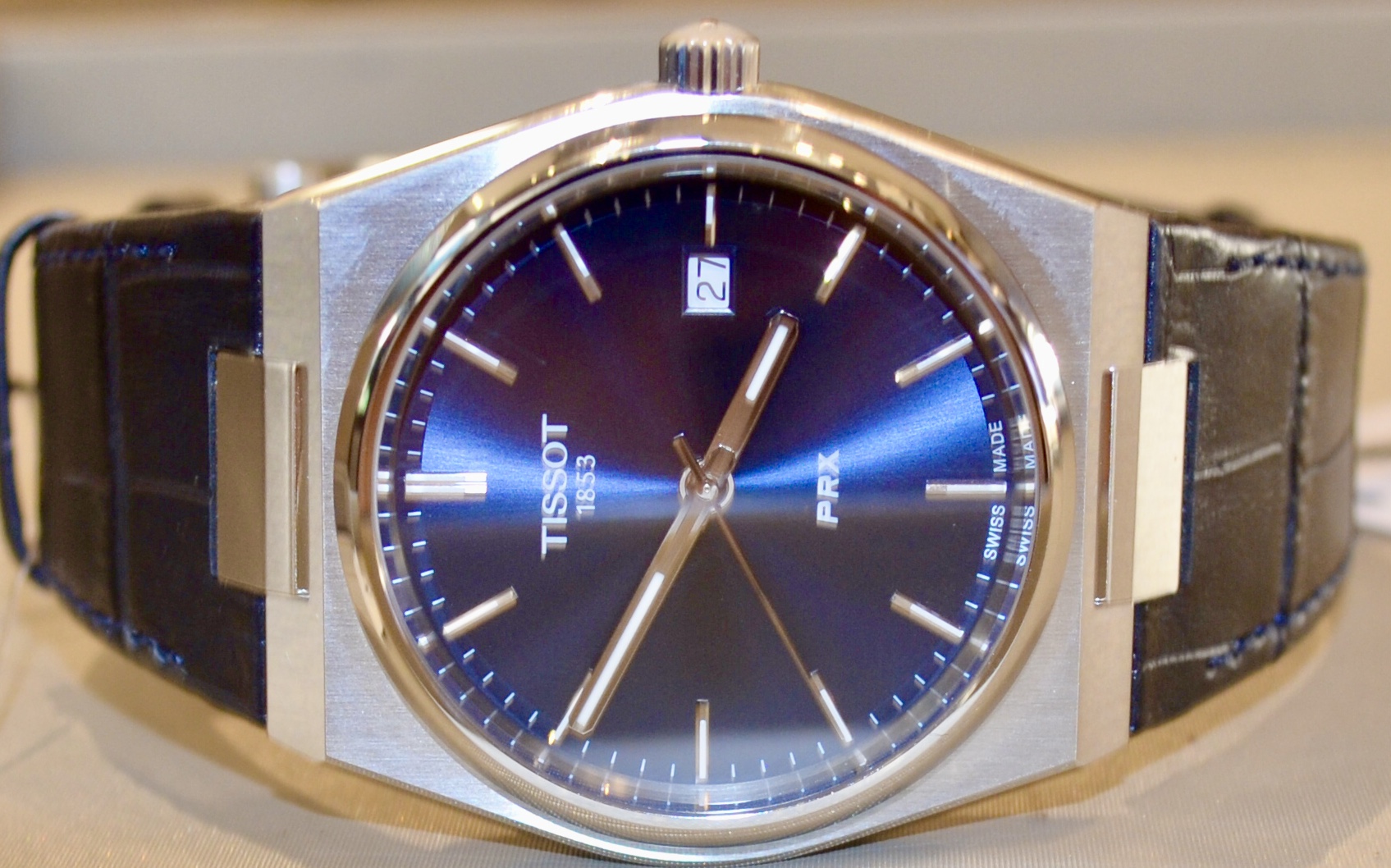 Sapphire Crystal, Water Resistance, Dial & Luminosity
The PRX has an AR coated sapphire crystal on the front and one is also used as the case back, which is quite remarkable considering how inexpensive this watch is. I have seen watches in the 1k range and higher using mineral glass crystals, simply because the sapphire crystal would make it more expensive and out of reach for some.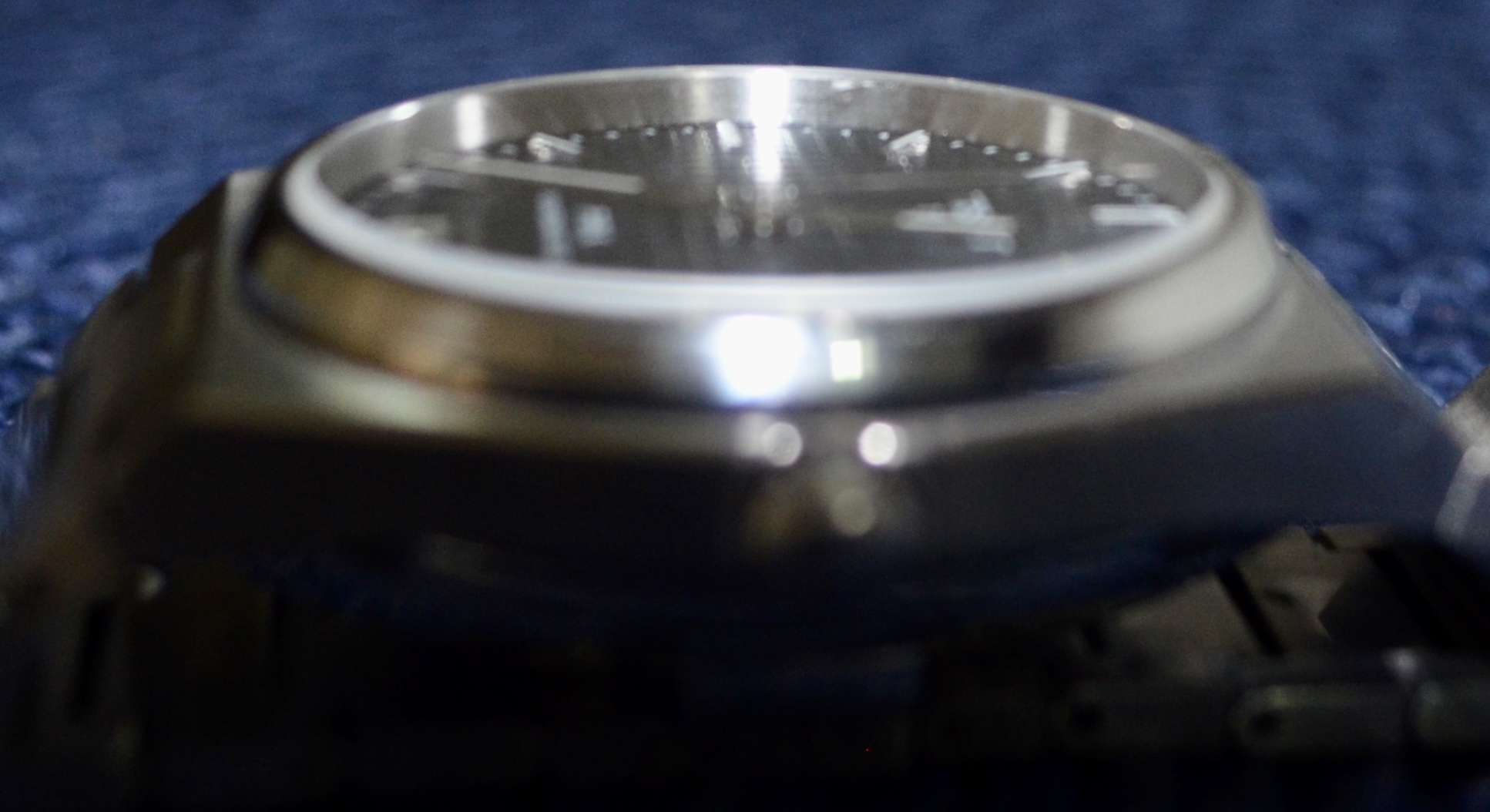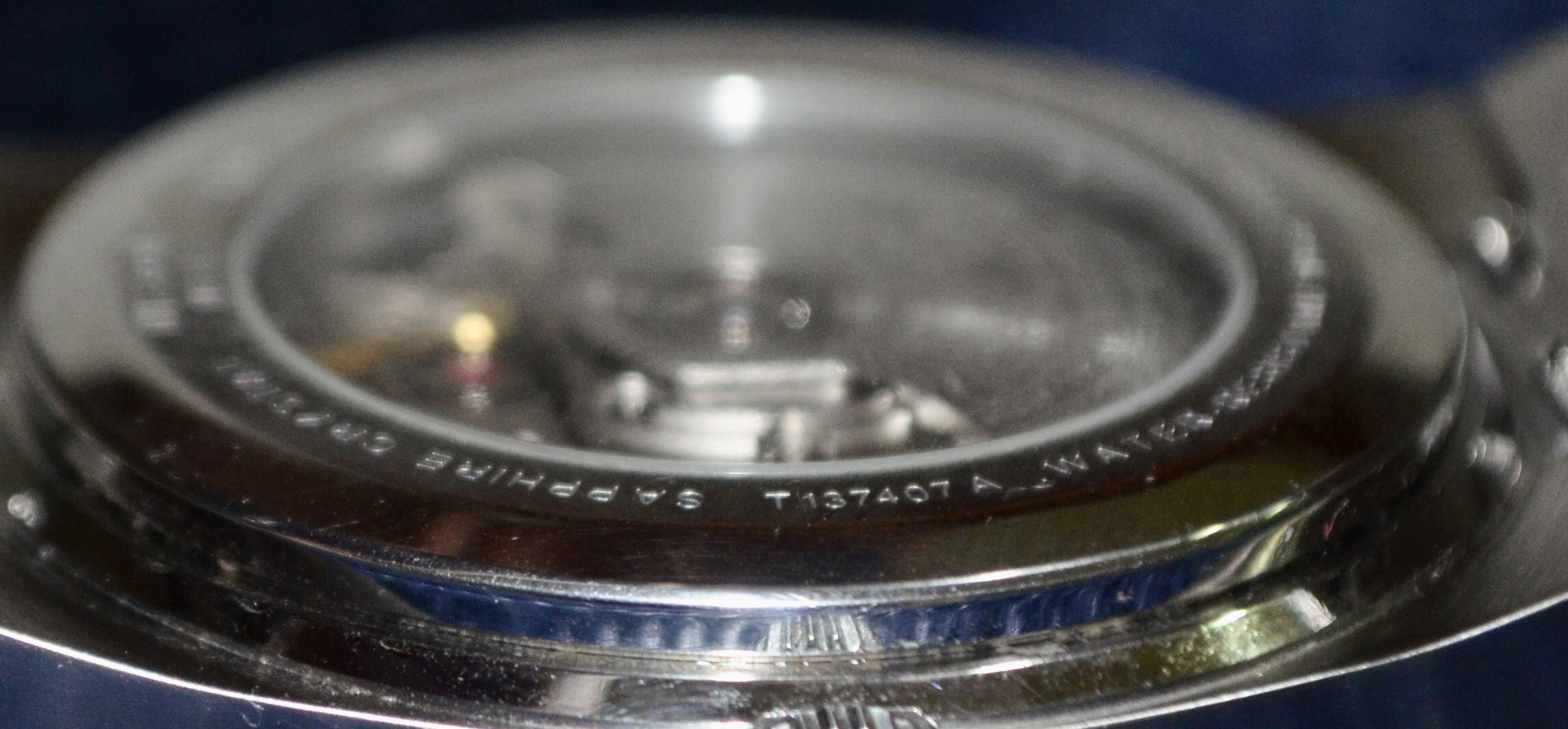 You wouldn't necessarily expect a watch like this to be particularly that water resistant, especially since it doesn't have a screw-down crown. The PRX is water resistant to 100 meters or 336FT. That's just unbelievable when you consider the AP 41mm Royal Oak in steel is $20K plus and has only 50m of water resistance and a screw-down crown.
I recently went on vacation and was a little apprehensive at first to jump into the pool with the PRX, even though I knew I absolutely could.  I haven't done this without a screw down crown before, but was pleasantly surprised how quickly I forgot about it and just took the plunge!
I know so many people who end up paying a lot of money to get their watches fixed from water damage because they forget to screw down the crown securely. This Tissot proves just because we are used to what may seem like a standard for so many years, they set a NEW precedent by resolving this issue. Let's face it, who has time to screw in a crown? it's so annoying and we have come to find out it's completely unnecessary!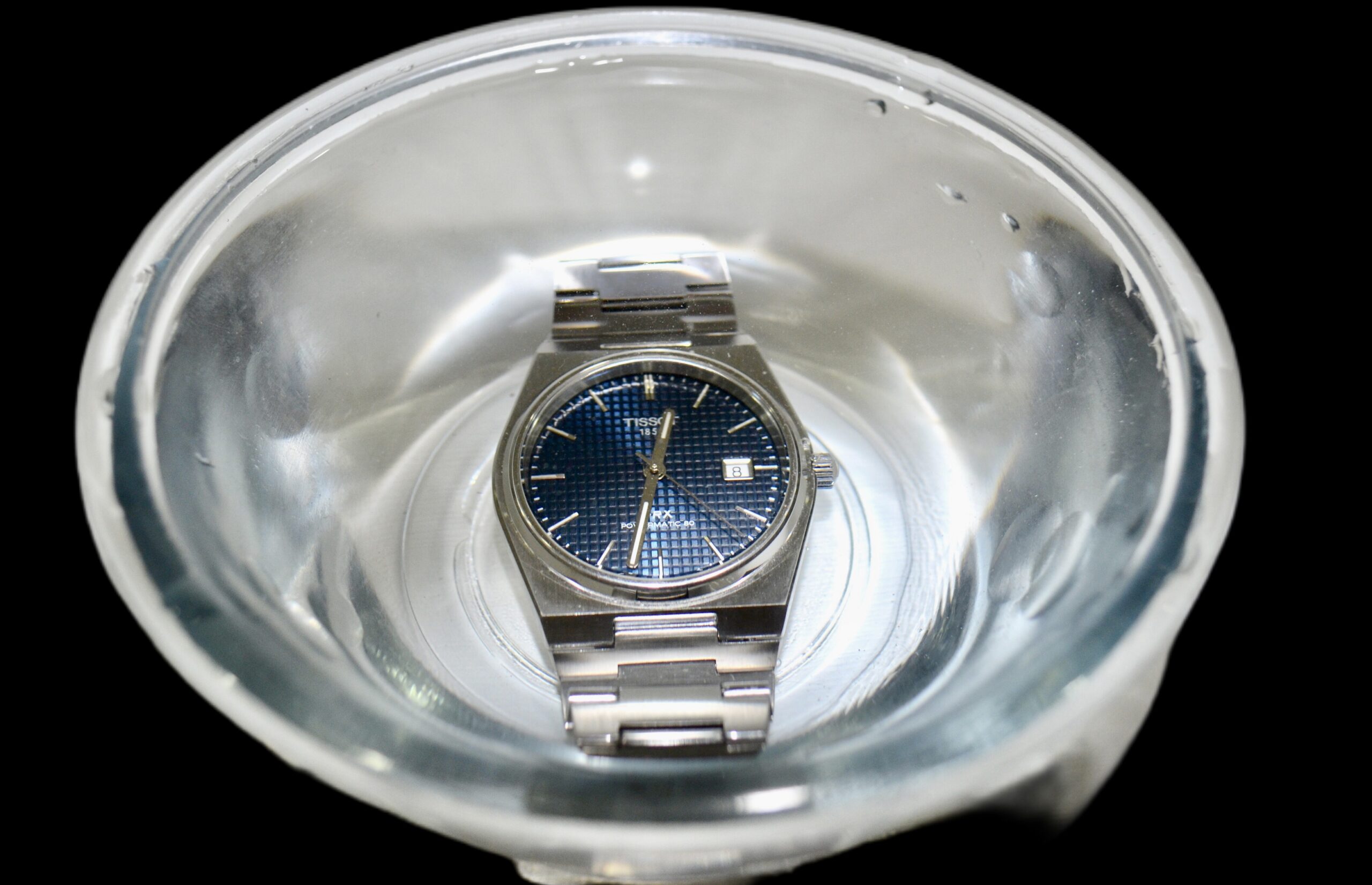 My dial of choice for the PRX Powermatic 80 was blue, which is a very unusual choice for me. Growing up in the watch industry, I always rejected blue dials because I always thought they were too trendy. This still may be the case because only in the last five or so years, blue dials have dominated the most sought-after and collectible watches, major and independent.
My go-to's are usually silver or black dials. The truth is the PRX looks best with a blue dial, from the waffle pattern to the indices and hands. The way the light hits it and how it wears in any situation. The blue gives it life, character & personality because of the pop of color and contrast, it's very clean and crisp. The other dial options available on this model are black and green which are also nice, but in my opinion, don't quite have the same impact as the blue. The waffle pattern on the dial differentiates it from the quartz model. Only the PRX Powermatic 80 has this distinction, while the dials on the quartz version don't have this detail as you can see above on the quartz version PRX blue dial on a strap.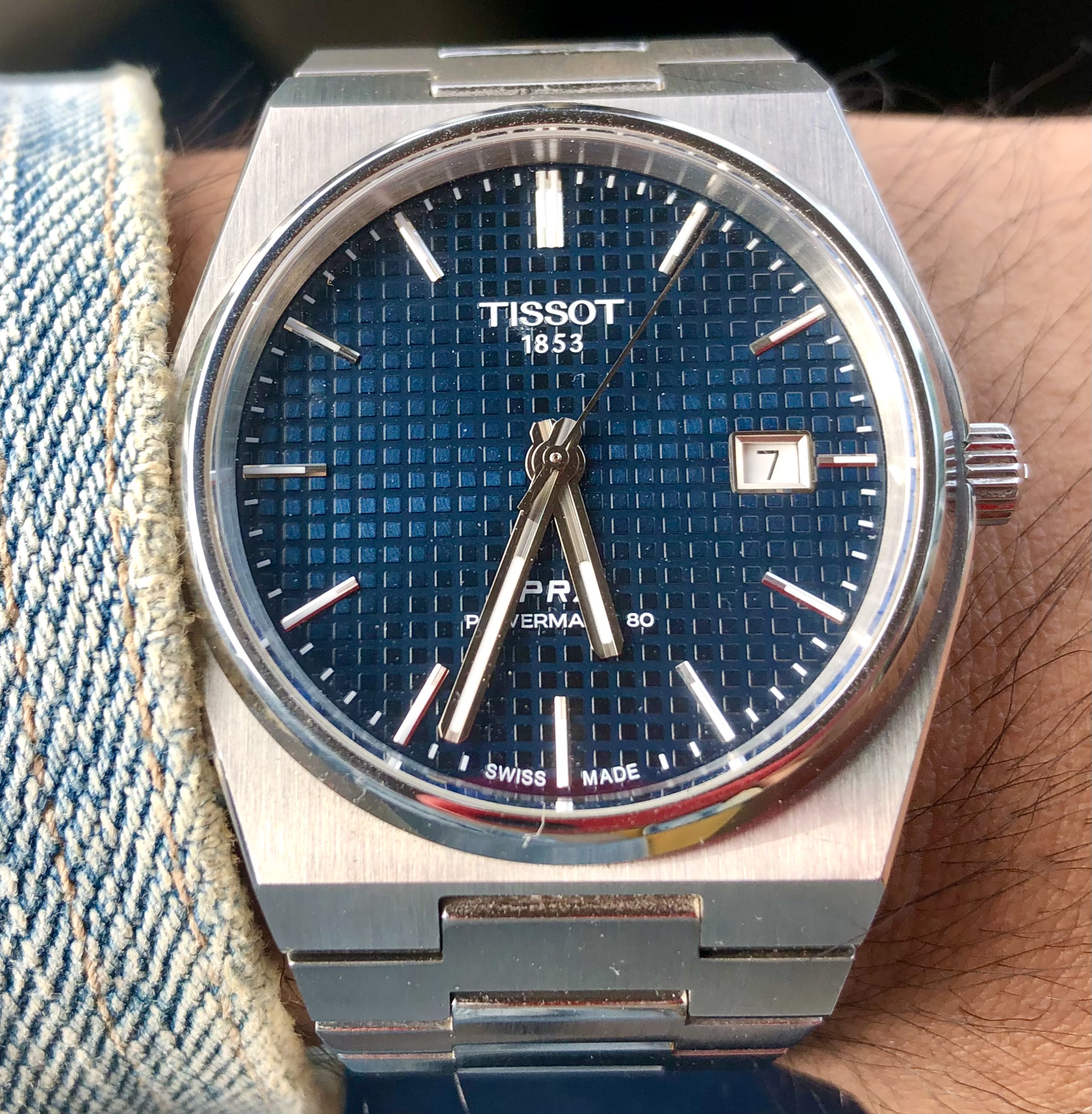 With the help of Super Luminova, the PRX has decent visibility at night, not necessarily the strongest or most powerful. I have definitely seen better, but this has never been a deal breaker for me. To some people it's everything! It looks very cool when it's illuminated at night, but from my experience it doesn't really last too long.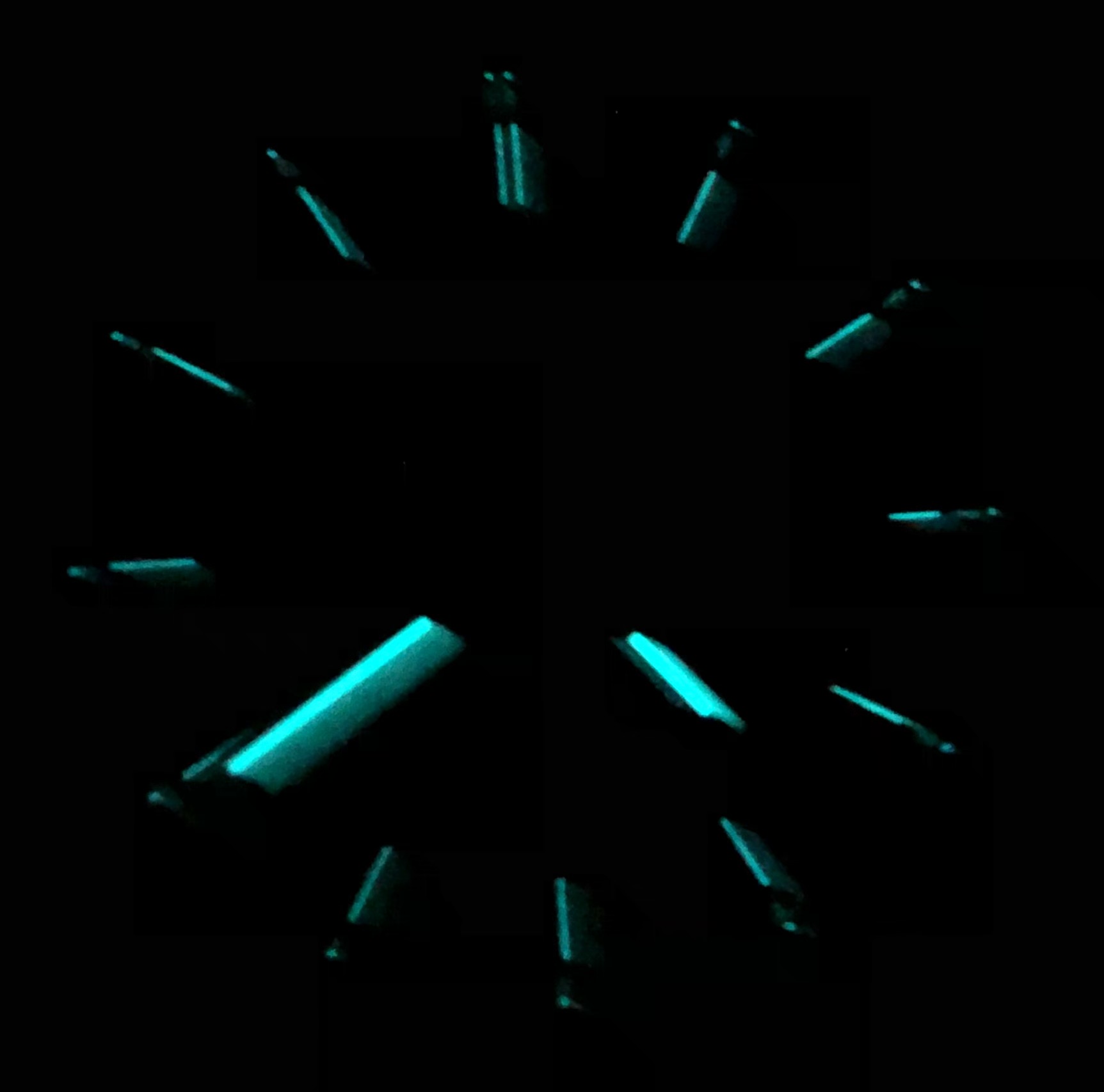 Things to consider & the bottom line
The winding crown is a little small and at times hard to wind. Much like the AP Royal Oak, the PRX shows off scratches and fingerprints because of the fine finishing of the case and bracelet. I don't think I have ever dedicated more than 1,500 words to a watch under 1K! If you couldn't tell, I am a fan, and in my opinion, for any flaws, this watch has, in all sincerity, are fixable issues, which I am sure will be addressed down the line at some point.
I don't know of any watch for $650 that has gotten the attention and can play in the big leagues with some of the top luxury watch brands, be taken seriously, and have the respect of collectors, the press, and the like the way the Tissot PRX Powermatic does!
The bottom line is if you are new to watches or just looking to expand your collection and want a taste of iconic design and high quality for a fraction of the price of some of the most sought-after watches in the world, get yourself a Tissot PRX Powermatic 80!
Due to the unpredictable and volatile market on certain Rolex, Patek Philippe and Audemars Piguet watches, prices are subject to change.