Skip to Content
The Trilobe Une Folle Journee get the Dune treatment for 2023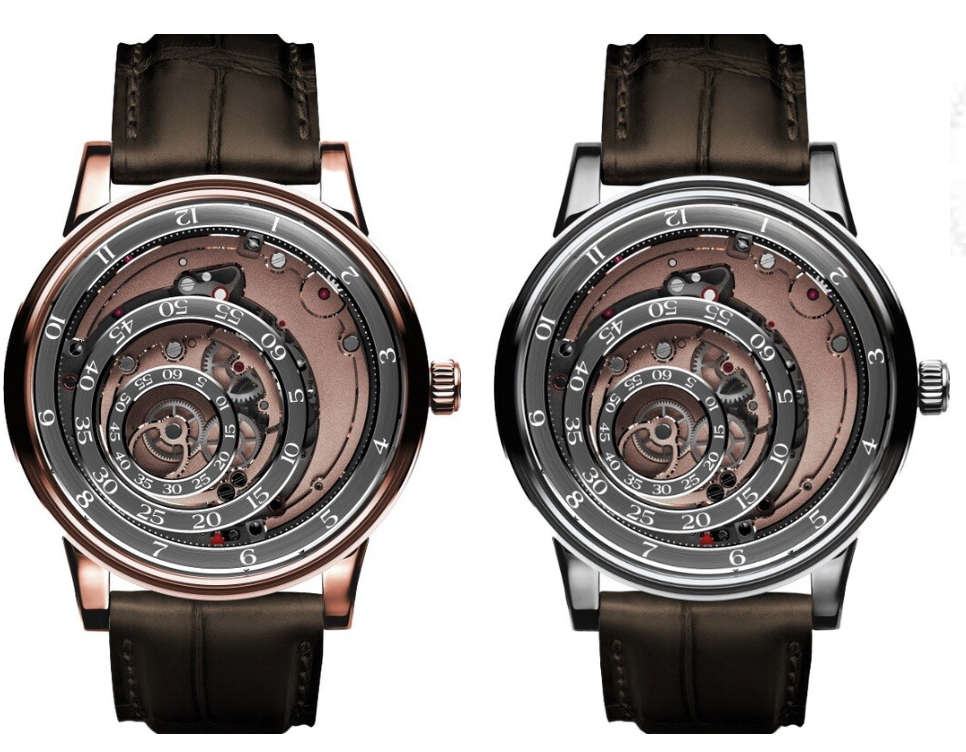 2022 GPHG Winner, Trilobe  released two new versions of one of their most iconic and talked about watches in their collection, Une Folle Journee. Since its debut last year, exclusively in grade 5 titanium w/ a 40.5mm size, this watch has got the attention from hardcore watch enthusiasts, collectors and those who want something more limited exclusive and different from the norm!
For those unfamiliar with the phenomenon that is Trilobe, they are a young brand, just 4 years old, based out of Paris, who's watches are made in Switzerland and in such a short period of time have turned the watch world upside down with their original, unique and technical design and how they display time.
They have reversed the convention of having moving hands and a fixed dial to tell the time and instead have their dials broken up into three rotating  discs representing hours, minutes and seconds and a fixed arrow as an indicator of time. All their collections have this in common. Une Folle Journee takes it up a notch by giving us something from another dimension with the layout of the deconstructed moving and suspended concentric concave curved rings supported by columns. This allows the wearer to have a glimpse into the heart and soul of the watch. On the first generation, these concentric rotating rings are either black or blue and have a darker plate behind it.
This latest iteration known as Une Folle Journee Dune is more subtle and softer where the concentric rotating rings are grey with a NEW light salmon colored back plate behind it, an equally striking option to the original two that were released a year ago. This is available in two variations, one in grade 5 titanium($21,700) and for the first time we are also seeing it offered in a 18K rose gold case($39,500) but only for the NEW Dune edition. Another defining characteristic of this masterpiece from space is the 7.6mm super dome sapphire crystal.  This watch is 40.5mm in case diameter and is powered by the in house X Centric³ calibre movement which was designed and developed by Trilobe CEO and Founder, Gautier Massonneau. In an article I wrote for Watch Time India that was released earlier this year, I had a chance to interview Gautier and this is what he said about this movement, "Regarding the X Centric³ calibre, the front of the movement, for the first time visible behind the dial was completely redesigned for aesthetic purposes. Our X Centric³ calibre is taking shape around multi-tiered bridges and plates, whose sharp edges have been carefully chamfered by hand or polished with diamond tools to emphasize the Anthradec graining performed on their plane surfaces. As part of the watch Une Folle Journée, our calibre was also revisited to ensure the performance and reliability of the watch in the light of a more complicated time display with our three rotating rings, this time projected in space and balanced by 9 pillars." To read my full article on Trilobe, click HERE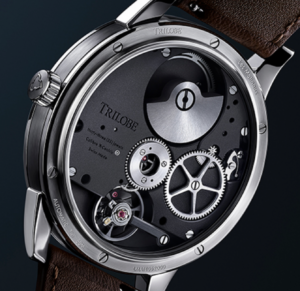 For those NEW to Trilobe and have the means to do so, I highly recommend you take a much closer look at the NEW Une Folle Journee Dune. Even though it breaks all the rules it honors tradition, watch making and originality while staying true to itself.
Due to the unpredictable and volatile market on certain Rolex, Patek Philippe and Audemars Piguet watches, prices are subject to change.