Skip to Content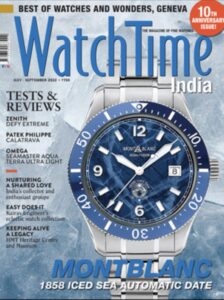 Sept 2022 Issue of Watch Time India
pic courtesy of www.watchtime.in
Watch Time India is the most well known and respected luxury watch magazine in India. This is a collaboration between America's most-read watch magazine, WatchTime and, India's leading media house, Malayala Manorama. I am thrilled to announce that I recently became a contributing writer for them and excited to see how it all unfolds!
Below are the two articles, I have recently written.  My most recent one published at the beginning of last month entitled, "What You Can Learn From The MoonSwatch Collaboration" & my first one published towards the end of July entitled, Opinion: "Why I think the New Tudor is the Ultimate Ranger" Please check them both out in their entirety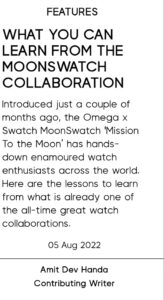 READ THE REST OF THE ARTICLE, HERE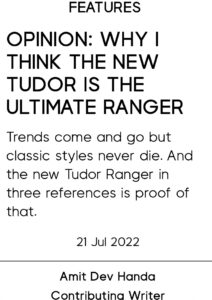 READ THE REST OF THE ARTICLE, HERE
Due to the unpredictable and volatile market on certain Rolex, Patek Philippe and Audemars Piguet watches, prices are subject to change.