Skip to Content
The NEW Tudor Black Bay "Panda" Chrono is the watch that stole the 2021 Watches & Wonders Show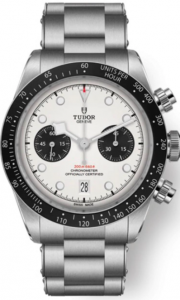 Tudor Black Bay "Pamda" Chronograph 
M79360N-0002
Retail-$5,225
pic courtesy of www.tudorwatch.com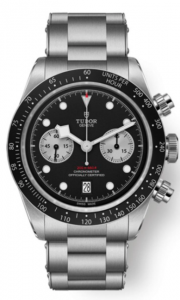 Tudor Black Bay "Pamda" Chronograph 
M79360N-0001
Retail-$5,225
pic courtesy of www.tudorwatch.com
In all my years in the luxury watch business, chronograph watches have never been my thing . To be honest, unless I was a race car driver or did something else that required me to time things with a chronograph for a living,I really don't see the point.
Until this year, I always said if I were to own a chronograph watch it would have to be a vintage Rolex Daytona from the sixties/seventies. Not a bad goal to aspire for but let's be honest, I need a vintage Rolex Daytona like a hole in the head! The cost alone is that of a nice house depending on the model.
In April of this year, me along with the rest of the watch world was pleasantly surprised when Tudor announced and released the NEW Black Bay "Panda" chronograph.  This came out of nowhere, but thankfully  now  I won't need a mortgage to get a vintage Daytona because this is a modern day interpretation of it for a fraction of the price!
For those of you new to watches, Tudor is a subsidiary brand of Rolex. They are completely independent and have their own identity, even though their design language is similar & factory is located alongside their older brother in Geneva Switzerland.
Back in 2017, Tudor released the Black Bay Chronograph. This was very well received from collectors, the press and the like. The only problem was that the profile was a little too high/thick and it felt top heavy when you put it on your wrist.
The NEW Tudor Black Bay "Panda"  is everything you want in a chronograph watch and more! The thickness has been scaled back by half a millimeter and it has most of the vintage Rolex Daytona design cues that we have gown to love! The dial is raised so there isn't as much gap between the dial and domed sapphire crystal allowing the movement to be mounted higher, hence the watch is less thick.
First let's start with the size, It's 41mm in case diameter and made out of stainless steel. The current Rolex Daytona is 40mm which is a little too small for me to wear everyday. It has 200 meters water resistance, which is double that of the current production Rolex Daytona . It has a date, the current Rolex Daytona doesn't have a date, which has been a point of contention amongst some Rolex collectors and enthusiasts.
The bracelet on the Tudor Black Bay "Panda" is a brushed, steel riveted, Oyster style bracelet, which is what you find on vintage Rolex models which is what I prefer since it's and everyday sportier watch. The Rolex Daytona has a nicer, more modern, brushed and polished bracelet. This watch has an in house MT5813 movement(in partnership with Breitling) which is COSC certified with a 70 hour power reserve.
This unique partnership allows Breitling to use Tudor's time only movement in their watches and in exchange, Tudor  can use Breitling's B01 chronograph movement which is highly modified to Tudor's in house specs. It's available in two dial variations; white with black subdials and silver with black subdials.
The crystal is a domed sapphire which is another great design inspiration taken from vintage Rolex Daytona models that were originally made out of plexiglass.  For versatility, this watch is available on a black leather and black fabric strap.
The fixed steel bezel with black aluminum disc mimics the vintage "Paul Newman" Rolex Daytona models which are extremely sought after. The crown and pushers are screw down insuring the 200 meters water  resistance. At the same time it can be quite the adjustment if you are looking to time something quickly since you would first need to unscrew the pushers to start the chronograph function.
Food for thought for those of you on the fence, Tudor watches are made so much better than Rolex watches were 20 years ago but priced like they were then. To me this is the best watch brand that you can buy in the 3-5k price point, not just because of the quality and details but also because they hold their value.
My only real gripe with this watch are the snowflake hands. I know these style hands are synonymous with today's Tudor Black Bay models, but hands are probably the single most important detail on a watch to tell the time and read other data.
These hands cover the subdials at the three & nine o'clock positions, which is annoying and make it harder to read the chronograph at a glance. For better legibility, the hands could have been hollowed out, made thinner or been available with pencil style so there would have been less obstruction. That being said, the majority of people who wear chronograph watches really don't use this functionality.
Saving the best for last is the price. When you consider the Rolex Daytona with ceramic bezel retails for over 13k and commands almost 40k in the secondary market, the Tudor Black Bay "Panda" Chronograph is an absolute bargain even if it was double its retail price. This watch retails for $5,225 on the stainless steel bracelet( the one to buy) and $4,900 on either strap variation. It's already trading for almost double in the secondary market and it was just released in April.
This watch will be hard to find but luckily I work with many different colleagues who are willing to help providing availability and whatever the fair market prices are at the time . To hear my thoughts on this, listen to my podcast HERE .
If you are on the hunt for a Rolex Daytona and can't be bothered to jump through hoops or are not in a position to pay the crazy premium prices, the NEW Tudor Black Bay "Panda" Chronograph not only meets expectations but beats it to a pulp in my opinion!
Check out my vid review below 
The Tudor  Black Bay "Panda" & Reverse Panda" on the wrist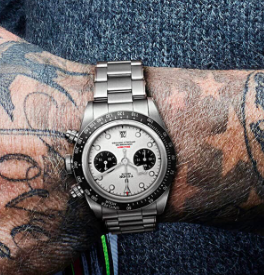 Tudor Black Bay "Panda" white with black subdials m79360n-0002
pic courtesy of www.tudorwatch.com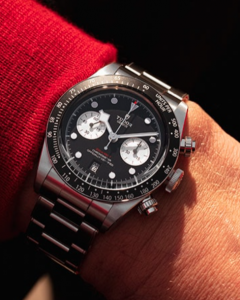 Tudor Black Bay "Reverse Panda" Black with silver subdials M79360N-0001
pic courtesy of www.tudorwatch.com
Technical Features on the Tudor Black Bay "Panda" Chronograph
Due to the unpredictable and volatile market on certain Rolex, Patek Philippe and Audemars Piguet watches, prices are subject to change.