Skip to Content
Why the Rolex Oyster Perpetual 31, 36 & 41MM are one of the best investments you can make for an entry level watch at retail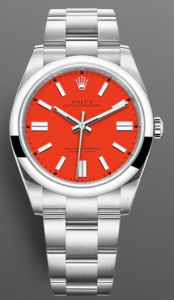 Rolex Oyster Perpetual 41MM in stainless steel w/coral red dial
pic courtesy of www.rolex.com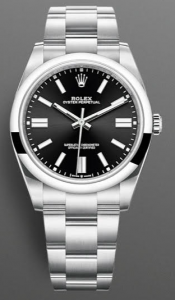 Rolex Oyster Perpetual 41MM in stainless steel w/blk dial
pic courtesy of www.rolex.com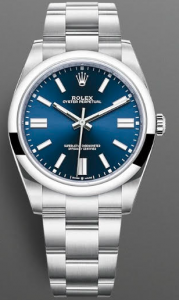 Rolex Oyster Perpetual 41MM in stainless steel w/deep blue dial
pic courtesy of www.rolex.com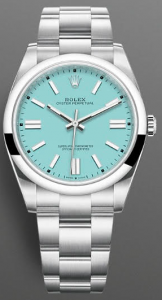 Rolex Oyster Perpetual 41MM in stainless steel w/turquoise dial
pic courtesy of www.rolex.com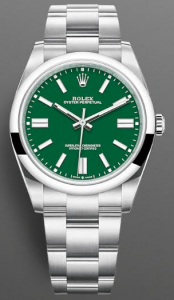 Rolex Oyster Perpetual 41MM in stainless steel w/green dial
pic courtesy of www.rolex.com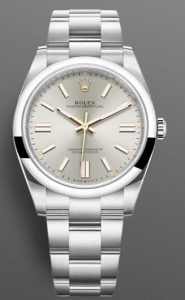 Rolex Oyster Perpetual 41MM in stainless steel w/silver dial
pic courtesy of www.rolex.com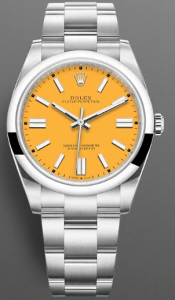 Rolex Oyster Perpetual 41MM in stainless steel w/yellow dial
pic courtesy of www.rolex.com
I got my start in the luxury watch business when I was just 18 years old. I had moved up in the world from selling inexpensive, fun a collectible Swatch watches and now I was in the Big Leagues! Even though it's the same field they are completely two separate worlds. I went from selling necessity to luxury overnight! It was definitely intimidating yet intoxicating but I was finally in!
I needed to wear something nicer so I could be taken more seriously. We were a Rolex dealer but I didn't have a lot of money at that time. We were allowed to make a once in a lifetime employee purchase at a substantial discount on Rolex watches but I had just started working.
To get the benefit of this employee purchase you had to be working there for at least a year. What to do? Luckily, I had made friends with colleague from Ireland and we remain close friends till this day.
He made his once in a lifetime employee purchase and sold me his Rolex Air King w/blk dial . This was 34 mm and entry level for Rolex. I didn't care because it was a NEW Rolex and it was all mine!
I'll never forget it! I felt like I had gone from poverty to wealth overnight. I couldn't stop looking at it. Even before I would sleep at night, I would stare at it under the covers to see how it glowed and was mesmerized by the sweeping seconds hand and its iconic design. It was a timeless, simple and classic watch! You will never forget your first Rolex, there is something really cool and special about it that can't be put into words!
The Oyster perpetual much like the Air King is entry level for Rolex. Last year they introduced a new collection of Oyster Perpetual models with colored dials. The sizes I want to focus on for this article are 31mm.36mm & 41mm. They were incredibly well received and quickly became in demand because the avg price of a stainless steel Rolex watch is between 8-10k, so these are a bargain. The prices are 5,200 for the 31mm. $5,600 for the 36mm and $5,900 for the 41mm.
A lot of people thought this was Rolex's way of injecting fun, whimsy and life into their brand at a somewhat affordable price point. The truth is that these colored dials were part of their DNA and they made quite the comeback!
Quick backstory, in the late seventies till about the mid to late nineties, Rolex commissioned a company based out of Geneva Switzerland known as "Stella" to make these high quality speciality dials made out of lacquer for their flagship Day/Date models. Im sure at the time people must have thought Rolex was off their rocker because they have historically been known as a traditional & buttoned up brand. That being said, Rolex has always been a leader not a follower. They set the trends that the rest of the world ultimately accepts as the standard. There were four iterations of these "Stella' Dials and the most consistent dials amongst these variations were red, yellow, blue and green.
These Oyster Perpetuals models are very simple, straight forward and uncomplicated. The functions are hours, minutes and seconds. There is no date function or speciality bezel. The hour markers are applied made out of white gold and so are the hands (except the silver dial, where the indices and hands are made out of 18k yellow gold).
The anti reflective coating applied to the back of the sapphire crystal ensures legibility of the dial. This model like all most Rolex watches has a screw down crown and is water resistant to 100 meters. It's fitted with an in house manufactured movement that has been chronometer certified by Rolex's highest standards. For the first time we are seeing an Oystersteel bracelet with Folding Oysterclasp with Easylink 5 mm comfort extension link . In past years the Oyster Perpetual has had the most basic Oyster bracelet so it's great to see the most updated version on this watch.
On the current Oyster Perpetuals the colored dials in the 31mm, 36mm & 41mm are the most sought after dials and commanding quite the premiums! The Turquoise "Tiffany' Blue" dial (pictured above), is commanding three and a half times its retail price at 20k in the secondary market and at least two and half times times on the other two sizes with the same dial color.
The Coral red and yellow dials are also commanding at least two times their retail price in the secondary market and even the simple black and silver dials are going for at least double their retail price. This is nuts when you consider it's supposed to be an accessible price point that should be readily available.
It's a good problem for Rolex to have because the demand outweighs the scarce supply. Unfortunately this is not only challenging for their retail partners to deliver, but for consumers these watches are no longer entry level affordable watches because they are completely sold out and unavailable. The only way to get them is to work with people like myself who have access & the relationships. I can definitely help you get any of these models above, but you will be paying whatever the premium prices the secondary market is dictating.
Check out my vid about the Oyster Perpetual Rolex below
Due to the unpredictable and volatile market on certain Rolex, Patek Philippe and Audemars Piguet watches, prices are subject to change.