Skip to Content
Kingsley 1945 Orange Label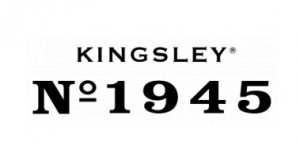 Kingsley 1945 Logo
pic courtesy of www.kingsley1945.com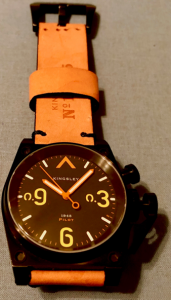 Custom made Kingsley 1945 Type 1 "Orange Label"
in blk steel w/Ace pilot dial
For almost ten years, I have had the esteemed privilege of being the distributor for Kingsley 1945 Watches. Those of you who are unaware, Kingsley 1945 Watches is a very unique and exclusive watch brand inspired byWW2-Era Vintage Military Instruments that are styled, designed and hand assembled in the USA by Ramone Kingsley, the founder and creator for the brand. Each watch is made to order by him.
We originally met back in 2007 through a mutual friend and this chance encounter changed both our lives forever. I never thought this one experience would first of all lead to an amazing partnership and second one beyond watches, design and business . We are brothers through thick and thin!
Ramone truly allows me to run this brand as if it were my own and because of the trust, respect and openness, we have created some of the most amazing custom pieces for our personal clients and enthusiasts around the world which are one of a kind!
I am proud to announce that I am one of the select few that Ramone allows to customize his watches outside of his  core Kingsley 1945 collection, to create special, one off mind blowing timepieces. The complexity of creating these specific pieces requires many years of knowledge, understanding, experience, focus, and dedication.
In a direct kind quote from Ramone Kingsley, "you really have to know what you are doing to do that". I am blessed to be one of the chosen ones! Much like Polo by Ralph Lauren is available for their regular clientele there is Purple Label for those more in the know who want more custom and attention to detail options. We offer what we call Kingsley 1945 "Orange Label",which is exclusively available through me.
For nominal fees providing availability, we are able to turn your visions into something tangible by offering upgraded bezels/crystals, screws,dials, hands & straps. Something unique we offer that I have yet to see from any other brand is cattle branding on the under side of our speciality straps for that subtle yet personalized touch!
Customization work on watches is very rare, costly and difficult to execute correctly these days. Considering all that it takes to do this level of optimization work, our fees are very nominal compared to other luxury brands that may offer similar but more limited services. So don't delay, check out the Kingsley 1945 collection  HERE , then contact me to place your order and start customizing your own personal piece!
Please check out the video below from Ramone Kingsley about our partnership and why you should work with me to create something special.
.
Due to the unpredictable and volatile market on certain Rolex, Patek Philippe and Audemars Piguet watches, prices are subject to change.