Skip to Content
The NEW IWC Big Pilot's Watch 43mm- Is it worth it?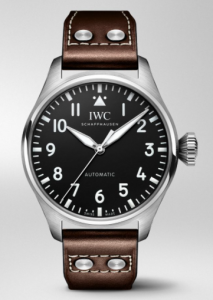 IWC Big Pilot's watch 43mm w/blk dial on brown calfskin strap
pic courtesy of www.iwc.com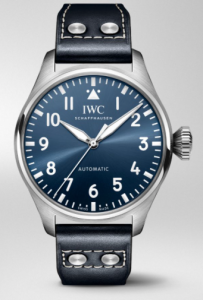 IWC Big Pilot's watch 43mm w/blue dial on blue calfskin strap
pic courtesy of www.iwc.com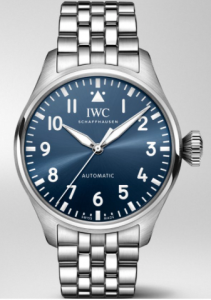 IWC Big Pilot's watch 43mm w/blue dial on steel bracelet
pic courtesy of www.iwc.com
In 2002, IWC changed the watch world forever with the release of  the Big Pilot's Watch in steel with in house 7 day movement. This watch is one of the the true icons in history that was responsible for bringing the average size of men's watches from 40mm to 47mm literally overnight!  It was a huge success and many brands started making bigger, bolder, more robust watches because of it. The original price tag was $9,900. This watch still remains as one of my favorite watches I ever owned because it was a big, rugged,  masculine real man's watch with a lot of history and guts!
Historically, this watch was produced in 1940 known as the "B-Uhr"and was 55mm in case diameter, made out of stainless steel  and  was manufactured  by three different brands for Pilot's. It had a simple black dial with big white Arabic numerals and steel blue propeller shaped hands (as pictured below) so it was easy to read at a glance. There was no way to know who the manufacturer was at that time because there weren't any marking on the dial . The only way to tell was by opening the caseback and it was stamped either IWC, A Lange & Sohne or Glashutte Original. IWC produced only 1,000 of these "military navigator"  watches.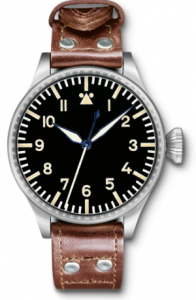 Original IWC "B-Uhr" made in 1940
Pic courtesy of www.iwc.com
This year, IWC released a NEW Big Pilot's watch 43mm in steel. It looks like a modern day interpretation of the original from 1940, almost! This is the first time we are seeing a Big Pilot's watch in a reduced 43mm diameter, which is still a great size because at over 46mm its a very heavy watch that can be quite uncomfortable to wear.
This watch is available in three variations, one with a black dial on a brown calfskin strap(IW329301), another with a blue dial on blue calfskin strap( IW329303) and the last one with a blue dial on  a steel bracelet(IW329304). It's nice to see this watch without a date or subdial because it resembles the original and is more symmetrical this way. It also has a sapphire crystal exhibition caseback which in my opinion is unnecessary because it looses the integrity of the original that never had an open caseback , The two versions on a strap retail for $8,400 while the one on bracelet retail for $9,350.
I think these are very expensive for a three handed time only watches. I also think adding a bracelet to this watch ruins the aesthetic  because It's already a big stainless steel watch to begin with and by adding a steel bracelet, it's overkill if you ask me.
I wish the black dial version had steel blued propeller style hands instead because it would look better and at least soften the blow of the inflated price tag just a wee bit. If the ones on straps were more like 7k and the bracelet version was more like 8k it would still be expensive but not as tough a pill to swallow. This raises the question, Is it worth it?  It's definitely worth if you are looking to buy an IWC Big Pilot's watch  and want to spend under 10k, and also when you compare it to the 7 day version which is nearly 13k. However, I don't really think it's worth it otherwise because there are many other watches I would much rather have. in this price range or less that have the same functionality.
Check out my vid review below 
Due to the unpredictable and volatile market on certain Rolex, Patek Philippe and Audemars Piguet watches, prices are subject to change.