Skip to Content
Patek 5186G- One of the most expensive time and date watches you will ever buy on a rubber strap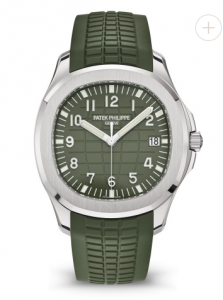 PATEK PHILIPPE AQUANAUGHT 5186G 18K white gold
pic courtesy of www.patek.com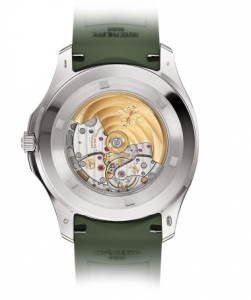 PATEK PHILIPPE AQUANAUGHT 5186G 18K white gold  caseback
pic courtesy of www.patek.com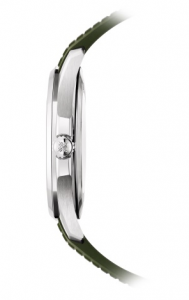 PATEK PHILIPPE AQUANAUGHT 5186G 18K white gold side profile
pic courtesy of www.patek.com
There is no question that Patek Philippe has become "The Rolex" of the high-end luxury watch spectrum! Some of their models, specifically within the Nautilus and Aquanaught collections are commanding premiums up to five times their retail price in the secondary market. They are super hot and impossible to find at retail because of the scarcity of supply. Most of these watches I'm speaking of are made out of stainless steel which is interesting when you consider that Patek Philippe doesn't make many watches in stainless steel  and they are a third of the price to manufacture of the more noble metals like gold and platinum . Patek are more well known for manufacturing classic dress watches on alligator straps  with a variety of  complication options made in precious metals.
Not only are these sportier and more casual Patek Philippe watches their most collectible pieces today but they have become status symbols for the elite! It's one thing to buy a stainless steel watch for 30k or more at retail but to to spend five times that just because you have to have it. Now thats just insane!  I have never quite seen anything like this in my nearly thirty years of selling luxury timepieces.
In comparison to the incredibly hard to get stainless steel watches I mentioned, the Patek 5186G Aquanaught made in white gold pictured above is still expensive but not as outlandish  . This watch is a three handed with time and date function. It's has a khaki green dial and it's fitted on a matching khaki green composite strap with folding buckle .
I recently had a good client purchase this watch. It retails for $43,760 and I was able to help him purchase one for under 90k which is almost impossible to find now because they are going for more like $90-$100K in the secondary market. This is still nuts when you consider we are in the midst of a global pandemic and  this watch is fitted on a rubber strap, but at least it's made out of white gold which has more of a value than stainless steel. Also the average person would have no idea how much this watch would cost by looking at it because they don't know Patek Philippe or the nuances  and  probably wouldn't expect a  90K+ watch to have a green dial or green rubber strap, so it flies under the radar from that perspective. Those in the know would definitely give you that polite and subtle nod of respect & acknowledgement!
The main reason for the surge in price of this model is because Patek Philippe only ships like two of these particular watches per year to their boutiques around the globe and maybe one per authorized retail partner. Until this year, it was the only Aquanuaght or Nautilus model with a green dial, which has become incredibly sought after! These watches are already spoken for before they arrive. The demand definitely outweighs the supply and is certainly one of the most expensive time and date watches you will ever buy on a rubber strap. Please don't hesitate to contact me if I can help you get this watch or any other watch within the current Patek Philippe collection at whatever the after market prices are commanding  providing availability.
Technical specs for Patek Philippe 5186G
Movement
Self-winding mechanical movement. Caliber 324 S C. Date in an aperture. Sweep seconds hand.
DIAL
Khaki green embossed, gold applied numerals with luminescent coating.
CASE
White gold. Screw-down crown. Sapphire-crystal case back. Water resistant to 120m. Diameter (10 – 4 o'clock): 42.2 mm. Height: 8.25 mm.
BRACELET / STRAP
Composite material, khaki green. Aquanaut fold-over clasp.
Due to the unpredictable and volatile market on certain Rolex, Patek Philippe and Audemars Piguet watches, prices are subject to change.