Skip to Content
Laurent Ferrier- The high end luxury independent brand to watch!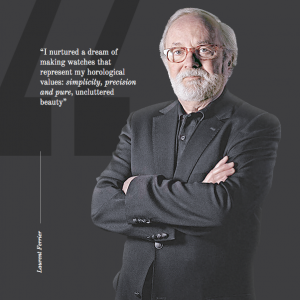 Laurent Ferrier
pic courtesy of www.laurentferrier.ch
I have been procrastinating writing this article for a while but the time has finally come! Every 10-15 years, an incredibly talented independent watch maker surfaces that not only peaks my interest but becomes the topic of my work. Over 20 years ago, F.P. Journe  started his own brand and he has gone on to do mind blowing things within the high end luxury watch industry but today it's Laurent Ferrier.
I met F.P Journe more than 15 years ago before the rest of the world even knew who he was. I started writing about him in 2008/2009 and today he is considered one of the greatest independent watch makers on the planet.  His watches are sold out at boutiques and retailers around the globe while commanding crazy premiums in the secondary market because of  low production, exclusivity and the highest level of  finishing. His watches are also distinct and unique.
I first heard the name Laurent Ferrier at a luxury event in 2014, when I had an amazing partnership with the Mandarin Oriental Hotel Las Vegas for watches. Laurent Ferrier has had an amazing journey so far . He was not only the head watch maker for Patek Philippe at one time, but on the flip-side he was also a world class Leman driving champion in the seventies! Needless to say, he has a great passion, vast knowledge & understanding for mechanics on many levels.
Being a third generation watch maker, it's literally part of his DNA. His brand made its debut in 2008, and by 2010 he had already won the "Best Men's Watch" award at the 2010 Geneva Watchmaking Grand Prix, one of the most coveted prizes within the watch industry.
I'm usually very discerning about classic dress watches or watches made in precious metals on straps but there is something very interesting and special about this brand that appeals to me beyond finishing and mechanics. I like how simple. clean and understated his watches are on one hand and how complicated and well finished they are on the other.  The details are all in the finishing of his dials, movements and cases which can be admired by the wearer. Laurent Ferrier also won the prestigious GPHG award in 2015  "Horological Revelation" prize for the Galet Square and once again in 2018 for "Men's Complication" category for the Galet Annual Calendar Montre Ecole.
This is just remarkable when you consider how young this brand is. I could be wrong but even though I don't have official  production numbers, I'm pretty sure Laurent Ferrier makes less than 1,000 pieces a year for the world which is very limited. Lucky for you, I have access to this brand with the help of my trusted colleagues who are authorized Laurent Ferrier retailers . You can check out the official Laurent Ferrier website HERE ,
With all this incredible success in such a short period of time, and with  his son Christian being at his side at the helm resuming the family legacy as a forth generation watchmaker and movement constructer for the brand, Laurent Ferrier is the high end luxury independent brand to watch!
Due to the unpredictable and volatile market on certain Rolex, Patek Philippe and Audemars Piguet watches, prices are subject to change.