Skip to Content
The NEW Cartier Tank Monochrome Must Collection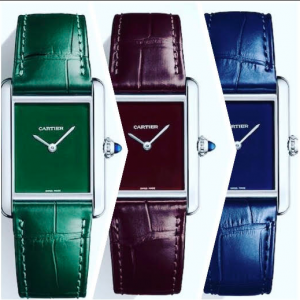 NEW Cartier Tank Must Collection
Pics courtesy of Cartier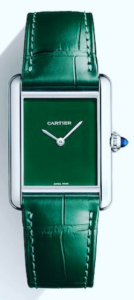 NEW CARTIER TANK MONOCHROME MUST IN GREEN
Pic courtesy of Cartier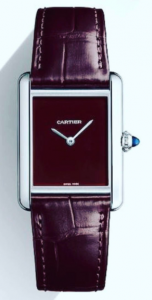 NEW CARTIER TANK MONOCHROME MUST IN BURGUNDY
Pic courtesy of Cartier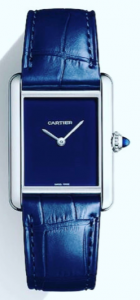 NEW CARTIER TANK MONOCHROME MUST IN BLUE
Pic courtesy of Cartier
I was a child of the eighties. Whats not to like about it? The best music, amazing clothes, iconic movies, fast food and incredible style were all born or some say reinvented during this time ! So it's not surprising that I would  love the NEW Cartier Tank Monochrome Must collection that debuted at  the Watches & Wonders watch show in Geneva Switzerland last month. It's originally inspired by a watch Cartier made in the late seventies/early eighties.
For the record, I have always admired the Cartier Tank from afar, but for some reason I  just couldn't  pull the trigger because there is something generic about it which really does nothing for me.  The Cartier Tank is to square/rectangular watches what the Rolex Datejust  is to round watches. It's a true classic and they both have their place in history. Even though Rolex is my favorite brand, I have never owned a Datejust either for the same reason. I like things that are unique, different and special to what the mainstream trends are, but that's just my pint of beer!
That being said, I don't feel that Cartier really gets the recognition that they truly deserve. They transcend watches and are embraced by the arts and fashion community in a way that Rolex is not. There is something sophisticated and culturally relevant about Cartier. One of my favorite artists and inspirations of all time, Andy Warhol wore a Cartier Tank and it was his favorite watch. He was known to have quite the watch collection. In a quote from Warhol,"I don't wear a Tank watch to tell the time. Actually I never even wind it".
The NEW Cartier Tank Monochrome Must collection is a modern day interpretation of Warhol's favorite timepiece, but its quartz and not mechanical, available in stainless steel with colored lacquer dials.  Its also one of the best values out there for the money from a mainstream luxury watch brand like Cartier. This watch retails for $2,730. The dial options are green, burgundy and blue and are fitted on matching alligator straps.Since the dials are lacquer they are rich and warm and give the watch depth. There is also that minimalist eighties aesthetic the watch evokes as soon as you lay your eyes on it. It feels familiar yet we haven't seen anything like it from Cartier for almost 40 years.
I have yet to see this watch in the flesh and my only gripe is the size, It's 34mm in case diameter. This may be too small for me, but I won't really know until I see it and try it on. I'm used to wearing larger 45-47mm so it may feel like a postage stamp on my wrist. I normally draw the line at 41-42mm but this might be the first time I wear something under 36mm since I was 12 years old because I love everything else about it! You really can't get a cleaner watch than this. It doesn't have a seconds hand or a date. It says "Cartier" above the hands at the twelve o'clock position and "Swiss Made" at the bottom of the dial at the six o'clock position and that's it!
The smaller size definitely make it elegant while the monochromatic look of the dial and case make it modern, unassuming and stylish. I also almost never wear a quartz watch(except for Swatch) because I am a purist that likes automatic and manual wind watches. Once in a while though it's nice not to worry about winding a watch or wearing it to keep it running.
My suspicion was that because there is something special about this watch, it will only be available for a limited time even though it's not numbered. My hunch was correct. When I called one of the major Cartier boutiques, they said it will be sold till it sells out and then it won't be produced again. I'm sure this watch will go over retail in the secondary market. Lucky for you I have access to these watches for a limited time from an authorized Cartier dealer at the current retail price plus tax and shipping. If you are looking for a Cartier and don't want what everyone else is wearing, I suggest you contact me to help you order this watch while supplies last asap . I hear the watch will deliver some time late summer/early fall.  To listen to my podcast about this, click HERE ,
Watch my vid on this below
Due to the unpredictable and volatile market on certain Rolex, Patek Philippe and Audemars Piguet watches, prices are subject to change.