Skip to Content
The Rolex GMT-Master II "Pepsi" & "Batman" are finally available on Oyster bracelets for 2021!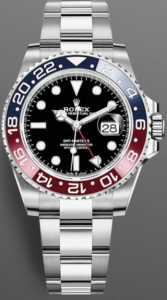 Rolex GMT-Master II "Pepsi" w/red/blue ceramic bezel on Oyster Bracelet
pic courtesy of www.rolex.com
Rolex GMT-Master II "Batman" w/black/blue ceramic bezel on Oyster Bracelet
pic courtesy of www.rolex.com
In my opinion, I find the NEW Rolex novelties that were recently launched at Watches & Wonders in Geneva for 2021 to be lack luster and kind of a yawn fest. Don't get me wrong, they are still my favorite brand but I guess after  selling them for almost thirty years the bar is set pretty high!
That being sad, I know there are plenty of people who appreciate the NEW Rolex Explorer 1 released in the traditional steel version and for the first time ever a  NEW variation in stainless steel & 18K  yellow gold which I find to be quite hideous. It doesn't make any sense to me. The Explorer 1 is the most iconic, stainless steel, classic 3 handed watch in history and it has always been available only in stainless steel and no other metal. That's what makes it great because it stands alone! They also went from a 40mm size back to the original 36mm size. In my opinion this is a big mistake. 40mm is the perfect size that can be worn by both men and women today. By going back to 36mm it alienates those who have bigger wrists and hands and want to enjoy this cult classic! My hunch tells me that they will probably offer the bigger size in the future.
The Explorer II also got a refresh with a NEW movement, case,  bracelet and dial. Otherwise it more or less looks exactly the same as the previous generation originally released back in 2011. The size of the watch stays the same at 42mm. To enhance visibility for day/night, the dials have been optimized with  lacquered finishing and Chromalight display for ultimate contrast and legibility . It's an awesome upgrade, Hopefully the Explorer II will finally get the respect it deserves.
To be honest, I was ready to write off Rolex completely just for this year because I  wasn't  really taken with anything they released until I was on the Rolex website last week and stumbled on the GMT-Master II collection. I quickly realized that the stainless steel versions on Jubilee bracelets including the "Pepsi" with red/blue ceramic bezel and "Batman" with black/blue ceramic bezels are also now  available on Oyster bracelet options. This one move single handedly restored my faith in Rolex for this year and they didn't even have to release a NEW watch. It's genius and annoying at the same time!
Why is this such a big deal? Well for starters,  being able to buy these watches on Oyster bracelets finally gives collectors the choice they always wanted.  There are many people including myself who just couldn't get down with the Jubilee bracelet versions. Historically, even though the GMT-Master has been available on both bracelets, the Oyster bracelet is the one that collectors, the press and the like  strongly identify this watch model on.
As much as the Jubilee bracelet versions  were  a huge disappointment for serious Rolex aficionados, it's remarkable how well Rolex has marketed  this watch and how quickly is has  become a staple within their collection that a NEW generation of enthusiasts have clearly embraced and must have!
The Oyster bracelet versions retail for $9,500 while the Jubilee bracelet versions retail for $9,700. Not that the retail price really matters because Rolex isn't shipping much product these days to their authorized retailers and boutiques, hence they are impossible to get!
I wouldn't  hold your breath trying to find any of these watches at your local Rolex boutique or authorized dealer . Since Rolex is playing the supply and demand game like a boss, both models are trading for more than double their retail price in the secondary market on Jubilee bracelets. I'm sure the Oyster bracelet versions  will command even more of a premium  since it hasn't 'been available the last couple of years and because of it's relevance in history.  I can definitely help you get any of these watches at whatever they are trading for in the secondary market within 24-48 hrs providing  availability. To hear more about this, check out my podcast HERE.
Watch my video on this
Due to the unpredictable and volatile market on certain Rolex, Patek Philippe and Audemars Piguet watches, prices are subject to change.