Skip to Content
Swatch X Jean-Michel Basquiat- The most affordable priceless art you can wear!
If you are a fan of art and want a collectible piece of history you can wear, you are definitely going to want to continue reading! Jean-Michel Basquiat, a renowned Neo-Expressionist painter and graffiti artist, has left an indelible mark on the art world. Considered one of the most influential artists of the 20th century, Basquiat's work continues to captivate audiences with its social commentary and powerful imagery. He is in the pantheon of great master artists whose single works have gone for over $100 million USD at auction. For Swatch's latest collaboration, they celebrate his artistic genius and bring his iconic pieces to life. They have teamed up with the Jean-Michel Basquiat foundation and interpreted three of his paintings into watches. I called it 20 years ago and the day has finally come. Swatch has done some amazing art collabs lately and in the past with world renowned artists like; Keith Haring, Kenny Scharf, Sam Francis, Roy Lichtenstein, Renee Magritte and more. This particular collaboration is incredibly special and really makes priceless art affordable and personal because you can wear it!
HOLLYWOOD AFRICANS BY JEAN-MICHEL BASQUIAT: One of Basquiat's notable works, "Hollywood Africans," belongs to a series that explores the stereotypes surrounding African Americans in the entertainment industry during the 1980s. This thought-provoking painting challenges conventional narratives, employing symbolism and vivid colors. The red and black hands, juxtaposed with standout hues, create an edgy and engaging visual experience.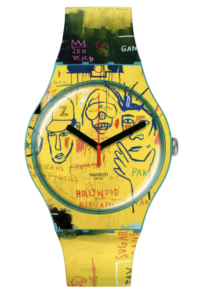 UNTITLED BY JEAN-MICHEL BASQUIAT: Basquiat frequently incorporated the crown as a symbol of his ambition and determination to succeed. In the painting "Untitled," this powerful emblem takes center stage on the watch dial. As you wear this timepiece, let it serve as a timely reminder of your own aspirations and unwavering pursuit of greatness. The crown becomes a tangible representation of the desire and determination within us all.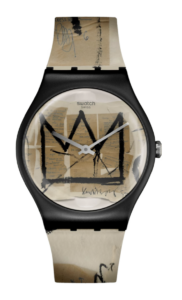 ISHTAR BY JEAN-MICHEL BASQUIAT: In the captivating artwork titled "Ishtar," Basquiat draws inspiration from ancient goddesses, interweaving text and imagery to convey historical themes. The watch's black dial proudly showcases the artist's signature writing, while silver and red hands add a touch of vibrancy. The strap itself becomes a canvas adorned with colorful symbols, further enhancing the artistic allure of this wearable masterpiece.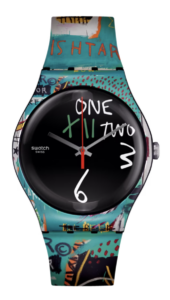 Swatch X Jean Michel Basquiat Triptych Collectors Set
A true collector's item, the Swatch x JEAN-MICHEL BASQUIAT Set is a limited production run, ensuring that only a limited quantity will be available. To secure your order, make sure to log in to your account for purchasing. Please note that there is a purchase limit of one set per account. Orders will be filled on a first-come, first-served basis and are scheduled to be shipped starting from May 18, 2023. It is advised to check availability as stocks are limited.
For those looking for an opportunity to get their hands on this highly sought-after set, the Swatch x JEAN-MICHEL BASQUIAT Set raffle is taking place in-store. Simply visit a selected Swatch store during opening hours between May 11 and May 17, 2023. Complete a short quiz for a chance to win this limited production set, a true collector's item for any art aficionado. Raffle winners will be contacted by email starting from May 18, 2023.
The Swatch x JEAN-MICHEL BASQUIAT Set is a unique offering that includes three watches from the collaboration, each with distinctive details exclusive to this set. The eco-friendly packaging, inspired by Basquiat's iconic painting "Ishtar," showcases a short artist bio and all three reimagined artworks featured on the Swatches.
Adding to its exclusivity, each watch in the set comes with an additional loop. The first loop bears the artist's name, acting as a signature that celebrates his artwork, while the second loop showcases the crown, a symbol frequently used by Basquiat with an open interpretation of its meaning.
Further enhancing the uniqueness of each watch in the set are the distinct details not found in the other watches. "UNTITLED BY JEAN-MICHEL BASQUIAT" boasts a gold-colored seconds hand, "ISHTAR BY JEAN-MICHEL BASQUIAT" features a yellow-colored seconds hand, and "HOLLYWOOD AFRICANS BY JEAN-MICHEL BASQUIAT" showcases a neon pink-colored seconds hand.
Don't miss out on this extraordinary opportunity to own the Swatch x JEAN-MICHEL BASQUIAT Set, an exquisite collection that embodies the essence of Basquiat's artistry.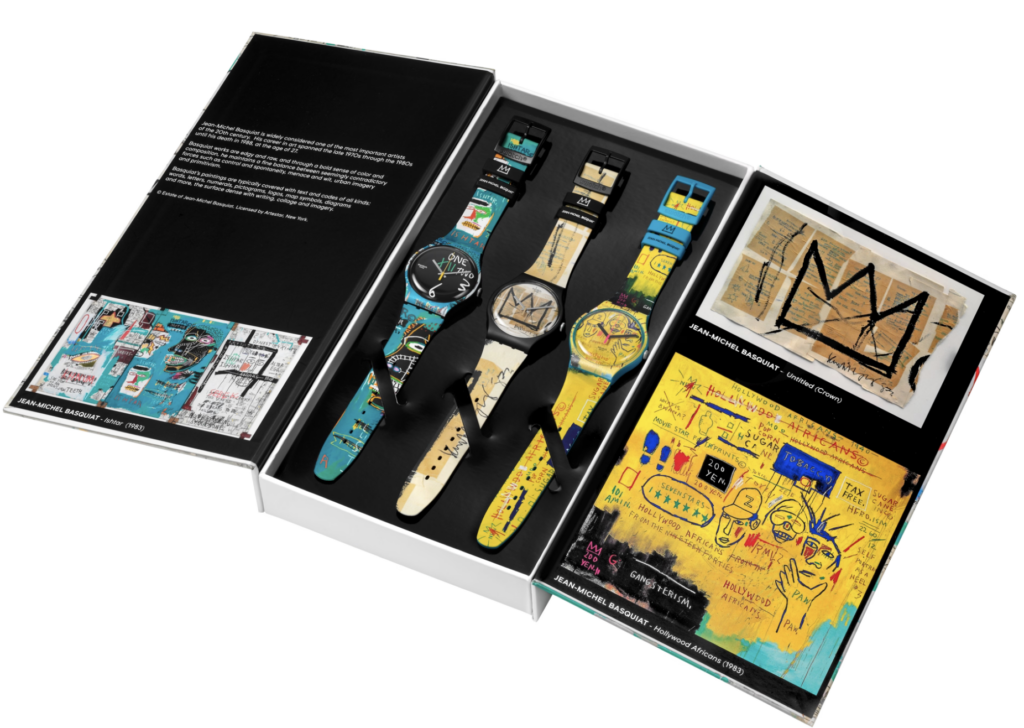 Jean-Michel Basquiat's artistic legacy continues to resonate with art enthusiasts worldwide. Through his unique style, social commentary, and powerful symbolism, he challenged established norms and created an enduring impact. For pennies on the dollar ($105 for each watch separately  or $365 for the collectors boxed set) compared to his renowned works of art, this collaboration allows you to carry a piece of Basquiat's genius on your wrist, paying homage to his vision and inviting you to reflect upon your own ambitions and the societal narratives we navigate.Watch my vid to get my thought's on why this is something you need to collect, HERE
Due to the unpredictable and volatile market on certain Rolex, Patek Philippe and Audemars Piguet watches, prices are subject to change.