Skip to Content
Patek Philippe Released The Aquanaut Chronograph 5968A At Baselworld 2018!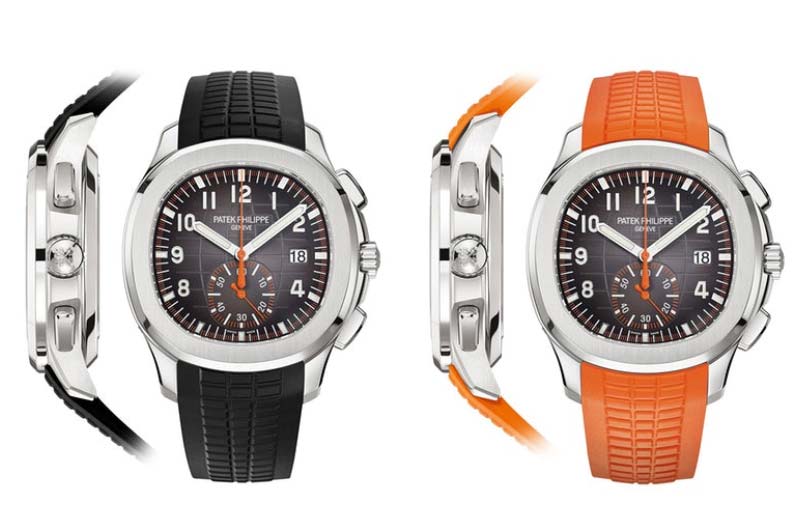 Patek Philippe Aquanaught Chronograph 5968A
pic courtesy of www.patek.com 
To appeal to a younger and hipper "Hamptons" style audience, Patek Philippe has released the Aquanaut Chronograph 5968A at Baselworld 2018! This is the first chronograph within the Aquanaut collection. The Aquanaut has been a massive hit for the brand! This new chronograph will be even hotter. Like Rolex, Patek Philippe continues to enjoy how much they are in demand at the moment, across the board!
For Patek Philippe, this model is on the bigger size at 42mm in case diameter. By making it a chronograph, adding hints of orange on the dial, and having it come fitted with a black rubber or orange rubber strap, it makes it sporty and gives it life! It's really clean for a chronograph. What amazes me about a watch like this is that it retails for $43,770 and there is enough of a demand for this watch that it will command thousands over retail, so forget a discount! Like all other Patek Philippe Aquanaut watches, you will be lucky just to find one. As much as Patek Philippe is that sophisticated, buttoned-up serious watch brand for the high-end luxury consumer, it's nice to see a watch like this that has character and modernity.
I can definitely help you acquire this watch at the current after market prices( providing availability) between $140,000-$150,000 Contact me HERE to get started!
Patek Philippe Aquanaught Chronograph 5968A technical details
Diameter: 42.2mm
Thickness: 11.9mm
Case Material: Stainless steel
Dial Color: Grey
Indexes: Arabic numerals
Lume: Yes
Water Resistance: 120 meters
Strap/Bracelet: Composite rubber strap with steel folding buckle
Retail-$49,680
I'm a Luxury Watch Concierge
I can guide, assist and advise you on your luxury watch purchase and source the timepiece from authorized dealers
Wanna talk watches with the best of them? I can teach you how. Start today, and you will be talking like a watch pro in no time!
Due to the unpredictable and volatile market on certain Rolex, Patek Philippe and Audemars Piguet watches, prices are subject to change.