Skip to Content
Nomos Glashutte Released The Autobahn Collection At Basleworld 2018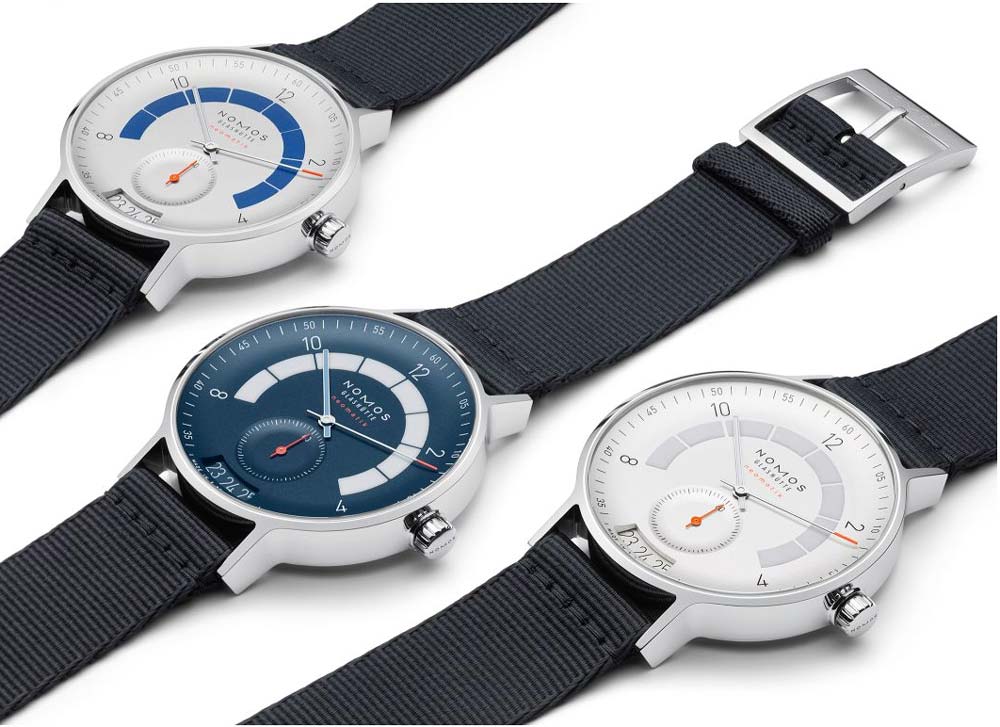 NEW NOMOS AUTOBAHN COLLECTION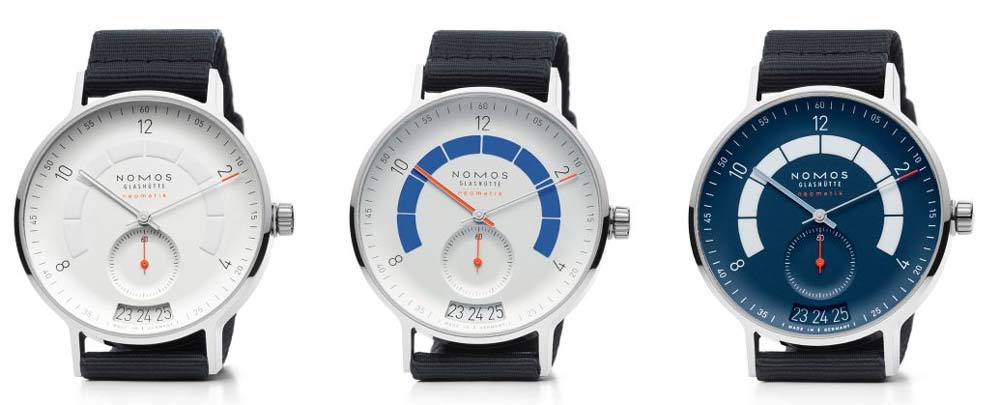 NEW NOMOS GLASHUTTE AUTOBAHN COLLECTION HEAD ON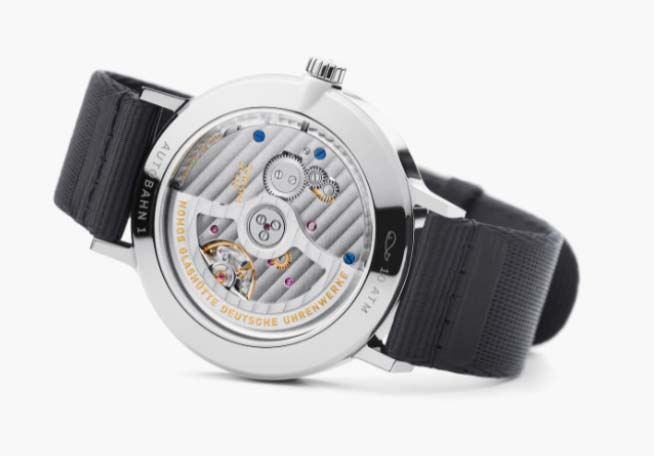 NOMOS in-house caliber DUW 6101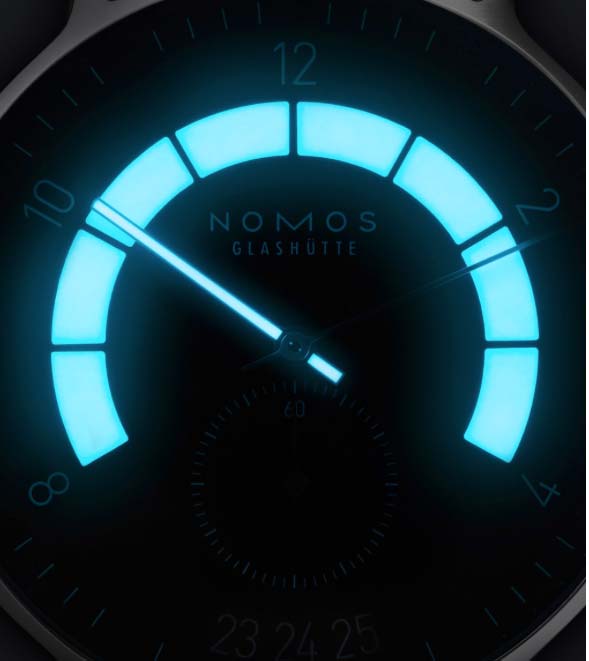 NOMOS GLASHUTTE AUTOBAHN AT NIGHT
This Baselworld 2018 was the first time, German Bauhaus design inspired watch brand, Nomos Glashuette released a sophisticated and everyday casual sports watch at the perfect size. This watch is called the Autobahn. It combines, the brand's iconic minimalist design aesthetic with the whimsy, emotion, and passion of car racing. This watch was designed in collaboration with Werner Aissingler who is one of the most renowned designers in the world.
The NEW Nomos Glashuette Autobahn comes available in three versions; one with galvanized, white silver-plated light gray dial with a luminous ring with superluminova (blue luminescence) elongated date window, one with midnight blue dial with a white luminous ring with superluminova (blue luminescence) elongated date window and one with a galvanized, rhodium-plated dial with a blue luminous ring with superluminova (blue luminescence)elongated date window. The NEW Autobahn has a polished 41mm case with a domed sapphire crystal. This watch may not appeal to the regular Nomos Glashutte client who wants something sub 40mm that is classic. The NEW Nomos Autobahn is definitely a bigger and more modern watch that stands out from the rest of anything they have released. This watch will appeal to anyone who wants something sporty, elegant, different and unique from any other watch brand.
I love the details like the curved dial and sub seconds hand which gives it depth and character and sets it apart from the other models. Since this is a German brand and it's inspired by racing, the name Autobahn for this particular model is very fitting. The dial features design elements inspired by odometers in the center of the dial and for the date. Since I haven't seen this watch live yet, I am unable to comment on the fit, look, or legibility. From what I have read from my colleagues on other blogs, it's not the easiest to read because of the hands, and the date display which shows three days at a time at a glance is distracting. It's not my favorite watch the Nomos makes but I think it was essential they make a watch like this to appeal to a broader audience worldwide.
This watch is powered by the German automatic NOMOS in-house caliber DUW 6101 with 27 jewels, 28,800 vph, and a power reserve of 42 hours. It features the NOMOS swing system, a tempered blue balance spring, a NOMOS balance bridge, fixed by screws on both sides. Stop-seconds mechanism with a bi-directional winding rotor (gold-plated embossing). Glashutte three-quarter Plate. DUW regulation system adjusted in six positions. Tempered blue screws, rhodium-plated surfaces with Glashutte ribbing, and NOMOS perlage. Golden engravings.
The sure-fire winner out of the three is the one with a galvanized, rhodium-plated dial with a blue luminous ring with superluminova (blue luminescence)elongated date window. It has the best contrast and is something I feel one could wear for a long time without being bored. The toughest pill for me to swallow is the price. This watch retails for $4,800. which Is a little steep for a watch in steel that only displays time and date. It's fitted on a textile waterproof strap with a pin buckle, which is essentially a nicer nato strap. You would think given the price that this watch would be fitted on a nice horween leather strap and the textile strap would be included. Time will only tell how well this watch will do.
I can definitely help you get one of these watches from an authorized Nomos authorized retailer. Contact me HERE to get started
A Q&A with Werner Aissingler From the Nomos Glashutte website
Why Is This Watch Called Autobahn?
It's dashing, sporty, a powerful machine—without being brash or loud. Autobahn reminds me of a vintage sports car. There are definitely more contemporary modes of transport, but old automobiles, their form, and finishing fascinate me. And I love speed!
Could You Describe It?
The most striking aspect is perhaps the depth of the dial. Its edge is curved, like the outside lane of a racetrack—or the fender of a vintage race car. With a gentle swing, it flattens out into the watch face. And the sub-seconds dial repeats these curves. Of course, the typography, the luminous ring, and the elongated date window also play an important role. The last element is reminiscent of an odometer. But perhaps the most important characteristic is its outstanding production.
Autobahn, Speedometers, Racetracks: Is Your Watch Designed With Men in Mind?
Plenty of women love driving—and I believe some of them will be interested in my watch as well. My creative partner Tina Bunyaprasit, who worked on the timepiece's design with me, will wear it on her wrist too. Still, I have to admit that it may appeal more to men, since the case is rather large, and the watch is very striking.
Has the Automotive Industry Ever Asked You to Design a Vehicle?
Not yet. But now I have the watch model Autobahn. Which is almost better.
Even as a student at the Berlin University of the Arts, Werner Aisslinger worked for Ron Arad and Jasper Morrison in London and Michele de Lucchi in Milan. In 1993 he founded studio Esslinger in Berlin, which has had a second office in Singapore since 2008. Aisslinger's Juli Chair was the first German chair since 1964 to be selected for the permanent collection of the MoMA in New York. His furniture designs are also on display in the Fonds national d'art Contemporain in Paris, the Victoria & Albert Museum in London, and the Neue Sammlung in Munich. Aisslinger's nomadic architectural units, such as the Loftcube, are pioneering works for a new style of living. Aisslinger has received numerous design prizes, such as the Compasso d'Oro from Italy, the Designpreis Deutschland from Germany, and the Good Design Award from the Chicago Athenaeum. In 2014 he received the title of 'A&W Designer of the year'. Since then, Werner Aisslinger has been working for and with NOMOS Glashütte, alongside his creative partner Tina Bunyaprasit.
I'm a Luxury Watch Concierge
I can guide, assist and advise you on your luxury watch purchase and source the timepiece from authorized dealers
Wanna talk watches with the best of them? I can teach you how. Start today, and you will be talking like a watch pro in no time!
Due to the unpredictable and volatile market on certain Rolex, Patek Philippe and Audemars Piguet watches, prices are subject to change.