Skip to Content
Patek Philippe released a Nautilus's with olive green dial at Watches & Wonders
 
Patek Philippe 
5711/1A – NAUTILUS
Pic courtesy of www.patek.com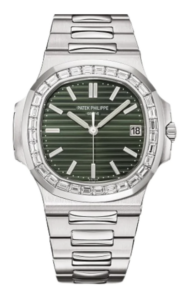 Patek Philippe 
5711/1300A – NAUTILUS
Pic courtesy of www.patek.com
The Patek Philippe Nautilus model in stainless steel has never really been my pint of  beer, personally . I would much rather wear an AP Royal Oak for everyday but that's just me.  It doesn't really matter because this has become Patek's icon and is by far the most sought after watch in the world! Gone are the days of them only being known for making classic gold watches on alligator straps. The irony is, the stainless steel versions of the Nautilus model  especially w/blue dials have propelled Patek Phillipe globally into another stratosphere! Now Green in the newest color for Patek on the Nautilus and it's creating all the buzz! These watches are symbols of opulence, wealth and showmanship, yet they are made out of the most inexpensive metal that Patek produces their watches out of.  For those new to watches you may ask, "how is this possible?"
For starters, even though there is a massive demand and shortage around the world for these watches, stainless steel is not something Patek Philippe is really known for or makes a lot of, especially when you look at their whole collection. Retail prices for their stainless steel Nautilus watches seem to be a bargain (even though they are high for stainless steel) compared to the precious metal watches Patek manufactures.
Here's the kicker, since Patek don't produce many of these watches to begin with and the demand outweighs the supply in leaps and bounds, these watches are commanding premiums in the secondary market beyond anything you could possibly imagine!
This means you can't really buy any of these watches at Patek Boutiques or authorized retailers (unless you have a crazy spend history or a great relationship) since they are pretty much sold out. Hence why the premiums are out of control in the aftermarket. With quantity scarce and demand crazier than ever before, the only way to get these watches is by paying whatever the premiums are and by working with people like myself who have the partnerships with some amazing people. They  are very trusted and  have a lot of pull to get just about anything relatively quickly!
A great example of this would be the NEW stainless steel Nautilus 5711/1A with olive green dial ($34,890 retail) and 5711/1300A with olive green dial and diamond baguette bezel ($94,620) pictured above. Both watches are stainless steel with hours, minutes, seconds and date function.This is the first time Patek has used this olive green color dial on the Nautilus and the last on this reference.
In my opinion, these retail prices are quite expensive to begin with. I get that bagutte diamonds are expensive, but come on!  That's not even the crazy part. These watches officially debuted at Watches & Wonders watch fair in Geneva Switzerland this past April. It hasn't even been 4 months yet and both these models have already shattered records for what they are commanding in the secondary market!
The 5711/1A with olive green dial in stainless steel just sold at auction for $490,000 which is almost fifteen times its retail price. The 5711/1300A with olive green dial and diamond baguette bezel is going for almost $900,000 in the aftermarket, which is more than nine times its retail price. Here's the thing, there is still room to collect/invest, even if you are not a watch collector but have the means to make a solid long term investment like this and want to diversify.
Patek Philippe made the announcement that this would be the last production year of the 5711 model in stainless steel. There are probably less than 100 of each of these watches in the world and they are trading incredibly strong! As long as it stays on course and nothing serious happens, prices can only keep going up! Contact me HERE, I can help you purchase either watch pending extremely limited availability.Serious Inquires please.
*Prices are subject to change at any moment due to the crazy market demand for these watches.
TECHNICAL SPECS  FOR THE 

5711/1A

–

NAUTILUS 

SELF-WINDING
Self-winding mechanical movement. Caliber 26‑330 S C. Date in an aperture. Sweep seconds.
DIAL
Sunburst olive-green, horizontally embossed, gold applied hour markers with luminescent coating.
CASE
Stainless steel. Screw-down crown. Sapphire-crystal case back. Water-resistant to 120m. Diameter (10–4 o'clock): 40mm. Height: 8.3 mm.
BRACELET / STRAP
Steel bracelet. Nautilus fold-over clasp
RETAIL
$34,890
TECHNICAL SPECS  FOR THE 
5711/1300A

–

NAUTILUS 

SELF-WINDING
Due to the unpredictable and volatile market on certain Rolex, Patek Philippe and Audemars Piguet watches, prices are subject to change.