Skip to Content
Tudor opened their first US boutique alongside a NEW Rolex space in NYC!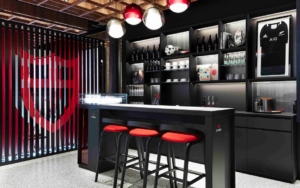 First Tudor US Boutique
pic courtesy of www.timezone.com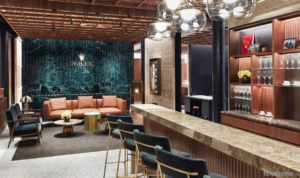 NEW Rolex Boutique
pic courtesy of www.timezone.com
The day has finally come! Tudor has opened their first US Boutique alongside a NEW Rolex Boutique in New York's Meat Packing district. The address 29-35 9th Ave, New York, NY 10014. This has been a long time coming for Tudor who have made quite the impact on the watch industry since their triumphant return in 2013! Both boutique's are in partnership with long standing retail partner, Tourneau. This is the first time we are seeing Rolex & Tudor joining forces under one roof but with separate entrances in the US. I love that this space was a former warehouse. It takes up the entire base of the Soho House private members club at the corner of Ninth Avenue and West 13th Street.
These boutiques combine nearly 4,000 Sq ft of luxury retail. In a statement from Tourneau CEO, Ira Melnitsky, "We are pleased to be opening our first adjoining Rolex and Tudor boutiques in downtown Manhattan a move that is an exciting part of Tourneau's growth and will provide an environment that suits this landmark district in both design and experience. These new boutiques are a testament to the longstanding partnership between Rolex, Tudor, and Tourneau,"
Throughout the boutique, Tudor proudly uses their iconic colors of black, red and white to strengthen their presence and image. The interior has sleek black furnishings, transparent red mosaic glass and vitrines, and sharp white surfaces to visually enhance the extensive range of Tudor's collection.
Just in case you were wondering, the new Tudor Boutique will also be the only place in the U.S. to acquire the recently released Black Bay Fifty-Eight Bronze 'Boutique Edition' and other US and boutique exclusives around the world in the future.
The Rolex Boutique features floating glass displays suspended by bronze tubes and bronze mesh. It combines metal, wood and leather with every inch carefully finished with rich materials like American walnut grid ceilings, cream Travertine walls and leather seating finished with bronze trims. The terrazzo stairs join a floating terrazzo ledge, which winds its way around the entry space. The main customer lounge is anchored by a green Verdi Alpi marble wall. Pocket doors close to create private areas for VIP viewings.
Even though Rolex & Tudor operate independently of each other, it's nice to see both brands finally standing strong together! Rolex is the hottest brand in the world and Tudor is the hottest brand in the 3-5k price point. Both have a passionate, die hard, loyal cult following! This is great for the watch industry and amazing for the area which will bring a lot more people because of the strength and impact of both brands globally!
Due to the unpredictable and volatile market on certain Rolex, Patek Philippe and Audemars Piguet watches, prices are subject to change.