Skip to Content
The triumphant return of Breitling watches!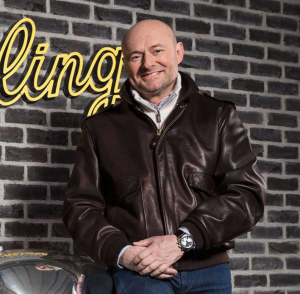 George Kern- CEO of Breitling SA
pic courtesy of www.revolutionwatch.com
Since I can remember, I have always had a love/strongly dislike relationship with Breitling watches. They have never appealed to me enough to buy one for myself but I  respect and admire their place within the industry. They were a family owned brand till a couple of years ago when they were sold to CVC Capital Partners. For those of you wondering who CVC Capital Partners are, it's the same group that owns Formula 1 auto racing and a collection of other notable investments.
When I was in luxury watch retail between 1996-2007, I remember being one of the biggest authorized Breitling dealers in the country at the time. Though I never owned any Breitling watches, I was a fan of  The Navitmer, Super Ocean and Emergency models. The bullet bracelet was also something that grabbed my interest because of  its originality. Since I was Rolex guy and Breitling was a fierce competitor, I  wasn't too vested in the brand as a whole even though we carried both brands.
Unfortunately Breitling made a lot of different models the market was saturated with and they all started looking the same and were very expensive for what they were, so the resale value wasn't the best. I am all about value and Breiltling wasn't it!
As of 2017, Georges Kern has been the CEO of Breitling SA. You may have heard of him, He was responsible for making IWC what it is and he also had a little something to do with the success of Tag Heuer before that. Breitling hit the jackpot when they took him on because he is a man with vision, talent and laser like focus. In four years Mr Kern has completely transformed the brand into something collectors, watch enthusiasts and the like  are not only talking about but want to own.
Mr Kern has redesigned staple collections like the Navitimer, Chronomat, Super Ocean, Avenger & Professional and made them better and more streamlined . He has brought back collections inspired by Breitling's history with the Top Time & Premeier collections. I'm happy to report that the iconic and cool bullet bracelet has also made a comeback under his watch, Only a year after Georges took control of the brand, famed actors and mega superstars, Brad Pitt & Charleze Theron became global brand ambassadors for Breitling watches. This move definitely helped propel the brands image to a hipper, more stylish audience with money to spend. Very smart!
In 2020, Breitling won two of the most prestigious GPHG watch prizes, including the Petite Aquille Watch Prize and the Diver's watch prize.
Georges has also made an important contribution to go green with sustainable packaging for Breitling watches that take up less space and are made out of  100% upcycled bottles. With incredible achievements like these, Breitling has made their triumphant return and they are here to stay! To listen to my podcast about this click HERE .
Due to the unpredictable and volatile market on certain Rolex, Patek Philippe and Audemars Piguet watches, prices are subject to change.