Skip to Content
Introducing the Freak ONE: Ulysse Nardin's Revolutionary Watch
As 2023 is in full swing, Ulysse Nardin unveils a watch that bridges the past to the future, with the Freak ONE. This timepiece is a powerful expression of the original Freak iconography, but with modern relevance. It has no hands, no dial, and no crown, with the movement as the centerpiece. The Freak ONE becomes Ulysse Nardin's flagship watch, defining the brand's new independence.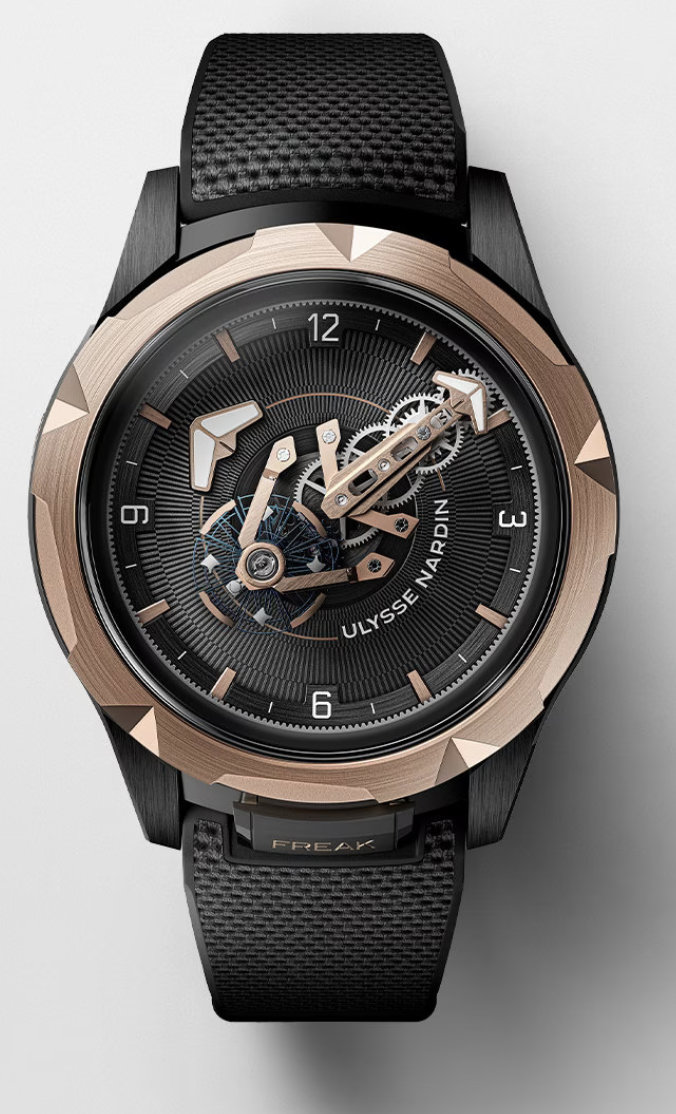 The Freak ONE draws design codes from the over-two-decades-long history of the Freak, epitomized by the presence of the famous orbital flying one-hour carrousel. The UN-240 manufacture movement is automatic, utilizing the innovative Grinder system, which features four blades connected to the oscillating weight. This design stores energy in the mainspring and is twice as efficient as any other winding system on the market.
The most thrilling element of the new Freak ONE is the oversized and highly complex, aerodynamic and inertia-optimized balance wheel crafted entirely from one piece of silicon. The lever escapement is executed in DIAMonSIL, which is a patented form of diamond-coated silicon. This is the result of Ulysse Nardin's unrivaled expertise in silicon technology, and it represents the single most advanced oscillator in the watch industry.
The Freak ONE has The 44mm black DLC-coated titanium case has a satin finish and is accented by a rose gold 5N bezel. It's the first Freak with an integrated rubber strap, made of 30 percent recycled rubber from production waste by BIWI. Ulysse Nardin's commitment to sustainability is evident in this watch, as well as in the brand's overall philosophy.
In its two decades of life, the Freak has constantly pushed the boundaries of watch design and engineering. The Freak ONE is no exception, as it pays homage to the original Freak while introducing new elements that make it relevant for the modern world. With this watch, Ulysse Nardin continues to set the standard for innovation, quality, and sustainability in the watch industry.
Due to the unpredictable and volatile market on certain Rolex, Patek Philippe and Audemars Piguet watches, prices are subject to change.