Skip to Content
What Are The Best AP Royal Oak Watches To Collect ???
When I was in luxury watch retail sales between 1994- 2007, blue was the one color on a watch dial that I absolutely couldn't stand. I thought it was too trendy and frankly quite boring. Today I don't feel quite as strongly about it one way or another.
Over the last five years, blue has been the hottest dial color option on watches, especially from the big three, Rolex, Patek Phillipe & AP. Not only are blue dial watches from these brands in demand but on certain models but they are commanding more than four and a half their retail value in the secondary market!
I want to break down for you a couple of Audemars Piguet Royal watches below that you should consider mostly with blue dials and one without if you're interested in collecting. These watches are extremely exclusive, rare and hard to get, while still commanding hefty premiums despite the global crisis.
Since AP has done away with their authorized retail network, these watches are exclusively available at AP Boutiques around the world . I recently called an Audemars Piguet boutique to confirm, "what if I was a new AP Boutique customer, could I buy any of these pieces if they were available ?"
The Audemars Piguet associate told me that "we would sell these watches to a new customer who walked in off the street if the watches were available."
I then asked, "what if I am a new consumer and want to buy the watch/watches and you have them in stock, but you also have a client who already has an established spend history who wants it, who would you sell it to then ?" The associate very quickly got flustered and said "I was trying to help you with prices and I don't work on the sales floor."
I totally understood and didn't want to make a big deal or put them on the spot.
The boutiques usually charge their suggested retail prices plus sales tax. Since there is no product to be had at these boutiques and demand is on fire, you may want to consider using a service like mine.
I can definitely help you get you any of these pieces new or pre owned with box and papers much quicker (within a week providing availibilitty) than waiting for a boutique and a lot of places online! Unfortunately getting them at retail is not an option so I can get them for you at whatever the current after market premium prices are.
You could definitely be waiting a couple years or more if you buy from a boutique on certain models. A lot of places online advertise the watch but they don't necessarily have it in stock or even have access to it. Also some places online are charging brokerage fees that are way higher than $150 that charge to get started. This fee then gets deducted from the price of the watch when you buy it, so you have nothing to loose!
In my opinion and from what I have been told from good clients of AP Boutiques, even if these pieces were available at the boutique and you are a newbie ready to buy, it doesn't mean you will be able to buy it necessarily . You need to have a certain spend history already established just to be considered to be able to buy them. The demand is far greater than the supply so there are no guarantees you will be able to buy them.
Below is my list of AP Royal Oak watches to collect
1.Audemars Piguet Royal Oak 15202BC.OO.1240BC.01 "Jumbo" Extra-Thin 18kwg W/Salmon Dial 39mm
pic courtesy of www.audemarspiguet.com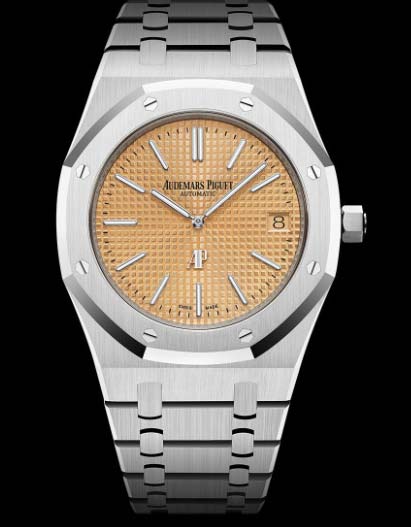 In 1972 Audemars Piguet released what is known as today the iconic Royal Oak "Jumbo". At that time the only other brand that dominated the watch market on a stainless steel bracelet was the equally iconic Rolex Datejust at 36mmm. So the Jumbo was AP's way of saying we are bigger and better.
Today, AP also makes a production version of Royal Oak self-winding which is 41mm in size. I know it sounds a little confusing that they still make a watch called the "Jumbo" even though it's not the biggest size they make!
AP brought back a watch that they only made a total of 75 pieces in 2019. This is called the Royal Oak Ultra Thin Ref #15202BC.OO.1240BC.01 with a salmon dial pictured above. This dial first appeared on the stainless steel Royal Oak 20th anniversary edition in 1992.
For the first time, AP introduced this watch in a white gold case and bracelet. This is truly a unisex watch. I know some of you out there may look at this dial and think salmon is quite feminine looking but I think it's very sophisticated and unique. This is a great example of an AP that is commanding more than three and a half times its retail even through this pandemic. The retail is $55,400 and today they are going as high as $195,000. This watch is incredibly hard to get but I can help you find one.
2.Audemars Piguet Royal Oak 15202ST.OO.1240ST.01 39mm "Jumbo" Extra-Thin S/S W/Blue Dial
pic courtesy of www.audemarspiguet.com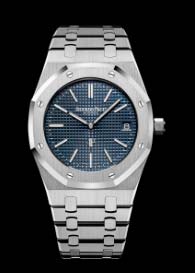 The second AP Royal Oak I wanted to show you and the hardest AP Royal Oak to get overall is also an Extra-Thin "Jumbo" in stainless steel which came out in 2012. This is 39 mm stainless steel with a blue dial w/ Petite Tapisserie with the date pictured above. This watch retails for $28,900 and if you are lucky to locate one, you will pay over 100K .To me, this is the perfect Royal Oak for a collector who really wants the closest thing to the original that came out in 1972, but it has all the modern-day improvements. It's very clean, understated and the average person would have no idea what it is. This March AP announced this watch will be discontinued and replaced next year.
3.Audemars Piguet Royal Oak 15202IP.OO.12140IP.01 "Jumbo" Extra-Thin Titanium & Platinum Limited to 250 pieces 39mm
pic courtesy of www.audemarspiguet.com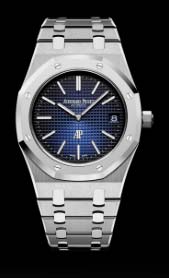 The third AP I wanted to show you is also a "Jumbo" Extra-Thin but in titanium and platinum pictured above.This is limited to 250 pieces. It has a blue gradient dial with date, titanium case, polished platinum bezel, titanium bracelet with platinum polished center links. The retail is $39,200 and if you are lucky to get your hands on one you will be paying as much as $195,000. I must say I really do like the gradient blue dial and the combination of using titanium and platinum. This is a good example of an AP Royal Oak commanding almost five times its retail value.
4.Audemars Piguet Royal Oak 15500ST.OO.1220ST.01 Self-Winding 41mm
pic courtesy of www.audemarspiguet.com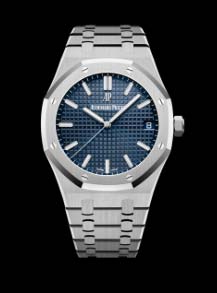 This last watch above is hands down my favorite out of all the watches mentioned. the AP 15500OO.1220ST.01 Royal Oak 41mm self-winding, made out of stainless steel and has a with a blue dial w/"Grande Tapisserie" pattern, white gold applied hour-markers and Royal Oak hands with luminescent coating and date function.
Even though this watch isn't numbered it's still very hard to get. This was introduced in 2019. The retail is $22,900 and in 2020 I helped a good client purchase one for $35,000 which was high then but considered a bargain now! Audemars Piguet is hotter and more in demand than ever before and I don't see them slowing down anytime soon!
It's also the perfect size watch to wear for casual and dressier situations while flying somewhat under the radar! The stainless steel 39mm "Jumbo" is nice but for me it lacks that everyday wearing sensibility that the 41mm naturally has .
Today the 41mm self-winding is not only holding strong, but it's going for anywhere between $55,000-65,000 in the secondary marker give or take depending on condition and availability.
Just to give you an idea of the difference between the 41mm self-winding blue dial pictured above and the stainless steel 39mm "Jumbo" besides the case diameter, the 41mm self-winding is 10.4mm in thickness whereas the "Jumbo" is 8.1mm in thickness. This definitely makes the Jumbo look and feel more elegant.
The water resistance on all these models is 50 meters. The writing on the dial also varies on both models.
Since the announced in March, prices have gone bananas on the AP Royal Oak 39mm "Jumbo" in steel with blue dial ! It's going for more than three and a half times its retail value and rising! As it gets closer to the discontinuation, prices will soar further and while the new one is waiting to be introduced, the demand for the 41mm self winding will go through the roof, I'm sure!
This is why I feel the 41mm self-winding pictured above is still the one to get! Even though it has exceeded expectations by commanding as much as three times it's original retail value, I think this watch will continue to appreciate even further and has the most room to grow!
Should the market persist to be crazy in demand like they are right now, this watch could see between 75k or even as much at 100k in the secondary market. Since Dec 0f 2020 I have seen some AP Royal Oak models double and the prices were already double to begin with!
For decades I have cultivated amazing relationships with some of the most powerful & influential partners who help me source these incredibly hot and hard to get timepieces on a regular basis for my clients around the world!
As you can see, all these watches are amazing investments, especially if you had the opportunity to be able to buy them at retail. If you are interested in working with me to purchasing any of these watches I do charge a non refundable $150 consultation fee for my time to help you source the watch and if you then decide to work with me to purchase it, I'll deduct this fee from the finally agreed upon purchase price , Contact me. HERE. to get started!
Due to the unpredictable and volatile market on certain Rolex, Patek Philippe and Audemars Piguet watches, prices are subject to change.