Skip to Content
What Are The Best AP Royal Oak Watches To Collect ???
When I was in luxury watch retail sales between 1994- 2007, blue was the one color on a watch dial that I absolutely couldn't stand. I thought it was too trendy and frankly quite boring. Today I don't feel as strongly about it one way or another. Over the last five years, blue has been the hottest dial color option on watches, especially from the big three, Rolex, Patek Phillipe & AP. Not only are blue dial watches from these brands hard to get but on certain models but they are commanding more than double of their retail value in the secondary market. I want to break down for you a couple of Audemars Piguet watches that you should consider mostly with blue dials and one without if you want to collect. These watches are Audemars Piguet Boutique exclusives and are still commanding hefty premiums despite the global crisis that we are all facing. For those of you who are unfamiliar, Boutique Exclusives are made exclusively in this case for Audemars Piguet watches. No authorized AP retailer would have access to watches made exclusively for Boutiques because of the rare number of pieces produced and its designation. Even if these pieces were available at a boutique, they would have first had to select you to be qualified to buy them. The demand is far greater than the supply and there are no guarantees.
Royal Oak "Jumbo" Extra-Thin 18kwg W/Salmon Dial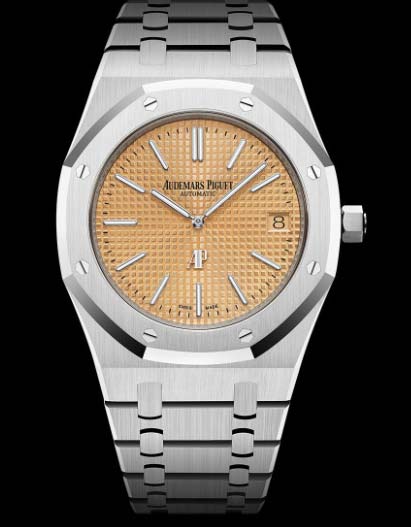 In 1972 Audemars Piguet released what is known as today the iconic Royal Oak "Jumbo". At that time the only other brand that dominated the watch market on a stainless steel bracelet was the equally iconic Rolex Datejust at 36mmm. So the Jumbo was AP's way of saying we are bigger and better in a way. Today, AP also makes a production version of Royal Oak self-winding which is 41mm in size. I know it sounds a little confusing that they still make a watch called the "Jumbo" even though it's not the biggest size they make.
For this first Boutique Exclusive, I want to show you, AP brought back a watch that they only made a total of 75 pieces for 2019. This is called the Royal Oak Ultra Thin Ref #15202BC.OO.1240BC.01 with a salmon dial pictured above. This salmon-colored dial appeared on the stainless steel Royal Oak 20th anniversary edition in 1992. For the first time, AP introduced this watch in a white gold case and bracelet. This is truly a unisex watch. I know some of you out there may look at this dial and think salmon is quite feminine looking but I think it's very sophisticated and unique. This is a great example of an AP that is commanding more than double its retail even through this pandemic. The retail is $55,400 and I was blessed to recently have access to one and sell it for over $115,000. They are going as high as $125,000. This watch is incredibly hard to get but I can help you find one.
Royal Oak "jumbo" Extra-Thin S/S W/Blue Dial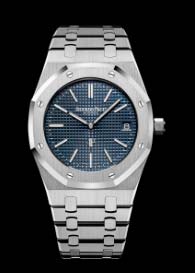 The second boutique exclusive I wanted to show you and the hardest AP Royal Oak to get overall is also an Extra-Thin "Jumbo" which came out in 2012. This is 39 mm stainless steel with a blue dial with the date pictured above. This watch retails for $25,800 and if you are lucky to locate one, you will pay north of $50,000.To me, this is the perfect Royal Oak because it's the closest thing to the original that came out in 1972 but it has all the modern-day improvements. It's very clean, understated and the average person would have no idea what it is.
Royal Oak "jumbo" Extra-Thin Titanium & Platinum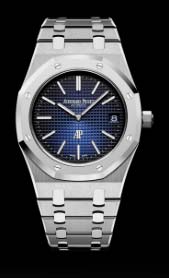 The third AP Boutique Exclusive I wanted to show you is also a "Jumbo" Extra-Thin but in titanium and platinum pictured above.This is limited to 250 pieces. It has a blue gradient dial with date, titanium case, polished platinum bezel, titanium bracelet with platinum polished center links. The retail is $34,800 and if you are lucky to get your hands on one you will be paying north of $60,000. I must say I really do like the gradient blue dial and the combination of using titnaium and platinum.
Royal Oak Self-Winding 41mm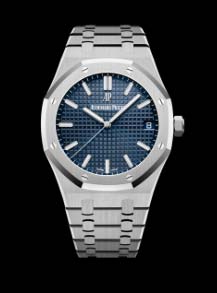 This last Boutique Exclusive is an AP Royal Oak 41mm self-winding, made out of stainless steel and has a blue dial with date . Even though this watch isn't numbered it's still very hard to get. This was introduced last year. The retail is $20,400 and I recently helped a good client locate one for $34,000. As you can see all these watches are amazing investments, especially if you had the priviledge to be able to buy them at retail. Just to give you an idea of the difference between the 41mm self-winding blue dial pictured above and the 39mm "Jumbo" besides the case diameter, the 41mm self-winding is 10.4mm in thickness whereas the "Jumbo is 8.1mm in thickness. The water resistance on all these models is 50 meters. The writing on the dial also varies on both models. On the 41mm self-winding underneath the twelve o'clock hour marker, AP is written with Audemars Piguet written underneath that. On the 39mm "Jumbo" "Audemars Piguet" is written underneath the twelve o'clock indice and "Automatic" is written underneath it. "AP" is written above the six o'clock position. I am not the biggest fan of too much writing but I must say I like how much more balanced the dial looks on the "Jumbo" vs the 41mm Self-winding.
Due to the unpredictable and volatile market on certain Rolex, Patek Philippe and Audemars Piguet watches, prices are subject to change.