Skip to Content
URWERK's Celestial Beauty: The UR-120 Space Black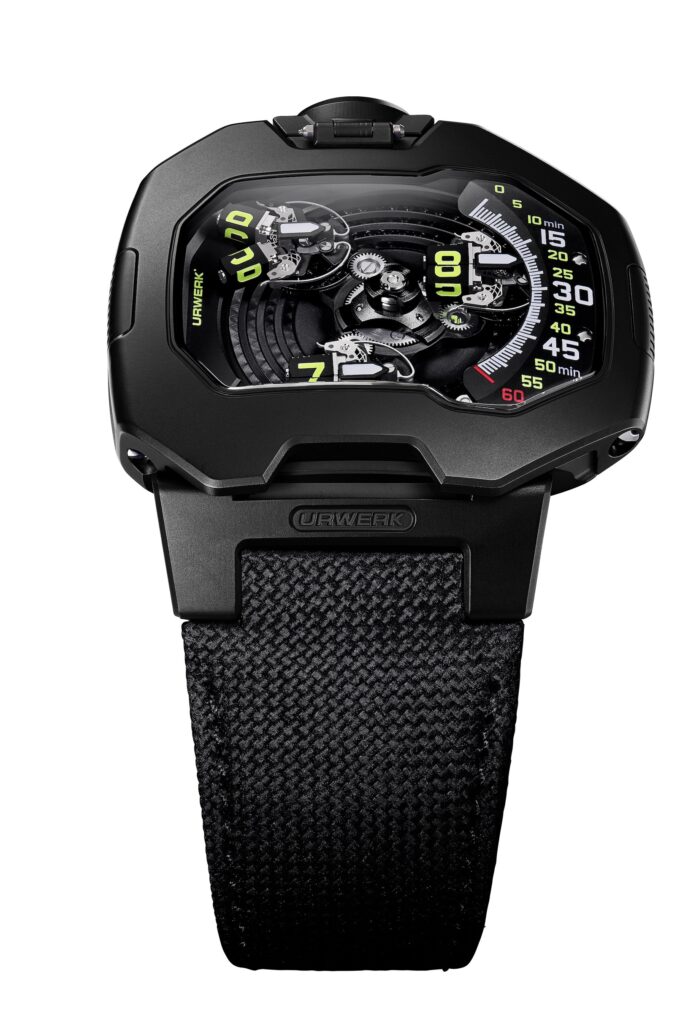 Every so often, an earth-shattering creation emerges that ignites excitement throughout horology's universe. Now URWERK has unleashed another star-studded masterpiece – the UR-120 Space Black!
Imagine this – an amazing combination of celestial inspiration, cutting-edge technology, and science fiction all combined into an eye-catching timepiece from Andromeda to the Milky Way that has captured watch enthusiasts from both corners of our galaxy.
What distinguishes the UR-120 from other starry watches is its treatment in black – not any old black, but rather one with deep, unfathomable depths reminiscent of outer space itself. Martin Frei, co-founder and creative genius of URWERK, elucidates this notion poetically: "The UR-120 Space Black is all about black as design element," according to him. Martin goes further by explaining how black can distort perceptions of size while emphasizing contours to produce an impressive watch that radiates with otherworldly elegance – an end product of which timepieces will never cease hypnotic elegance!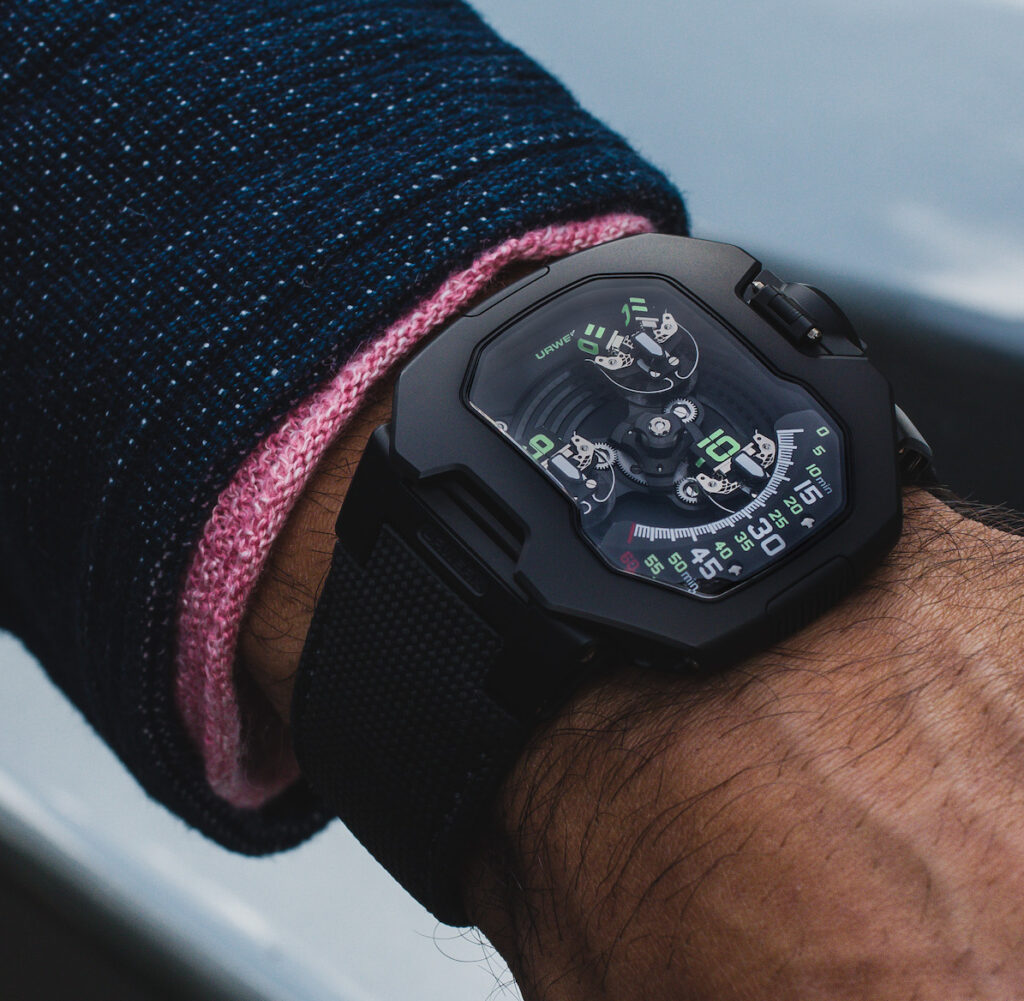 But let's not get so starry-eyed that we forget about the solidly earthbound technical specs that make this beauty tick. The UR-120 boasts a robust case measuring 47mm x 44mm x 15.8mm, made from sandblasted titanium, and crowned with a sandblasted steel bezel. This bad boy is water-resistant up to 30 meters, thanks to a curved AR-coated sapphire crystal and a display back, complete with black DLC treatment and silicon coating.
Driving this black hole of horological wonder is the Swiss automatic URWERK in-house caliber UR-20.01. This stellar engine is assembled from a veritable cosmic soup of materials, including Beryllium-copper, grey PVD brass, gold PVD and black rhodium, anodized aluminum, ARCAP, titanium, and LIGA-processed nickel. It beats at a rate of 28,800 vph and provides a power reserve of 48 hours, thanks to 32 glittering jewels and a Swiss lever escapement.
The crowning glory of the UR-120 is the mesmerizing dance of analog minutes and digital split open hours satellites, mounted on triple planetary gears. Indices adorned with hand-applied SuperLuminova guide you through the celestial passage of time, whether you're lost in a nebula or navigating the city streets.
Rounding off the ensemble is a black calf leather strap, sporting an embossed Cordura pattern and secured with a titanium pin buckle. As comfortable as it is stylish, it keeps the watch firmly strapped to your wrist, whether you're bounding through low gravity or sipping an espresso at your local café.
However, don't expect this cosmic creation to be priced like your average earthly watch. The UR-120 Space Black comes in at a cool 110,000 Swiss Francs. A pretty penny, sure, but for a creation of this caliber, it's a small price to pay for a ticket to horological heaven.
So, there you have it, the UR-120 Space Black is a celebration of celestial inspiration, advanced technology, and a touch of science fiction. But more than that, it's a testament to the limitless creativity and artistry of URWERK. The universe may be infinite, but pieces like this are anything but common. Whether you're a seasoned horological enthusiast or a newcomer to this cosmos, the UR-120 is a celestial spectacle that's simply not to be missed.
Due to the unpredictable and volatile market on certain Rolex, Patek Philippe and Audemars Piguet watches, prices are subject to change.