Skip to Content
Urwerk Works Magic with Titanium: Discover the Exquisite UR-100V Magic T Watch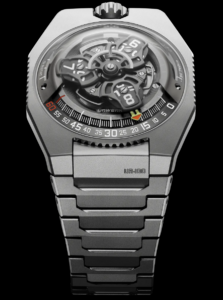 The NEW URWERK UR-100V Magic T watch is a timepiece that truly lives up to its nickname of "magic" with its impeccable brushed titanium finish. According to Felix Baumgartner, master watchmaker and co-founder of URWERK, the watch's finish is a true celebration of the beauty of the metal, as it is enhanced with light and refined shot-blasting. The result is a stunning piece that shines in full brilliance. The omplex dial is broken down into several elements, giving it more structure and enhancing legibility. The 3D creation is meticulously crafted down to the smallest detail, making it a true work of art.
Technical specifications of the URWERK UR-100V Magic T include a 41mm x 49.7mm x 14mm sanded shot-blasted titanium case with winding crown at the twelve a clock position, a sapphire crystal, and water resistance up to 30 meters. The Swiss automatic URWERK caliber UR 12.02 movement powers the watch, which boasts 40 jewels, 28,800 vph, and a power reserve of 48 hours. The movement is also governed by a Windfänger airscrew, while finishing includes circular graining, sanding, shot-blasting, and circular satin finishing, as well as chamfered screw heads.
Features include satellite hours, minutes, and rotational and orbital distances, all painted in Super-Luminova for added visibility. The satellite hours are displayed on beryllium-bronze Geneva crosses, while the carousel and triple baseplates are made from ARCAP alloy.
This  watch is fitted on a titanium bracelet with 32 sanded shot-blasted links, making it a luxurious and sophisticated accessory. The watch is priced at 58,000 Swiss Francs, reflecting its exquisite craftsmanship and attention to detail. With its stunning finish and intricate design, the URWERK UR-100V Magic T is a true masterpiece that will appeal to watch enthusiasts and collectors alike.
Due to the unpredictable and volatile market on certain Rolex, Patek Philippe and Audemars Piguet watches, prices are subject to change.