Skip to Content
The NEW Czapek Antarctique Titanium Dark Sector watch is next level!
Czapek is a highly regarded independent luxury watch brand with a rich history dating back to 1839. Polish immigrant founders, Francois (originally Franciszek) Czapek, a skilled watchmaker, and Antoine Norbert de Patek, founder of Patek Philippe, collaborated for six years under the name Patek, Cazpek & Cie. During this period, they created some phenomenal timepieces that earned them worldwide recognition. After their partnership ended in 1845, Czapek founded Czapek & Cie with his new partner, Juliusz Gruzewski, while Patek went on to establish Patek Philippe & Co in collaboration with Adrien Philippe. Czapek quickly became renowned as one of the greatest watchmakers of the 19th century, serving as the Purveyor to the Imperial Court and Watchmaker of His Imperial Highness, Prince Napoleon. With boutiques in Geneva, Warsaw, and Paris, including Place Vendôme, the company achieved great heights. Additionally, Czapek authored one of the earliest books on watchmaking in Polish. Since their triumphant rebirth in 2012, Czapek continues to make waves around the world, with their latest creation, the limited edition Czapek Antarctique Titanium Dark Sector, offering the perfect blend of refinement and adventure!
Titanium Case: The Czapek Antarctique Titanium Dark Sector features a 40mm matte finished  Grade 5 titanium case which features a sapphire exhibition caseback.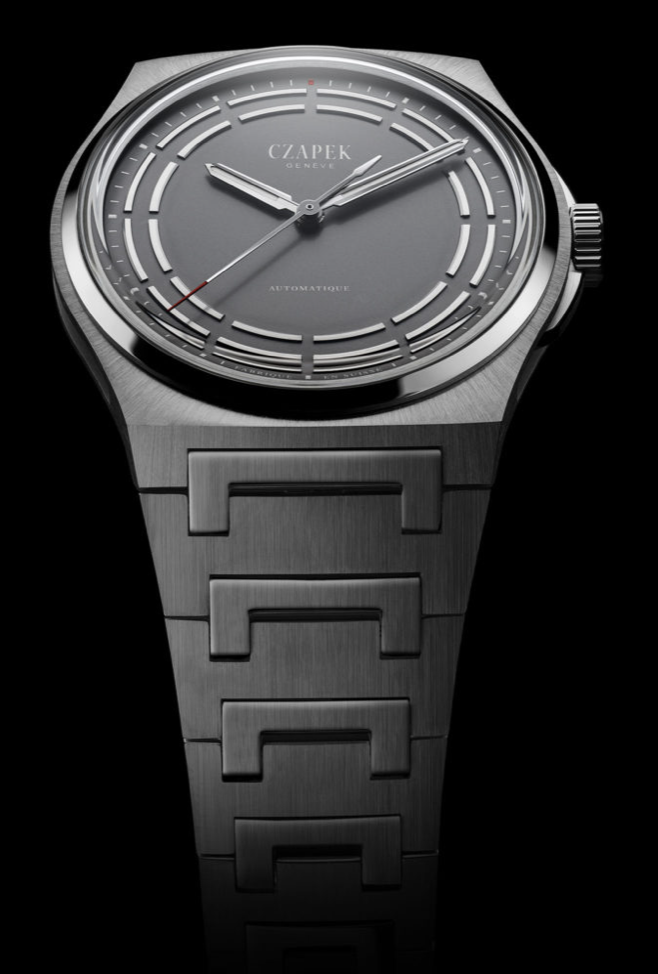 Dark Sector Design: The watch's unique "Dark Sector" design is inspired by the Antarctic night.The allure of the Antarctique lies in its skillful utilization of space. The smooth anthracite dial is adorned with a subtle minute track positioned discreetly around its perimeter and has a velouté finish. A double row of lightly arched parallel segments, interrupted at each numeral, encircles this track. The hour hand, resembling a sword, indicates the gaps like a ship navigating into a harbor, while the minute and second hands move across the dial at their own pace, momentarily closing the gaps. A subtle pop of the color red dot at the twelve o'clock position and the red tip seconds hand add life to this monochromatic machine.
SXH5 Caliber Movement: The Czapek Antarctique Titanium Dark Sector is powered by the SXH5 caliber movement, which is the first to be made in house. The positioning of the microrotor off-center grants a captivating view into the intricate workings of the mechanism and its exceptional design. The balance wheel, which is free-sprung and outfitted with four adjustable weights made of gold, allows for highly precise tuning. The gear train is held in place by seven stunning skeletonized bridges, whose unique shapes were inspired by XIX century pocket watches and the modern Czapek Faubourg de Cracovie chronograph's rotor, resembling lace. The movement is exquisitely finished, featuring the fusion of Haute Horlogerie angling techniques and state-of-the-art laser engravings on the bridges. Czapek & Cie has continuously improved its automatic caliber SXH5 since unveiling its base movement in May, refining its precision, performance, and aesthetic. One upgrade was the replacement of the recycled 18-karat gold microrotor with a slightly larger one made of 100% recycled platinum, resulting in a 25% increase in power to the movement. Another upgrade was the replacement of the ball bearings under the microrotor, which enhanced the train efficiency to 90% and allowed for a remarkable 60-hour power reserve, significantly longer than that of the average high-end sports watch.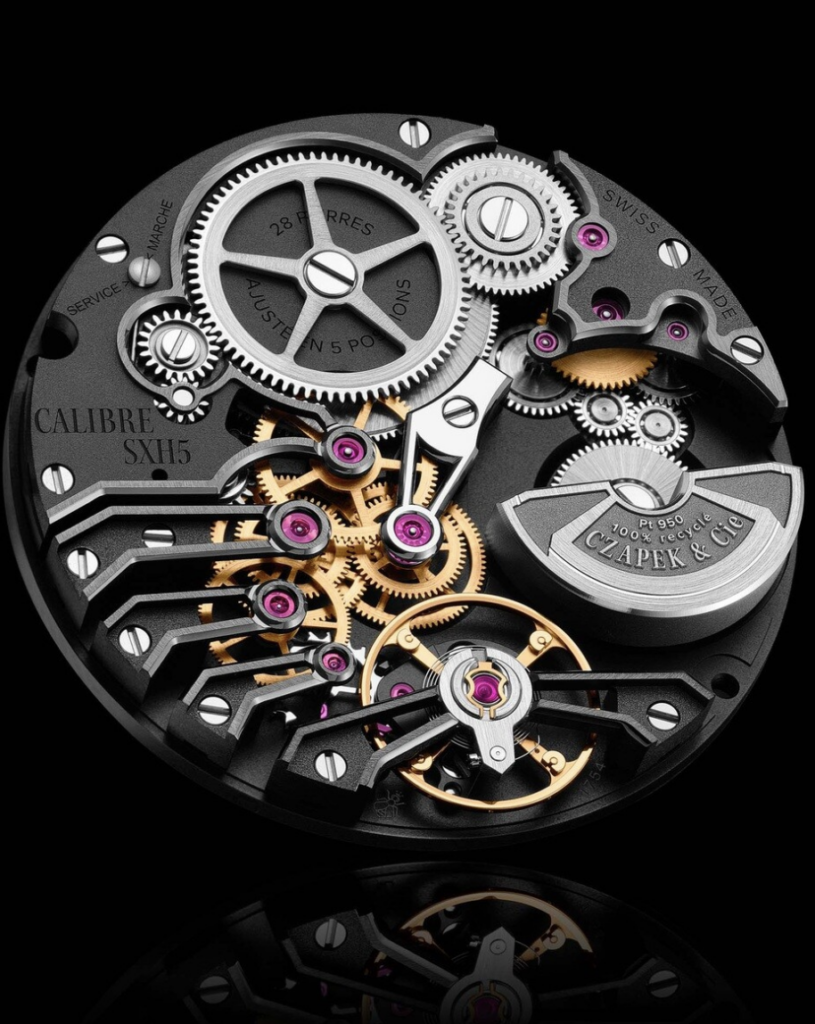 Titanium bracelet & additonal rubber Strap: To enhance this experience, the watch comes with an ergonomic brushed integrated bracelet in Grade 5 Titanium. The bracelet's links form a brushed "C" for Czapek, and it also features a convenient micro-adjustment system, allowing the wearer to extend its length by a few millimeters instantly. As a result of Czapek's exclusive quick-change system, you can change straps in minutes. In addition to the bracelet, you can choose from a variety of rubber straps in black, white, dark blue, light blue, red, orange, or dark grey, featuring the "Stairway to Eternity" pattern from the Passage de Drake dial. Alternatively, opt for a selection of soft calf straps with contrasting topstitches. Enjoy maximum versatility and a playful experience with these options.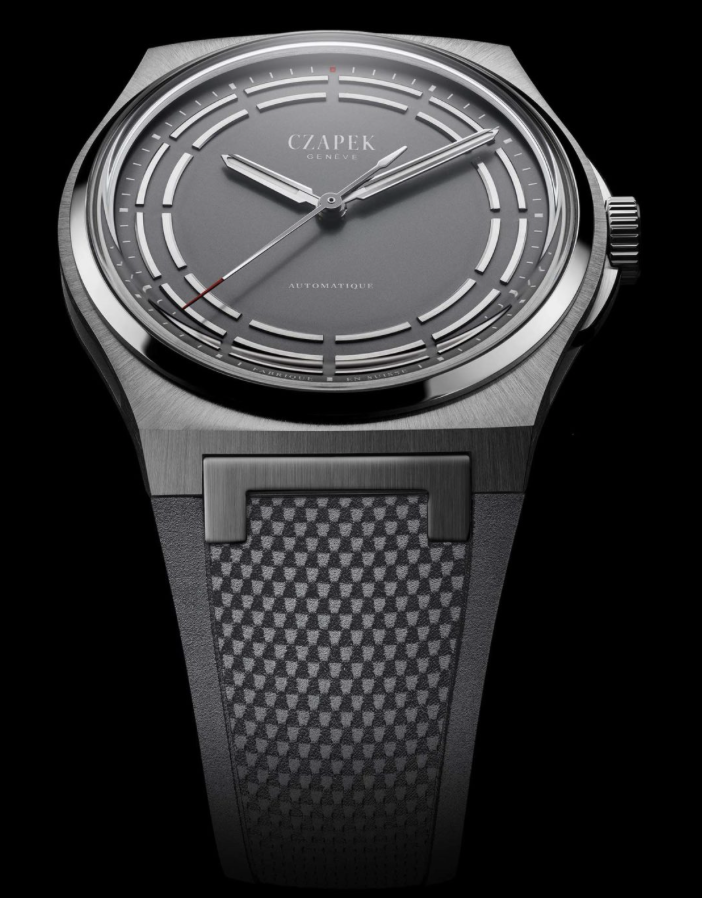 Limited Edition: The Czapek Antarctique Titanium Dark Sector is a limited edition watch, with only 100 pieces being produced. This makes it a unique and exclusive timepiece for those who appreciate the finer things in life. Retail-$36,000
The Czapek Antarctique Titanium Dark Sector is a masterpiece of watchmaking, with a durable titanium case, impressive SXH3 caliber movement, and unique "Dark Sector" design. Its rubber strap and functional features make it perfect for indoor and outdoor enthusiasts. Unlike mainstream brands with similar limited designs and high premiums, this haute horology piece is for true connoisseurs who appreciate its craftsmanship and original design instead of only focusing on status and resale.
The bottom line:The Czapek Antarctique Titanium Dark Sector timepiece is unmatched in my humble opinion. Its exclusivity and uniqueness make it a great option for collectors or those looking for a standout limited edition watch. If you have the means to acquire one, it is definitely worth considering.
Please note:This watch will be available for sale on the Czapek website and authorized dealers on April 1. Estimated delivery is 2025. If  it sells out through retails channels, I may be able to help you purchase at whatever the going prices are since I have an extensive global network.  Due to the limited nature and demand, their very well could be premiums on this watch.  Serious inquires please contact me HERE
Due to the unpredictable and volatile market on certain Rolex, Patek Philippe and Audemars Piguet watches, prices are subject to change.