Skip to Content
Christie's sets online auction record with Patek Philippe Sky Moon Tourbillon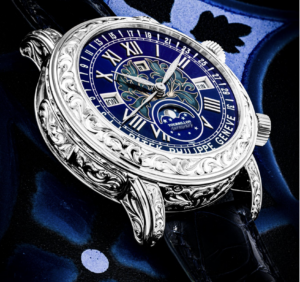 Patek Philippe Sky Moon Tourbillon ref 6002G-001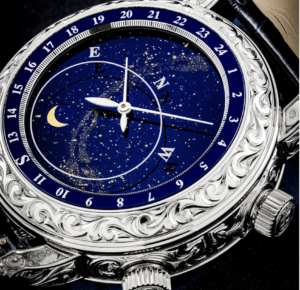 Patek Philippe Sky Moon Tourbillon ref 6002G-001
In the world of luxury watches, few brands command the same level of respect and admiration as Patek Philippe. For decades, the Swiss watchmaker has been renowned for its exceptional craftsmanship, timeless designs, and innovative complications. And among its many illustrious creations, few are as coveted as the Sky Moon Tourbillon.
First introduced in 2001, the Sky Moon Tourbillon quickly established itself as one of Patek Philippe's most ambitious and impressive watches. Not only did it feature a stunning double-faced design, but it also boasted a range of complications, including a minute repeater, perpetual calendar, and a tourbillon. It quickly became one of the most sought-after timepieces in the world, with collectors and enthusiasts eager to add it to their collections.
But it wasn't until 2013 that the Sky Moon Tourbillon reached new heights of fame and notoriety. That year, a unique version of the watch was put up for auction by Christie's, one of the world's most prestigious auction houses. Dubbed the "most complicated Patek Philippe wristwatch ever made," the watch was expected to fetch a high price. But few could have predicted just how high that price would be.the Sky Moon Tourbillon shattered all records, selling for a staggering $1.2 million. The winning bidder was an anonymous collector who had been competing with several others for the watch. The sale not only set a new record for Patek Philippe but also for any watch ever sold online
It's amazing how history has repeated itself ten years later. Yesterday, Christies set a global record for the most expensive watch auctioned online with the Patek Philippe Sky Moon Tourbillon for $5.8 million (HK $45.4 million) at auction in Hong Kong.  This is almost 5 times what it sold for a decade ago! The ref. 6002G-001 features a cathedral minute repeating, tourbillon, perpetual calendar, retrograde date, moonphases, leap year indication, sidereal time, sky chart, phases and orbit of the moon. Below are the details of the watch
Due to the unpredictable and volatile market on certain Rolex, Patek Philippe and Audemars Piguet watches, prices are subject to change.