Skip to Content
The 36mm Stainless Steel Rolex Datejust Is A Great Watch For A Women To Wear!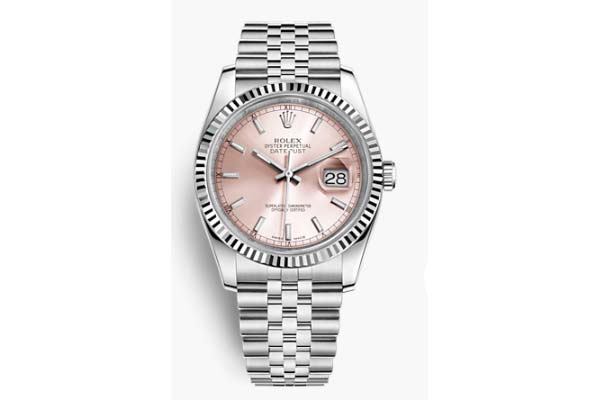 It's amazing how quickly time flies! In my last year of working at luxury watch retail in 2007, the 36mm Datejust was still more or less the standard size watch for a man. Here we are 11 years later and this same model is now becoming the standard size for women. To be completely honest, I always thought the 36mm Datejust was too small for a man although there are some men out there who definitely do this size justice.
One of the hardest things is to find a bigger Rolex watch for women that doesn't look like she is wearing a man's watch. The 36mm Datejust specifically on a jubilee bracelet, pink stick dial, and 18k white gold bezel is the perfect watch for women to wear in any situation that doesn't look like she is wearing a mans watch. The pink stick dial has luminous indices and hands set on a pink dial in white gold. The color of the dial is just the perfect shade of pink. It's not too pink or girly. It's still feminine and yet can be taken seriously as a real watch and not just a big fashion looking watch. This watch has an in-house automatic self-winding movement with date function and is water-resistant to 100 meters or 336 feet. It will also hold its value better than just any women's watch out there today. I would highly recommend if you are looking for a nice women's watch that has a serious cache, is well made, and timeless, contact me HERE to get started. This watch retails for $7,950. I can definitely help you get one at a better price and no tax depending on where you live!
I'm a Luxury Watch Concierge
I can guide, assist and advise you on your luxury watch purchase and source the timepiece from authorized dealers
Wanna talk watches with the best of them? I can teach you how. Start today, and you will be talking like a watch pro in no time!
Due to the unpredictable and volatile market on certain Rolex, Patek Philippe and Audemars Piguet watches, prices are subject to change.