Skip to Content
Montblanc Released The 1858 Automatic Chronograph At SIHH 2018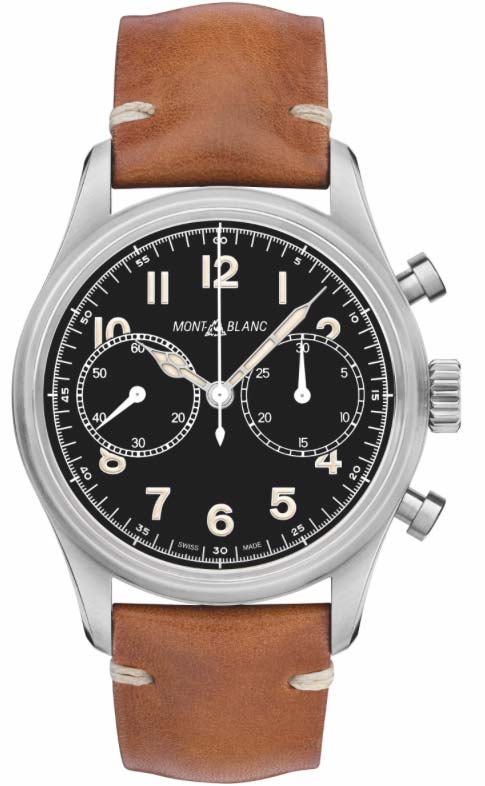 Montblanc 1858 Chronograph in stainless steel on cognac aged strap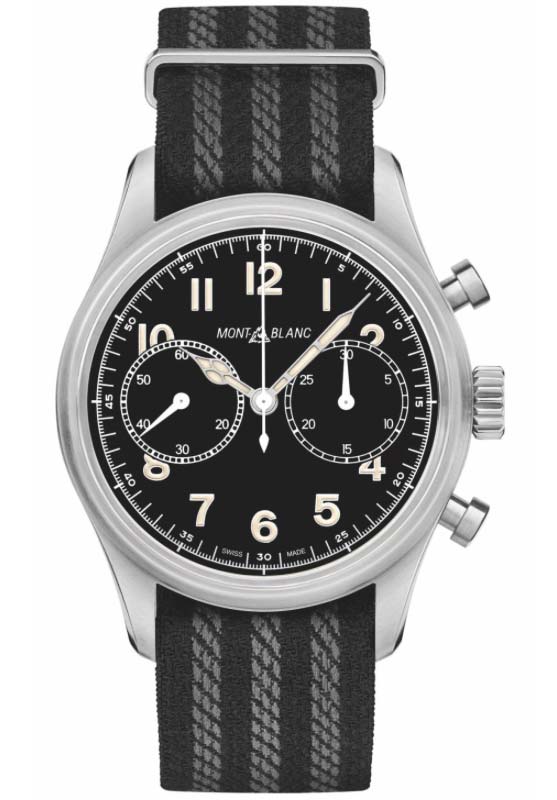 Montblanc 1858 Chronograph in stainless steel on black and grey nato strap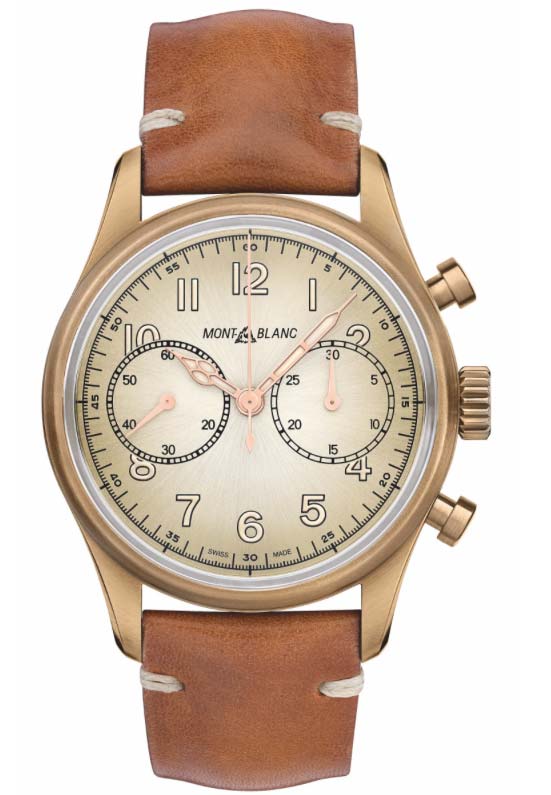 Montblanc 1858 Chronograph in bronze on cognac aged strap
I never thought I would say this, but for me this year has been all about the chronograph so far. Great chronograph watches from Zenith, Longines, and the one that takes the cake, in my opinion, the NEW Montblanc 1858 Chronograph. What do these watches all have in common? None of them have dates, praise the lord!
The NEW Montblanc 1858 chronograph is a return to vintage without trying too hard! It's available in two versions; one in stainless steel with a black dial and one in bronze with a smoked champagne dial. Both are equally amazing and fitted with a Cognac aged calf strap. The stainless steel version also includes a James Bond-style black and grey nato strap. I have loved the 1858 collection from Montblanc since it came out a couple of years ago. The chronograph version takes it to another level for me. It really surprises me because chronograph watches aren't really my favorite, but this one is done so well that I need to respect and share how cool it is with all of you!
What Makes It So Cool?
For starters, It has a 42mm brushed stainless steel case with black dial and white Arabic numerals and it's also available in a 42mm bronze case with a smoked champagne dial with Arabic numerals. The chronograph pushers are vintage pump style which gives the watch a historic feel. For a lot of the gearheads who think 36-38mm is cool and can't wear a big watch, you will change your mind when you try this on. It fits smaller than it looks, I am told by my trusted colleagues. It's also a two register chronograph which has a register at nine for seconds and a 30-minute register at the three o'clock position. The two register keeps the watch symmetric. I find three register chronograph's to be pointless. Most people don't even use this function.
Both watches have cathedral-style hands and beige lume, which are not my pint of beer, but somehow it works well and gives the watch warmth and character. Another thing to note is that there isn't any unnecessary writing on the dial. It's clean, bold, and transcends time. Surprisingly, both watches are fitted on the same cognac color aged strap. Usually, when you have two different versions of the same watch they are fitted with different colored and different style straps to separate them. For some reason, it works on both these models. The movement is the self-winding MB 25.11 caliber with a 48-hour power reserve. The best part is the price. Under 5k for the stainless steel version and under 6k for the bronze version. When you look at the execution, feel and style of this watch, you forget that it's manufactured by a luxury pen company!
I am sure this watch will hit stores sometime soon. Don't delay! I can help you purchase this watch from an authorized retailer and potentially save you the sales tax depending on where home is for you. Contact me HERE to get started.
Due to the unpredictable and volatile market on certain Rolex, Patek Philippe and Audemars Piguet watches, prices are subject to change.