Skip to Content
Maurice LaCroix Akon Orange, Yellow, Green & Blue-$760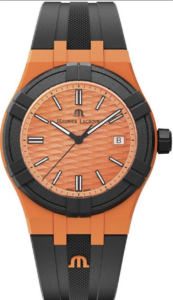 Maurice LaCroix Akon Orange, Yellow, Green & Blue
Unworn
Details
The AIKON #tide shares the same attributes as other members of AIKON family, but is formed of #tide ocean-bound upcycled plastic combined with glass fibre. The resultant composite material is twice as hard as standard plastic, five times more resistant and has a carbon footprint that is six times less than PET. The bezel, case, case back, crown, end-piece and buckle on this new model are all made from this composite material. It takes 17 bottles to make one fabulous watch and its tailor made packaging, 100% made of #tide material. It's a win-win deal.
Beyond its vibrant hues and its case, the dial is adorned with a 'Vague du Jura' motif, a stylish reference to the ocean. The case measures 40mm in diameter and features a flat sapphire crystal, augmenting readability. The AIKON #Tide is endowed with a screwed crown together with a screwed caseback, details that contribute to the model's impressive water resistance of 100m. The model is also endowed with the Easy Strap Exchange system, allowing the wearer to swap the strap for an alternative without the need for tools.
At the heart of the AIKON #tide is a quartz movement, delivering convenience and precision. As you would expect of a Swiss watch, the AIKON #tide is a quality product, backed by a 5-year warranty. After all, it's an AIKON.
FROM THE OCEAN TO THE CITY…
Maurice Lacroix, in collaboration with #tide, a specialist in 'upcycling ocean-bound plastic waste', is playing a key role in contributing to cleaner oceans. The Swiss watch brand has entered into a ground-breaking, long-term partnership with #tide to collect plastic bottles from the seas surrounding various islands in Thailand as well as Indonesia and the Philippines.
These bottles are sorted, shredded into flakes, washed and compacted close to the point of collection. The flakes are compounded into smaller granules and then combined with an undisclosed formula, culminating in the creation of upcycled plastic which is eventually used for making lots of lovely, brightly coloured AIKON #Tide watches.
Maurice Lacroix has conceived the AIKON #Tide for a new generation who value sustainability, affordability and, of course, notable style.
Includes shipping. To purchase, contact me here.
Watch Features
Country of Manufacture: Switzerland
Bracelet Strap: Rubber
Case:Made from ocean-bound upcycled plastic
Case Back: Solid
Case Width: 40mm
Clasp Type: Made from ocean-bound upcycled plastic pin buckle
Dial Color: Orange, Yellow, Green & Blue
Functions: Hours, Minutes, Seconds & Date
Gender: Men's
Hands: Luminous 
Dial Markers: Indexes
Brand: Maurice LaCroix 
Warranty: Yes 
Movement: Quartz
Water Resistance: 100 meters
Pre-owned price: ​$760
Due to the unpredictable and volatile market on certain Rolex, Patek Philippe and Audemars Piguet watches, prices are subject to change.