Skip to Content
How the NEW Zenith Defy Skyline Skeleton gives the AP Royal Oak Double Balance Open Worked a run for the money!
Nothing irritates me more than watches that are incredibly overpriced for what they are! For the most part, the bigger mainstream luxury watch brands rest on the laurels of their name and history. so they are able to charge exorbitant prices starting with time and date models and any complications above that can go to another planet! Today I want to compare two watches that are similar yet different. The AP Royal Oak Double Balance Open Worked in stainless steel and the NEW Zenith Defy Skyline Skeleton in stainless steel that recently came out at LVMH Watch Week.
AP Royal Oak Double Balance Open Worked in stainless steel- retail $74,100
This watch has been quite the hit with collectors and enthusiasts since it came out within the last 5-10 years. This took the Royal Oak to another level by opening up the heart and guts of this mighty icon with a completely skeletonized movement but with an additional balance wheel on the same axis, which is quite a complicated endeavor, but ensures better stability and accuracy. Even though there are some pink gold accents like the applied hour makers and hands, the majority of the watch is stainless steel. It's very expensive at almost $75,000 retail but good luck trying to get one because they are commanding double that in the secondary market! Obviously very few brands can touch AP when it comes to their resale. For some it's everything but for most it's a bonus.
NEW Zenith Defy Skyline Skeleton in stainless steel- retail $11,000
Granted, the Zenith Defy is not nearly iconic, sought after or as talked about as the AP Royal Oak. That being said, Zenith is no slouch to high end watch making. Their history dates back to 1860 and they are known for their movements. AP has been around since 1875. I have been warming up more to Zenith's NEW versions of the Defy which is octagonal and a throwback to their first model from 1969. Recently Zenith launched a NEW Skyline Skeleton in stainless steel at LVMH Watch Week in Singapore. To me, this is so much more compelling than the AP Royal Oak Double Balance Open Worked. I'm a sucker for contrast and must admit, I do like the warm and rich tones provided by the pink gold accents on the AP, but it's nearly 7x the price of the Zenith at retail. At $11,000, the Zenith is a bargain by comparison and even though it doesn't have the double balance (who cares!) it's twice as water resistant at 100 meters and has a 15 hour longer power reserve (total of 60 hrs) than the AP (total of 45 hrs). I also like the Zenith bracelet better than the Royal Oak bracelet, it looks and feels more solid and sporty. Both watches are 41mm in case diameter, have screw down crowns and are fitted on stainless steel bracelets with folding clasps. Neither watch has a date function but the AP has a regular long seconds hand which can get lost at times whereas for the first time, Zenith has a 1/10th of a second subseconds hand at the 6 o'clock position, which has better contrast and is quite legible. The Zenith is 11.6mm thick while the AP is thinner at 9.9mm, making it a touch more elegant. Both watches have transparent sapphire crystal casebacks. Another bonus the Zenith has that the AP doesn't is it includes a secondary rubber strap with folding clasp which is interchangeable. The Zenith also is available with a black or blue main plate. Either version is stunning an offers great contrast and visibility with rhodium plated hour markers and hands which are faceted and coated with super luminova. For the money, there is no question that the NEW Zenith Defy Skyline Skeleton gives the AP Royal Oak Double Balance Open Worked a serious run for the money!
Please contact me HERE if I can help you get either watch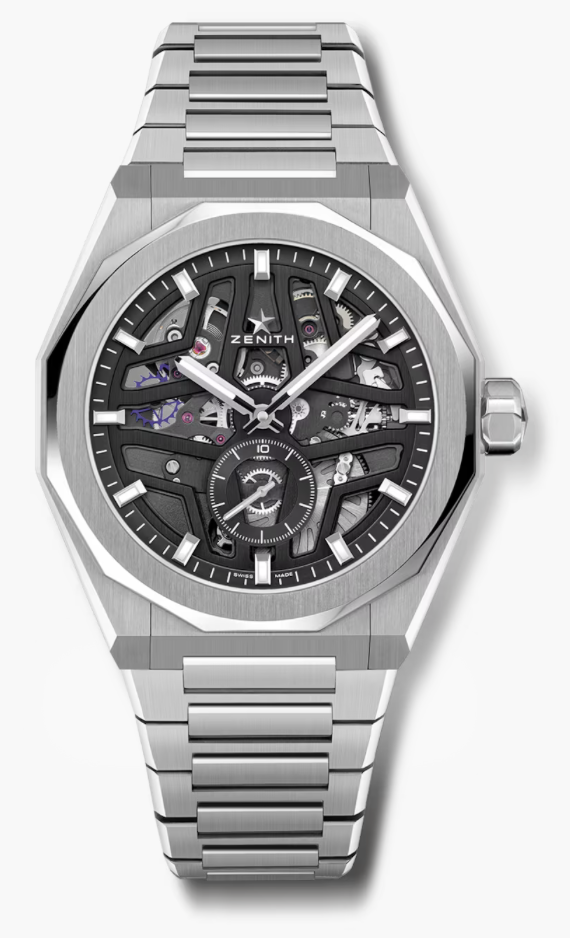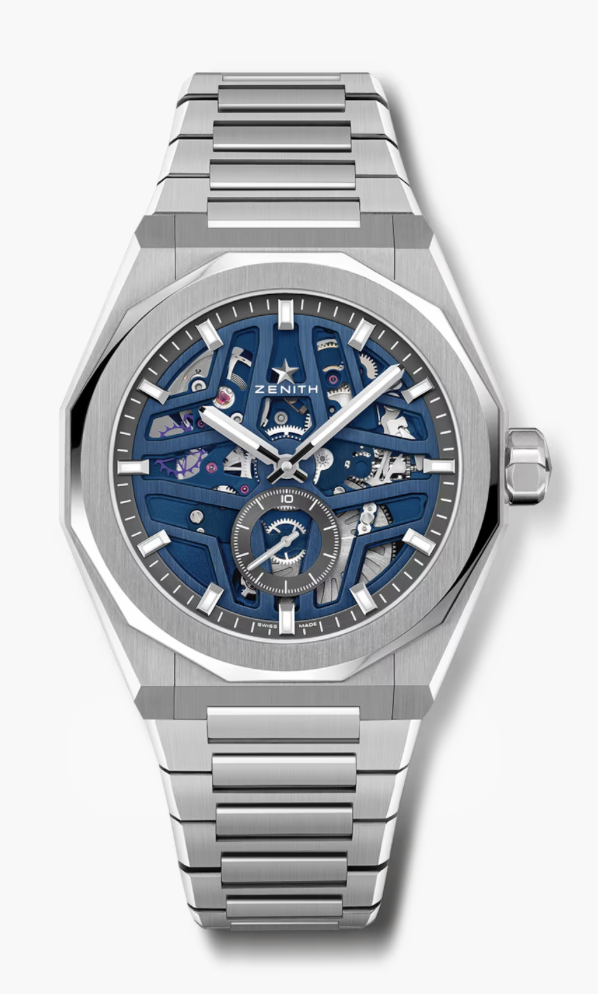 Due to the unpredictable and volatile market on certain Rolex, Patek Philippe and Audemars Piguet watches, prices are subject to change.