Skip to Content
Elevate Your Watch Game with Louis Erard's Stunning Timepieces!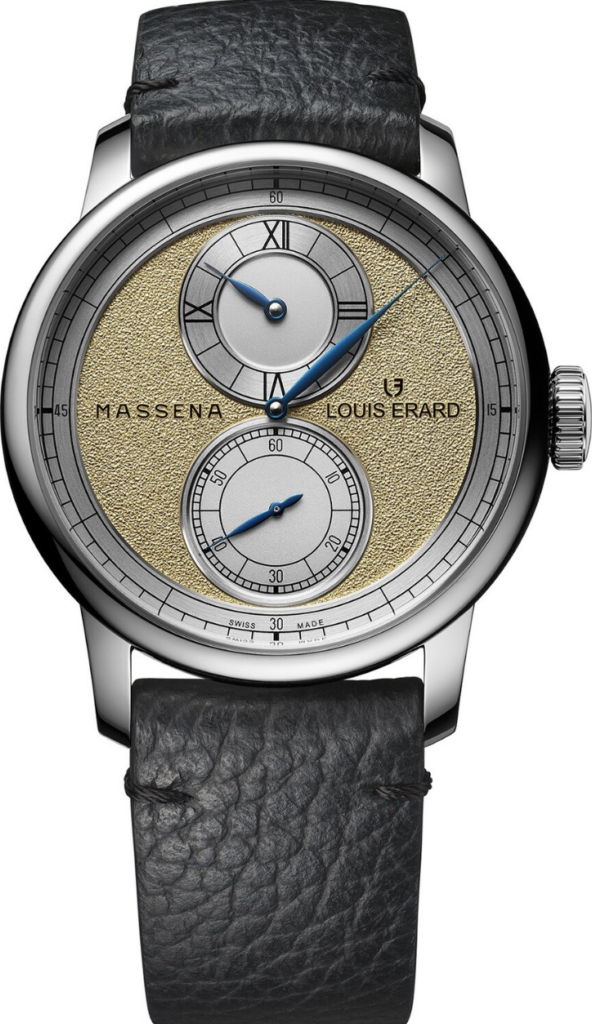 Le Regulateur Louis Erard X Massena Lab
Official 2022 GPHG NOMINEE 
Louis Erard is a Swiss luxury watch brand that has been in the market since 1929. The company is known for its high-quality timepieces that are made using traditional Swiss watchmaking techniques. Louis Erard has always been focused on creating timeless and elegant designs that appeal to both men and women. Today, Louis Erard watches are considered to be among the finest in the world, and the brand is synonymous with luxury, sophistication, and style.
I got to see the brand first hand when I attended one of the four  GPHG Event's back in October, 2022 in India. Louis Erard was nominated for a GPHG Award in the "Petite Aquille" category for their watch pictured above, Le Regulateur Louis Erard X Massena Lab. Pictures don't do it justice; from their marine chronometer inspired dial with gold tone textured finished and their contrasting steel blued hands wrapped up in a 42mm stainless steel case, it brings elegance to the next level while still being an everyday watch.  The one wearing this masterpiece may get the wink and subtle nod, yet the average person or watch enthusiast would not know what it is.
One of the things that sets Louis Erard apart from other luxury watch brands is its commitment to creating affordable timepieces. Despite the fact that Louis Erard watches are made using the finest materials and crafted by skilled artisans, the brand has managed to keep its prices relatively low. This has made Louis Erard watches accessible to a wider audience, which has helped to increase the brand's popularity and appeal.
Another key factor that has contributed to the success of Louis Erard is its focus on innovation. The brand is constantly experimenting with new materials, techniques, and designs to create watches that are unique and innovative. For example, Louis Erard was one of the first watchmakers to incorporate silicon into its movements, which has helped to improve the accuracy and durability of its watches.
Louis Erard is also known for its attention to detail. Every aspect of a Louis Erard watch is meticulously crafted, from the intricate movements to the luxurious straps and clasps. The brand uses only the finest materials, such as 18K gold, stainless steel, and sapphire crystal, to ensure that each watch is of the highest quality.
One of the most popular Louis Erard collections is the Excellence range. These watches are characterized by their classic, timeless designs, and feature high-quality movements that have been certified by the Contrôle Officiel Suisse des Chronomètres (COSC), the official Swiss chronometer testing institute. The Excellence range includes both men's and women's watches, and is available in a variety of styles and materials to suit every taste.
Another popular collection from Louis Erard is the Heritage range. These watches pay homage to the brand's rich history, and feature vintage-inspired designs that are both elegant and sophisticated. The Heritage range includes both mechanical and quartz watches, and is available in a range of materials, including stainless steel, rose gold, and leather.
Louis Erard also offers a range of limited edition watches, which are designed to be collector's items. These watches are made in small quantities and feature unique designs and materials that are not available in the brand's regular collections. Louis Erard limited edition watches are highly sought after by collectors, and are often sold out soon after they are released.
This is a luxury watch brand that has established itself as a leader in the industry. The brand's commitment to quality, innovation, and affordability has helped it to attract a loyal following of customers who appreciate its timeless designs and attention to detail. Whether you're looking for a classic timepiece or something more unique and innovative, Louis Erard has a watch that is sure to meet your needs.
Due to the unpredictable and volatile market on certain Rolex, Patek Philippe and Audemars Piguet watches, prices are subject to change.