Skip to Content
Rolex released two new GMT-Master II options for 2023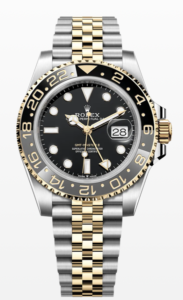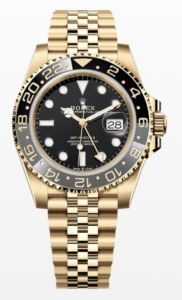 Recently Rolex released a new addition to their GMT-Master collection features a precious metal with a Jubilee bracelet. This release marks a departure from their traditional Everose gold that has been featured in previous GMT models. The new GMT-Master in yellow gold comes with a bi-color black and grey bezel, with grey being used on a bezel insert for the first time by Rolex. The bi-color bezel is subtle and unobtrusive, blending seamlessly into the design of the watch.
This new release is a significant departure from the past few years, where if you wanted a precious metal with your GMT, you were looking at Everose gold. However, that watch only came with an Oyster bracelet in either solid gold or two-tone. The introduction of the Jubilee bracelet is a new addition to the GMT-Master lineup and is a popular feature of the Rolex Datejust model, giving the watch a classic and refined look. The simplicity of the design is what sets this watch apart from other luxury timepieces.
Rather than overcomplicating the design with multiple colors or bezel combinations, the designers opted for a clean and streamlined look that is quintessentially Rolex. The result is a watch that is both elegant and versatile, suitable for any occasion. It's exactly what you expect from a Rolex GMT-Master in yellow gold, and that's why it stands out from the crowd. The most surprising part about it is the bi-color bezel, which is imperceptible in certain lighting conditions.
The watch's all-gold variation has a pleasing heft that one would expect from a solid gold watch, while the two-tone version is lightweight and wearable by comparison. In the end, it's a watch that lacks the splashiness of an emoji Day-Date but makes up for it with miles of pitch-perfect simplicity in both versions. The two-tone version is also a great option and comes at a more affordable price point.
Both versions offer a timeless appeal and will make a fantastic addition to any collection. While the all-gold version is more expensive, the two-tone version is also an excellent option for those who want a high-end luxury watch without breaking the bank.
These new releases are a welcome addition to the GMT-Master II family. The watch's simplicity and versatility make it a must-have for any watch enthusiast, and its classic design is sure to stand the test of time. Whether you opt for the all-gold or two-tone version, you won't be disappointed with this latest offering from Rolex. The watch comes with a $38,900 price tag for the all-gold version, $16,450 for the two-tone version, making it a luxury investment worth considering.
Due to the unpredictable and volatile market on certain Rolex, Patek Philippe and Audemars Piguet watches, prices are subject to change.