Skip to Content
Type 4 Kingsley 1945 Watches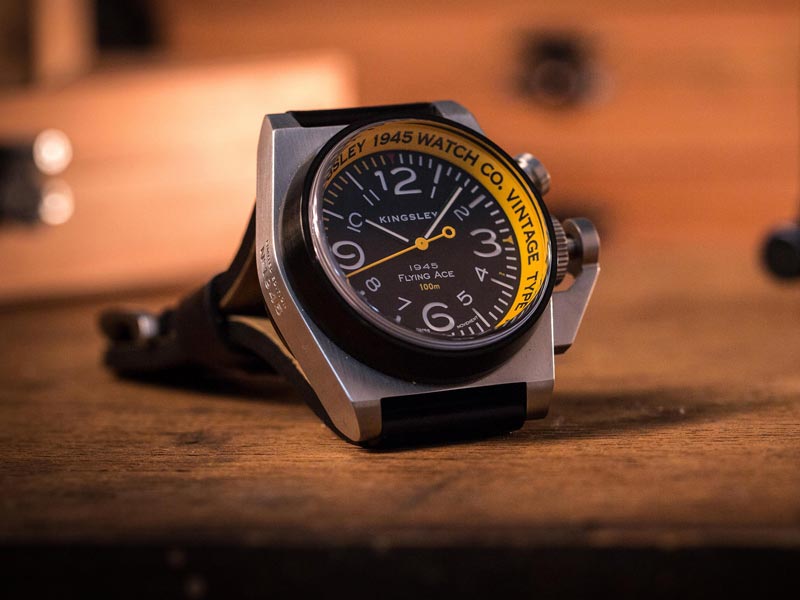 Type 4
Grenade-Swiss Quartz
A half pound watch inspired by a WW2 hand grenade.
Price Range $1,200 – $1,400
Individually Numbered Limited Edition
Precision Quartz Movement by ETA (Switzerland)
Caseback Features a 50 Cal. BMG Bullet Headstamp Design
Stainless-Steel / Gold-Steel / Black-Steel / Copper-Steel
Watchmaker's Custom Made Program
Price Range Starting at $1,400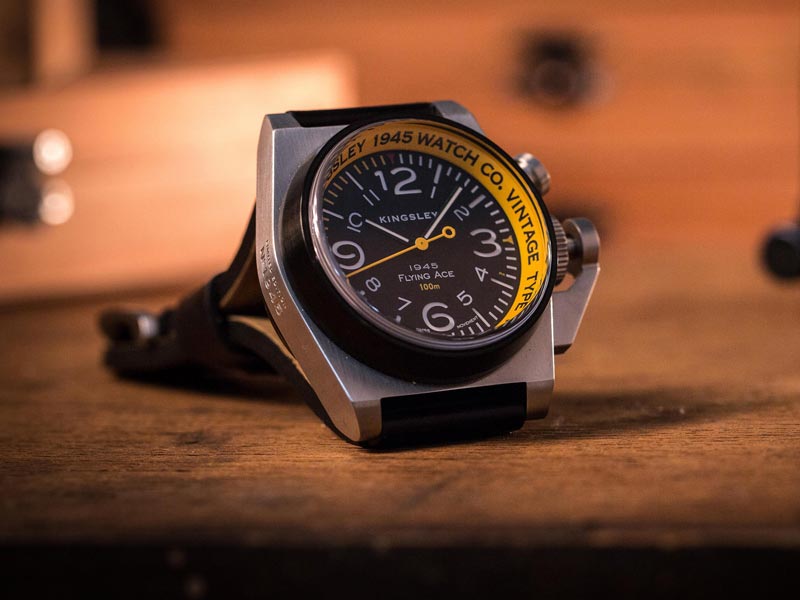 Flying Ace $1,200
Silver-Steel and Black Widow Bezel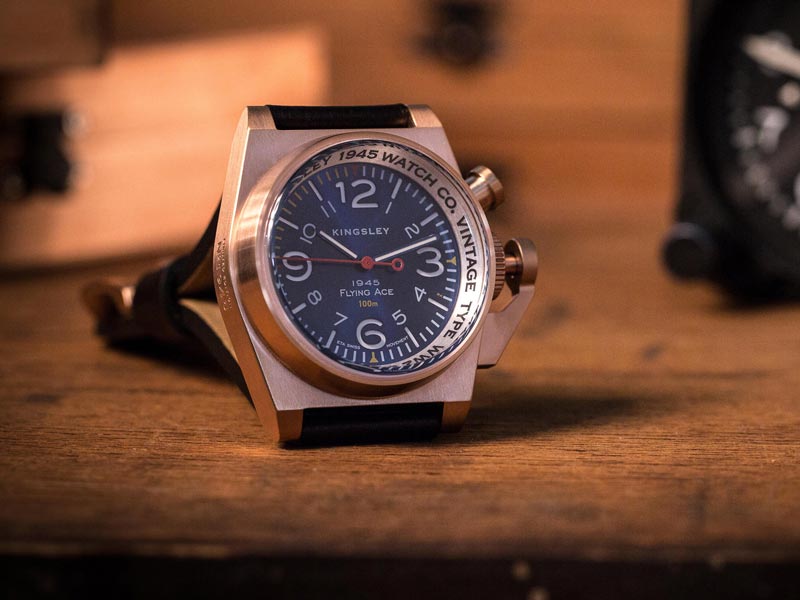 Copperbolt $1,300
Copper-Steel Ace Blue Dial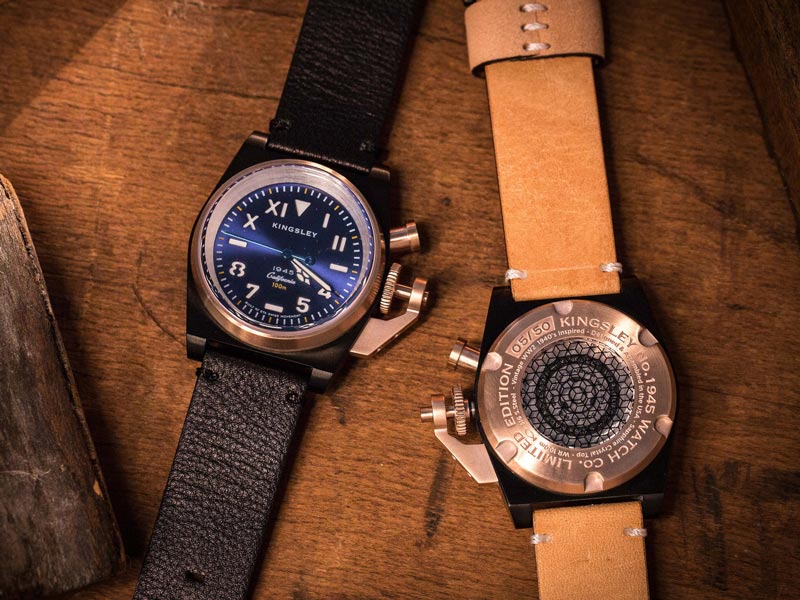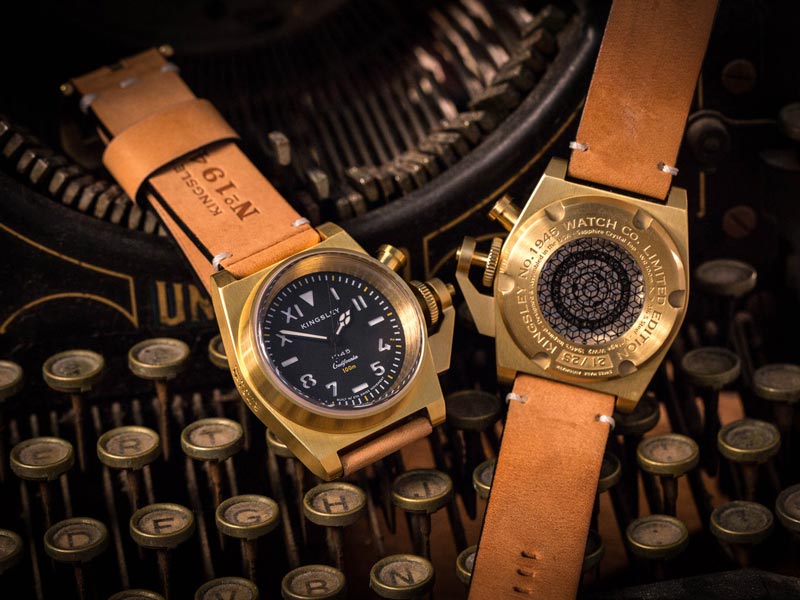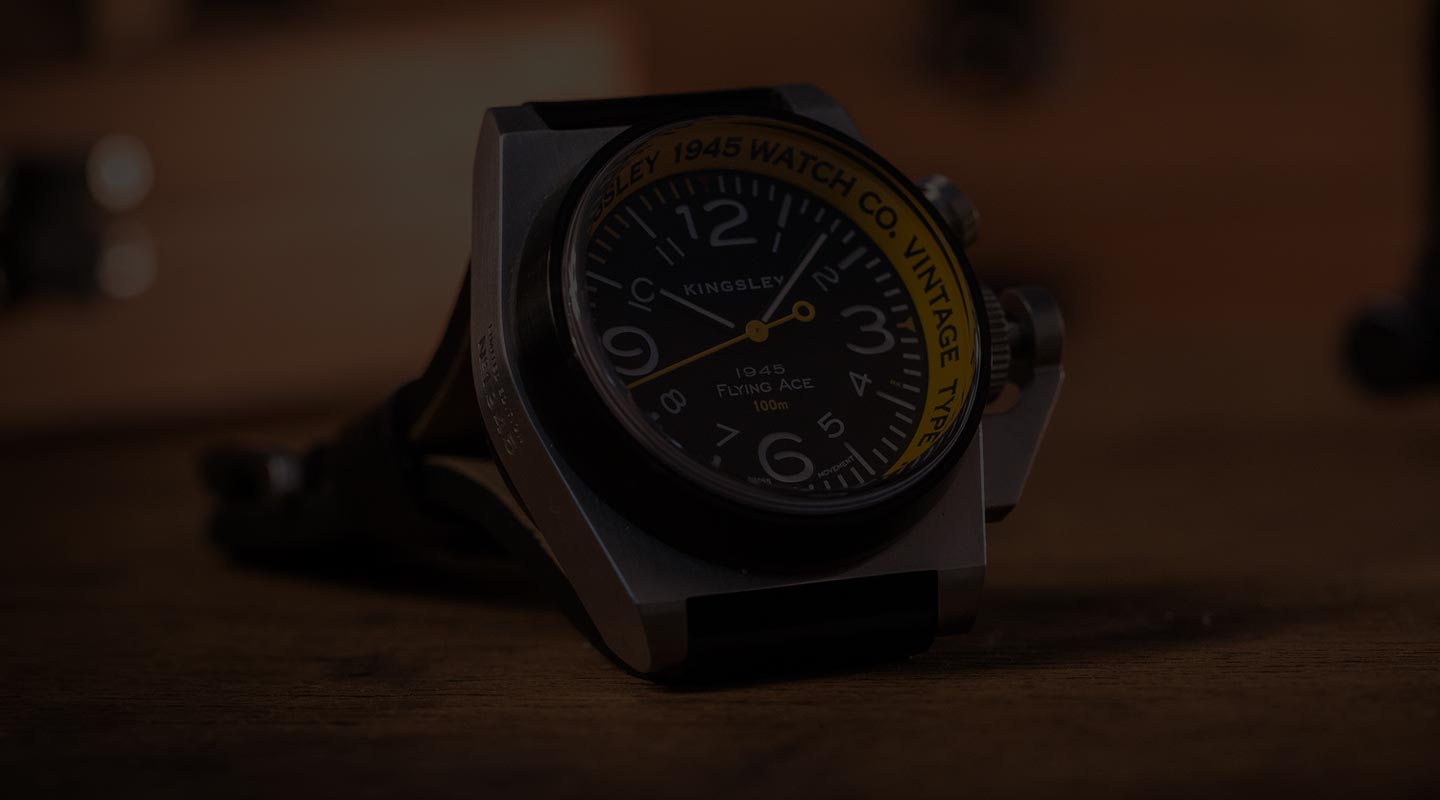 About Kingsley 1945 Type 4 Watches
The Type 4 is an exclusive vintage modern design inspired by 1940's military and WW2-era fighter planes. The case is styled after one of the first scratch built experimental prototype cases created by Kingsley using reclaimed aircraft and grenade metal when he founded the company.
This model features the iconic Type 1 square and round case similar to that of a cockpit gauge with a distinctive crown guard styled after a 1940's MK2 hand grenade lever and a very cool WW2 Style 50 Caliber BMG Bullet Headstamp design built into the caseback. The Type 4 model was designed and assembled in Providence RI and is the Quartz alternative to the Type 1 Vintage Automatic.
We use movements from one of the world's best Swiss movement manufacturers (ETA). Made for the aficionado looking for a unique high-quality precision watch that doesn't require any manual winding and less overall maintenance over time.
The hand made nature of some of the straps, parts and watch cigar boxes means no two watches are exactly the same. Each individually numbered and accompanied by a certificate of Authenticity.
Case
Dia 45mm, height 21mm, weight half pound, machined stainless, PVD coating, screwdown crown, individually numbered exhibition case back
Bezel
Machined Stainless, PVD Coated
Movement
Precision Swiss quartz analog, manufactured in Switzerland by ETA
Dial
2 layer cut thru sandwich metal disc
Band
Fitted for 24mm straps, Vintage Style Bomber leather strap
Depth Rating
660ft/200m/20atm, (see warranty disclaimer)
Type 1 Straps
All available in stainless-steel, gold-steel, black-steel, and copper-steel
Kingsley Vintage Bomber Reversible Straps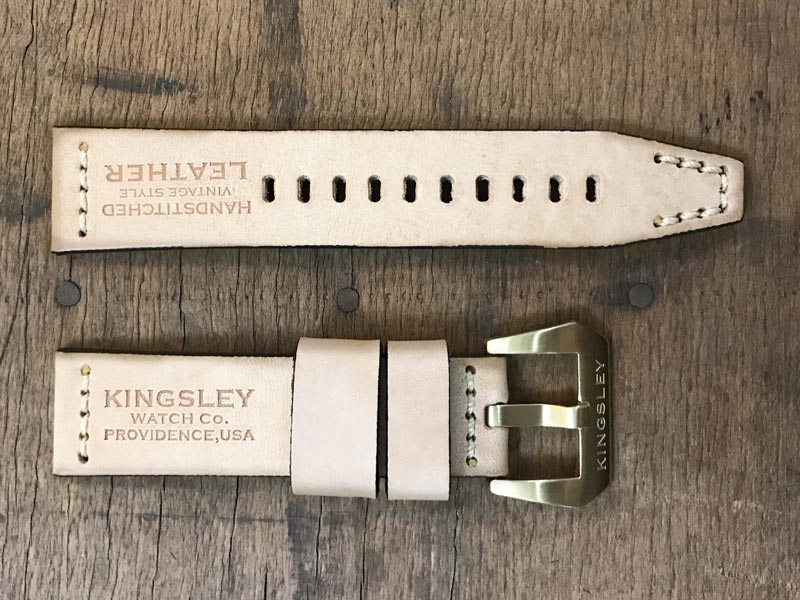 24x22 Reversible Strap $130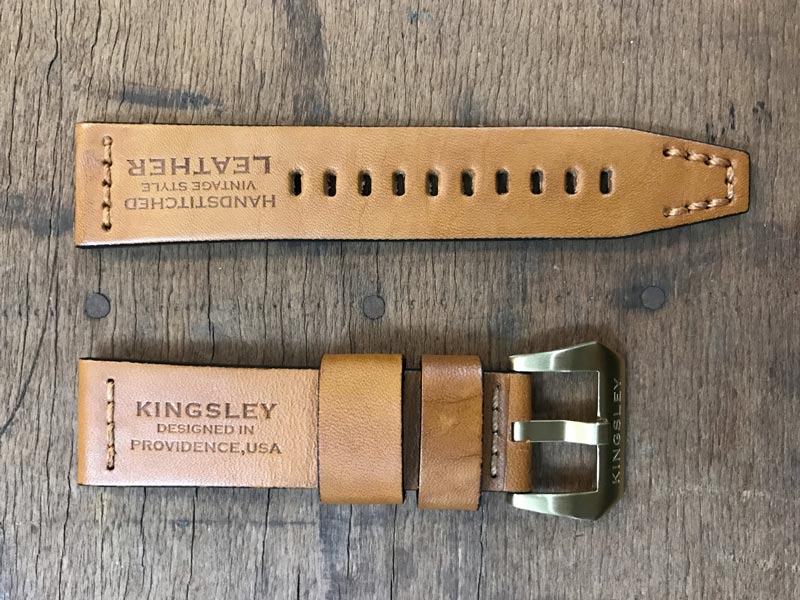 24x22 Reversible Strap $130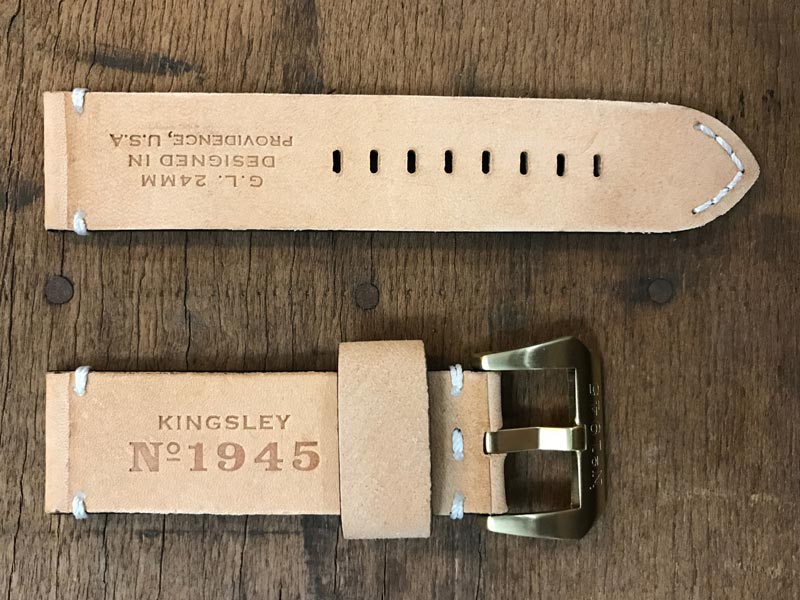 24x22 Reversible Strap $130
Handstitched Natural Raw Leather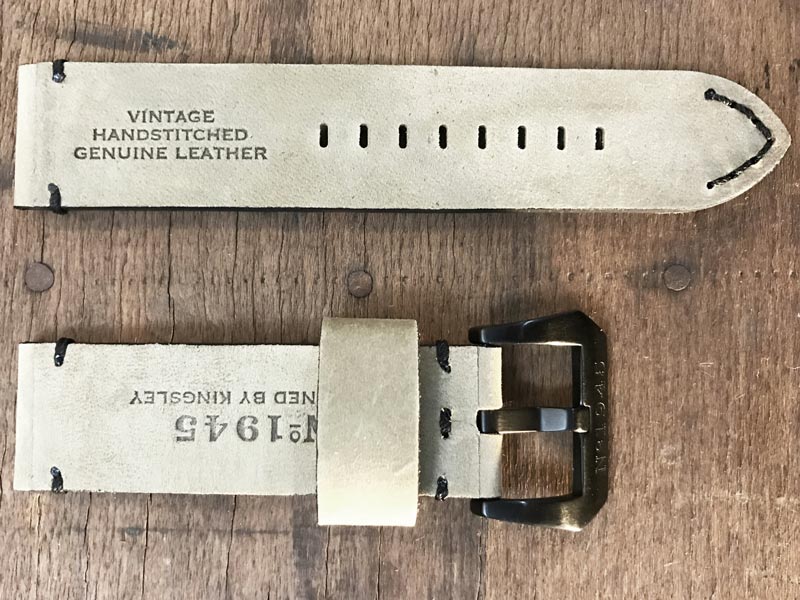 24x22 Reversible Strap $130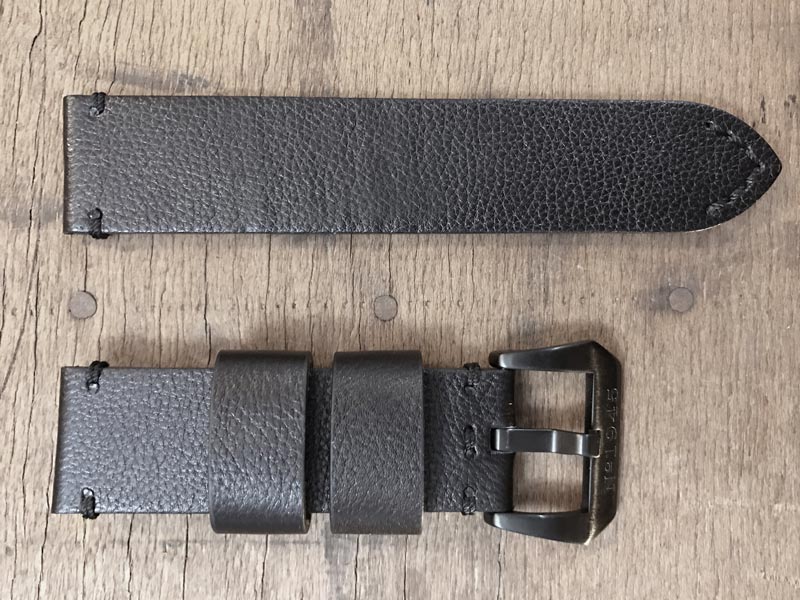 24x22 Reversible Strap $130
Black Pebbled Calf Leather