Skip to Content
Glashütte Original Seventies Chronograph Panorama Date L.E.: A Nod to the Vibrant 70s Era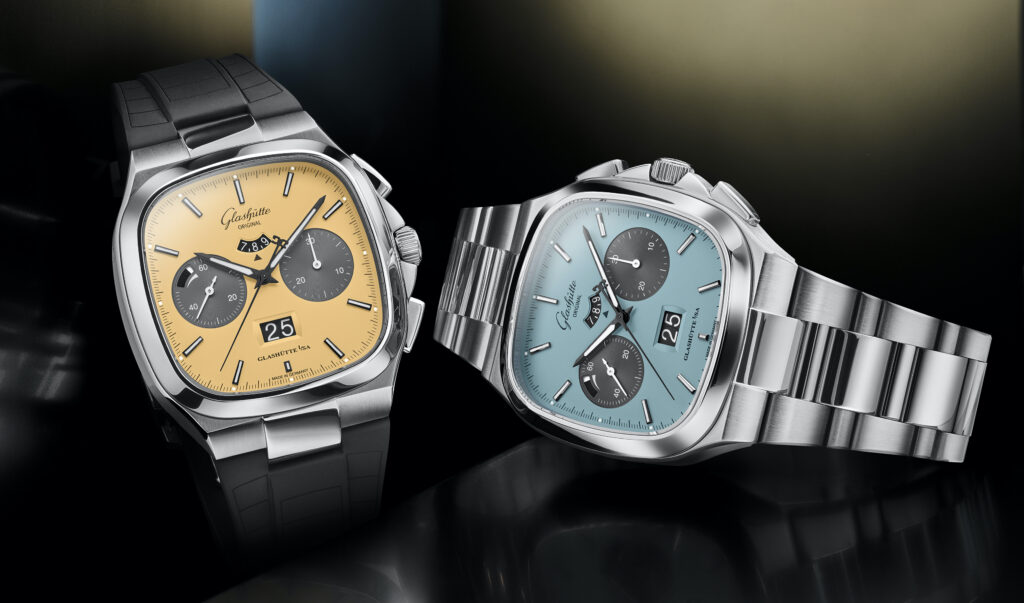 In the watch world, luxury watches aren't just about telling time; they're like cool stories from the past. Take the Glashutte Original Seventies Chronograph Panorama Date L.E watches for instance. Only 100 of each are out there, and they're less about checking the hour and more about rocking a piece of art on your wrist that gives off some serious old-school vibes.
Design: An Evocative Tribute to the 1970s The 1970s was an explosion of colors, styles, and an undying zest for life – two distinct themes are captured here by this Glashutte watch reminiscent of that era: vibrant palette of the decade, larger-than-life philosophy and two new matte lacquered dials: Golden Bay (a warm yellow tone evoking sun-kissed beaches and peaceful lagoons) and Ocean Breeze (an ocean blue soft gray-blue that recall serenity); this watch not only captures that spirit but gives viewers an eyeful of retro nostalgia every time they look down – just take another glance!
Technical Mastery at its Peak
A stainless steel case measuring 40mm by 46.4mm provides shelter to this watch's internals under an AR-coated sapphire crystal and display back. Water resistance extends up to 100 meters.
At the core of this masterpiece lies an automatic G.O. in-house caliber 37-02 movement from Germany featuring 65 jewels. Vibrating at 28,800vph with an impressive 70 hours power reserve, its beauty can only be rivaled by Glashutte craftsmanship – bevelled/polished edges and an iconic Glashutte stripe finish stand out among polished steel parts, while 21kt gold bridges boasting signature Glashutte finishes such as rate adjustments with adjustment screws or swan-neck springs in fine-tuning balance; Incabloc shock protection exemplifies technical prowess at its best!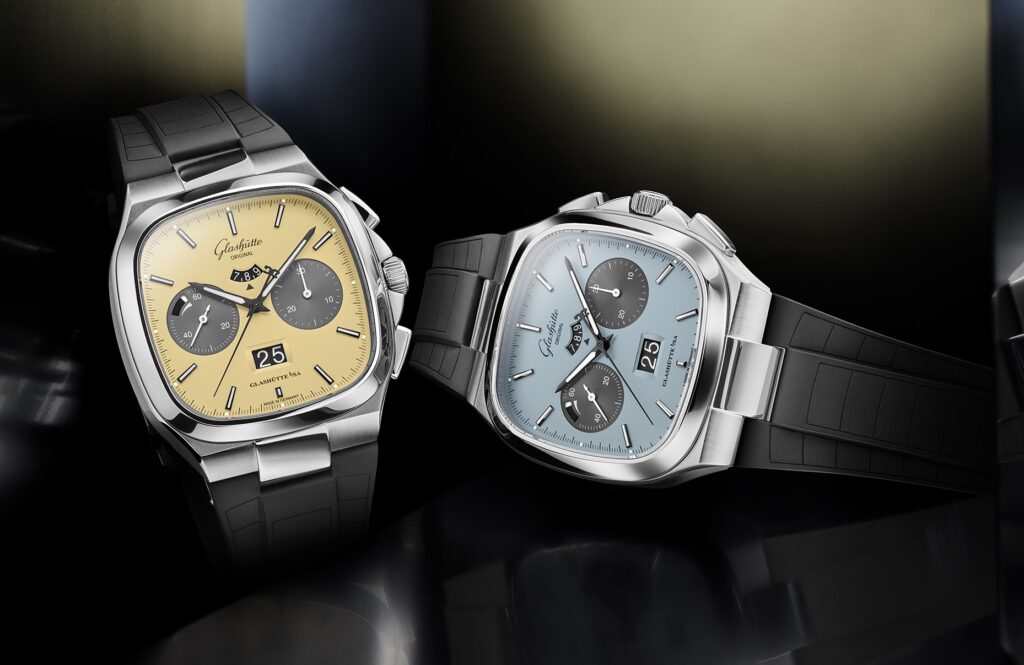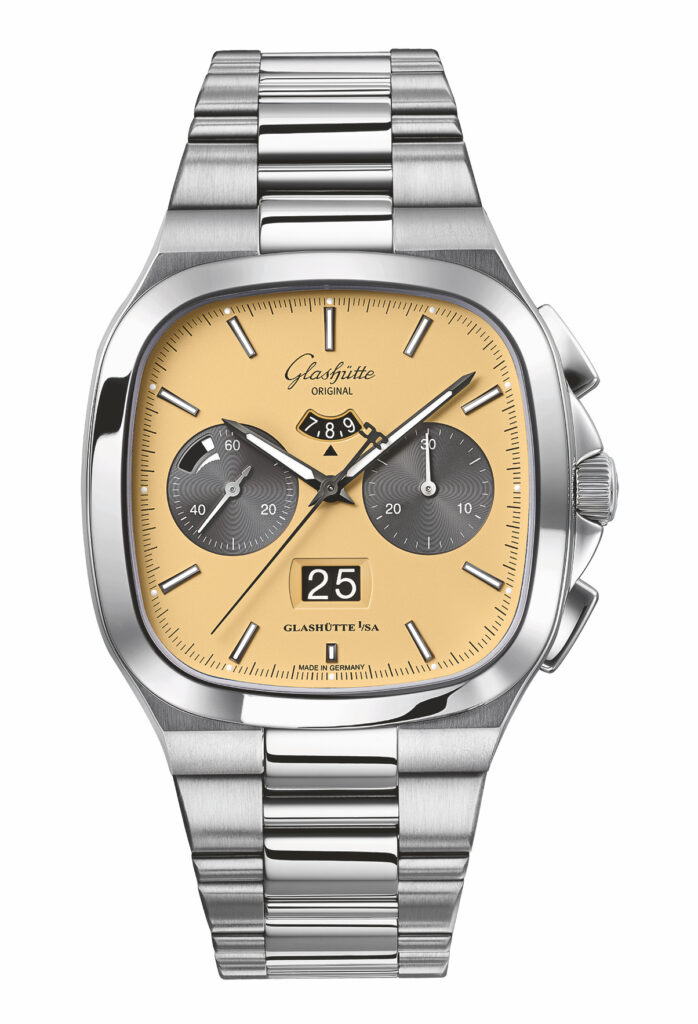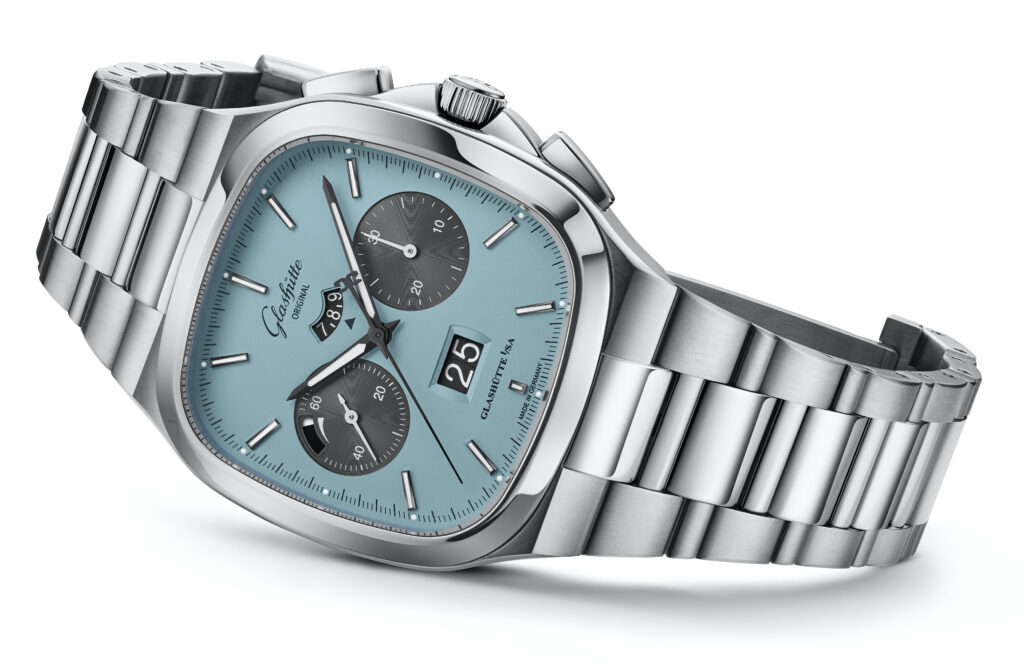 Dial & Strap: Elegance Represented Choose between "Golden Bay" or "Ocean Breeze" dials for their distinct vibes, featuring Super Luminova coated rod appliques readability enhanced with Dauphine-shaped hands coated in black to add elegance. Depending on personal choice one could select either an adjustable steel fold-over clasp on black rubber strap or stainless steel bracelet equipped with fine adjustment mechanism as a clasp type option.
The Glashutte Original Seventies Chronograph Panorama Date L.E is more than just a timepiece; it's an adventure back through time that captures the spirit of 1970s while remaining contemporary through modern craftsmanship. Get one today to take part in both history and horology simultaneously!
Due to the unpredictable and volatile market on certain Rolex, Patek Philippe and Audemars Piguet watches, prices are subject to change.