Skip to Content
A Lange & Sohne Released The 1815 Thin Honeygold "Homage To F. A. Lange"
Once in a while it's nice to have a simple watch. Life is complicated enough, especially these days with everytrhing going on, so the less one has to think sometimes the better! High end luxury German watch maker, A Lange & Sohne released the simplest watch to commemorate 175 years of precise watch making. Those of you who are unfamiliar, A Lange & Sohne truly is at the pinacle of watch manufacturing from start to finish since the year 1845. They are one of the few brands that can make an elegant dress watch look and feel more everyday wearing while maintaining the highest standards of quality, design and exclusivity. I am proud to say I have been selling A Lange & Sohne watches since 2002. They only manufacture a few thousand watches a year for the world across all collections.
This watch is known as the 1815 Thin Honeygold "Homage to F. A. Lange" F.A. ( Ferdinand Adolf) Lange is the company's founder. Since it"s the 175th anniversary, this watch is limited and numbered to 175 pieces for the world. It features a 38mm case made out of proprietary "Honey Gold" with a copper dial, in brilliant white two-part enamel. Dark-grey printed Arabic numerals with classic railway-track minute scale. 18kt Honeygold hands.
It's fitted on a hand-stitched dark brown leather strap with an 18kt Honeygold prong buckle. I love how simple and timeless this special watch is . It doesn't even have a seconds hand, only hours and minutes. It's perfectly symmetric and ticks all the boxes for me except for the size, I wish it was bigger! Normally we see jet black Arabic Numerals on the models within the 1815 collection; it's nice to see dark grey Arabic Numerals on this watch instead because it gives the dial a softer and more subtle feel while maintainig contrast with the case and hands.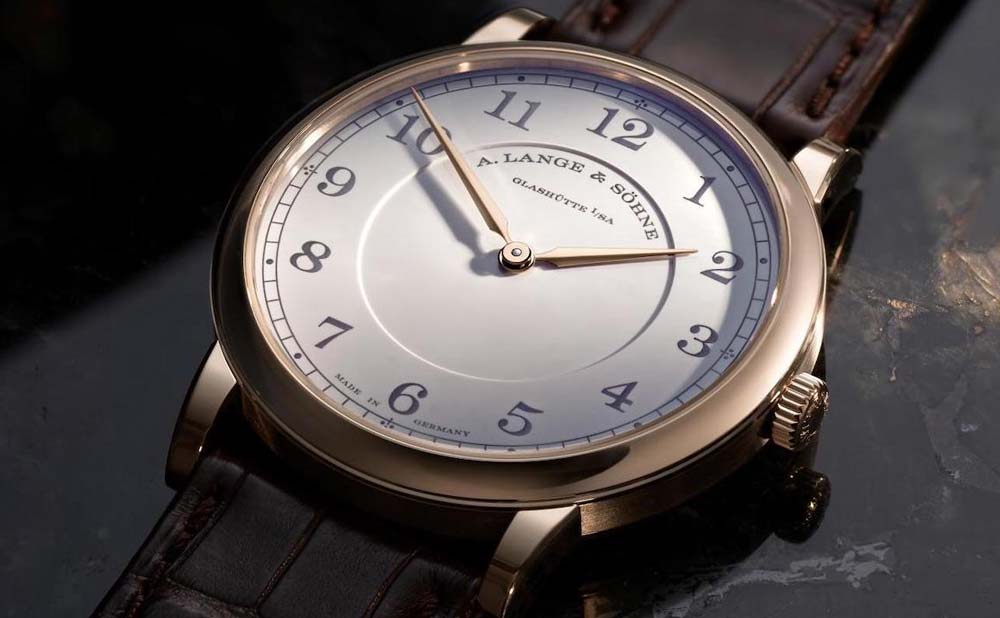 A Lange & Sohne 1815 Thin Honeygold "Homage To F. A. Lange"
pic courtesy of www.alange-soehne.com
The movement of the watch took its inspiration from F.A. Lange's personal pocket watch and is the manual-wind Lange manufacture caliber Lange manufacture calibre L093.1 with 21 jewels, 21,600 vph and a power reserve of 3 days. It is crafted to the most exacting Lange quality standards, decorated and assembled by hand; precision-adjusted to five positions; plates made of untreated German silver; balance cock engraved by hand. The fine lines of the floral pattern are black-rhodiumed, just like the inscription on the plate. The dark hue of the galvanic coating echoes the grey of the dial imprints and at the same time amplifies the three-dimensional effect of the engravings.Lever escapement. Shock-resistant screw balance crafted in-house. Precision beat adjustment system with lateral setscrew and whiplash spring.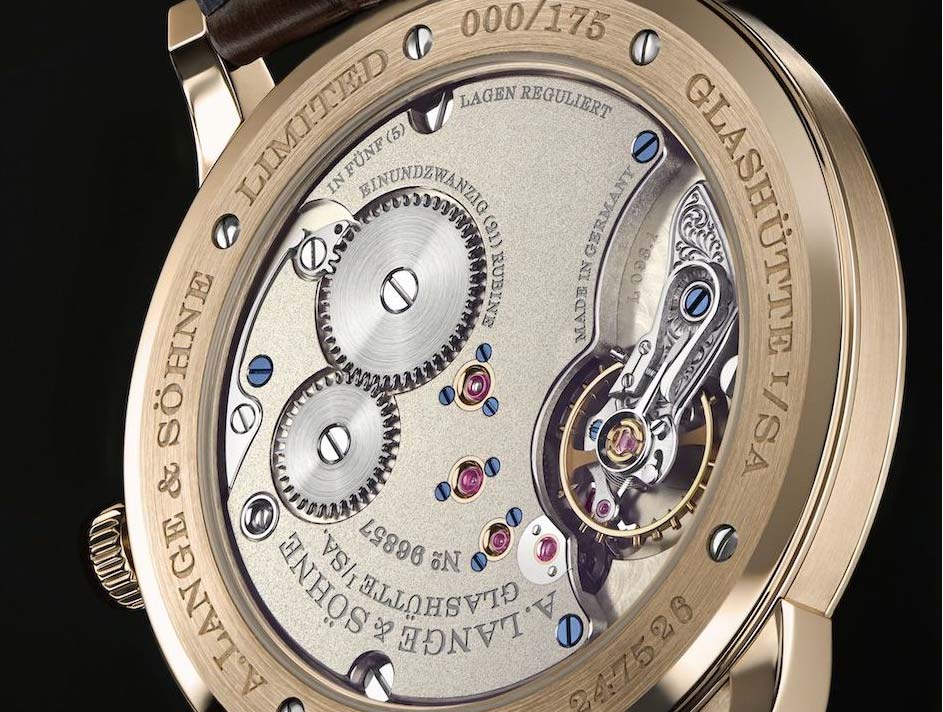 A Lange & Sohne 1815 Thin Honeygold "Homage To F. A. Lange" movement 
pic courtesy of www.alange-soehne.com
Since I have incredible relationships within the watch industry, I can certainly help you acquire this piece while supplies last. Contact me HERE to start the process!
Technical Specs of the A Lange & Sohne 1815 Honeygold
Family-1815
Timepiece-1815 THIN HONEYGOLD "Homage to F. A. Lange"
Reference- 239.050
Calibre-L093.1
EditionLimited to- 175 timepieces
Case-honey gold
Dial-copper, white
Hands-honey gold
Case Measurements Diameter: 38 mm; height: 6.3 mm
Due to the unpredictable and volatile market on certain Rolex, Patek Philippe and Audemars Piguet watches, prices are subject to change.